Juan Castillo Should Stay with the Philadelphia Eagles
January 5, 2012
Joseph Labolito/Getty Images
Juan Castillo has been under fire for the greater part of the season, and the majority of the Philadelphia Eagles fanbase believes he is one of the main reasons the team missed the playoffs.
Some might even say that he is the primary reason, and with a more capable defensive coordinator, the Eagles would have won the NFC East.
That's a disappointing conclusion. While Castillo's defense gave me a fair amount of frustration, it's unfair to put Philadelphia's downfall on his shoulders. Castillo is to blame, but he's not the only one.
I don't remember Castillo fumbling on a 3rd-and-goal against San Francisco, nor calling that play. I also think he wasn't the one who missed a field-goal attempt from 33 and 39 yards long. I don't even recall him dropping a pass against the Falcons or getting a flag for jumping offside against the Bills.
Castillo has done many things wrong this season—there is no doubt about it. Asomugha is one of the best man-to-man cornerbacks of the league, but Castillo used him in zone a lot. Moving Samuel to safety was a bad idea, too.
You can hold him responsible for turnovers and a ton of missed tackles if you want to—but you know that's more of a player's mistake.
From Week 3 to Week 5, the Eagles were awful when defending and lost all three games, falling from 1-1 to 1-4.  They couldn't stop the run, and the secondary looked like a big, endless mess.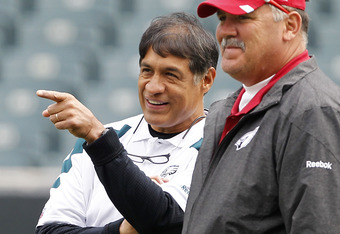 Rich Schultz/Getty Images
Unfortunately, the poor defensive play continued, and the Eagles watched the playoffs fly out the window. But slowly things started to gel, and eventually Castillo's men began to perform like they should—but it was too late. Nevertheless, Philadelphia's defense finished eighth in yards allowed per game,  10th in points conceded per game and tied for first place in sacks with Minnesota.
During the last four games of the season, their work has been seminal. The Eagles' opponents average scoring was 11.5 points. The Dolphins, the Jets, the Romo-less Cowboys and the Redskins are not the league's cream of the crop, but that doesn't change the fact the Eagles have been rolling lately.
So, we come to the vital point: Why keep Castillo in his place?
Because even though the defense was problematic, the offense has not been a lesser problem. When you have fumbled 23 times and lost 13 of them (fifth highest in the league) and you rank 11th in the league for offensive turnovers, you can't expect much.
How many passes were dropped this year? Jackson dropped nine, McCoy and Celek dropped five balls each—Maclin has at least one (in Atlanta) and I think Avant has some, too.
The Eagles finished eighth in points per game (24.8) and fourth in yards per game (399.1), but that's also due to the great performance in the last quarter of the season.
I can't seem to find a lot of people calling for Marty Mornhinweg's head. Even Reid has more supporters than Castillo, despite the fact he was the one who put him in charge (and Sean McDermott, too).
I don't know what people expected from Castillo. A lot of fans were praising his temperament in the training camp, but most of them jumped off the bandwagon with the first bad results.
I think Castillo should stay. Since this franchise has given Reid second chance after second chance, why not give one to Castillo? There is no lockout this year, the Eagles will probably upgrade their linebackers and the 52-year-old coach will be more experienced in 2012.
A new defensive coordinator will probably change some things (scheme maybe?) and the defense will take a few steps back in order to learn.
Spagnuolo is a hot name right now, but under Jim Johnson everyone was a good coach.
Changing the defensive coordinator again might have another negative aspect: A new, future scapegoat for Andy Reid. In 2009, it was McNabb (I know he was bad, but the trade took the heat off Reid). Last year, it was McDermott.
The way I see it, this year is the time for Reid to go all-in. Firing Castillo and hiring a new guy will probably result in another excuse next year, if he fails, rather than a more efficient defense.