Cleveland Cavaliers Have Plenty of Options with Veteran Antawn Jamison
January 6, 2012
Mike Ehrmann/Getty Images
The missing piece.
In February of 2010, that's exactly what the Cavaliers envisioned Antawn Jamison to be. At a wild trade deadline, filled with speculation for the Cavaliers, they pulled the trigger on a deal which they felt would bring them a championship before LeBron James' looming free agency.
As it would turn out, Jamison only had a couple months to try to fulfill his role. James infamously took his talents to South Beach, and Jamison went from the missing piece to the old guy on a bad team.
The 2010-2011 season was understandably difficult for Jamison. He went from being a complementary piece to the offensive centerpiece on the team. Combine the disappointment of no longer playing for a contender, with some injury problems, and it's easy to see why Jamison had such a tough year.
Uncertainty surrounding his mindset, as well as his health, made Jamison a question mark heading into the 2011-2012 season. Would he have another lackadaisical season like the previous, or would he embrace his role on a youthful team?
Through the first six games of this new season, it certainly seems like Jamison is on the latter path. 
Before we get into anything else, of course I'll acknowledge the fact that Jamison is in a contract year. At his age, and after watching his skills diminish over the past few years, teams won't be very likely to offer significant contracts to him if he doesn't show that he can still play this year. This certainly has something, if not everything, to do with his renewed energy on the court.
Regardless of why his game has improved, Jamison is providing the Cavaliers with several options as they continue to build their team—options the Cavaliers weren't so sure they would have with him this year.
The first option for the Cavaliers with Jamison is to let him compete this whole year with the team. When a team declares a rebuild, people often want the organization to rid itself of the veteran, older players. These players, however, can prove crucial in guiding the younger players as they find their way in the NBA.
Players like Tristan Thompson, Anderson Varejao and Omri Casspi, with their unorthodox styles of offense, can certainly learn a thing or two from one of the most unorthodox offensive players to ever play. The master of the "How Did He Do That?" shot, Jamison is a smart player on the offensive side of the court, and he still has plenty of talent.
Defensively, Jamison isn't quite the role model. As a less-than-gifted physical specimen, Jamison has to rely on finesse, which doesn't help him when guarding the big power forwards in the NBA. However, he has always been the type of player who can hold his own in a good defensive system. If Byron Scott can install a solid system, people will notice an improvement in Jamison's abilities on that end of the court.
The next option for the Cavaliers is to try to trade him to a contender looking for that missing piece. Jamison continues to prove night in and night out that he can still contribute in the NBA. Averaging over 17 points and five rebounds per game, Jamison is showing teams all across the league that he can be valuable to them.
The Cavaliers could be ready to take advantage of that.
Whether they're looking for draft picks, or decent young talent, the Cavaliers would surely be able to focus Jamison in a trade package that could help reduce the time the rebuilding process takes.
The market for Jamison won't yield the Cavaliers an immediate superstar, but it very well could land them a player that can be a vital piece for the franchise for years to come. It will be up to Chris Grant to come up with a package enticing enough for teams to bite.
The last option the Cavaliers have is to slowly start phasing Jamison out, forcing him to a bench role and eventually no role at all.
Jamison is a free agent this summer, and has already made reference  to playing for his hometown team. The Cavaliers didn't come into the season with high expectations for Jamison, and could learn much about their young players by giving them Jamison's minutes.
Jamison can still play, there's no denying that. By all accounts, he has been a good teammate, role model and member of the community. But frankly, Jamison is just not a part of the vision of the future of the Cavaliers.
Clearly, Jamison has channeled his slightly younger self this year. His scoring, and more importantly, his shooting percentage, has been great for the Cavaliers this season. He is showing more hustle and more toughness than he has ever showed while wearing the wine and gold.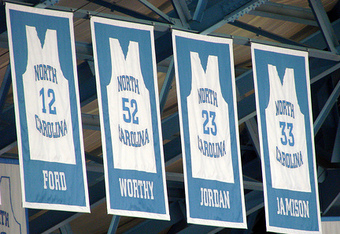 The most likely scenario for Jamison is that he is playing himself onto a contending team. If he continues this style of play, teams will certainly come calling for him, and the Cavaliers will certainly listen.
It's great to see Jamison, whose number hangs next to Michael Jordan's at the University of North Carolina, playing a more youthful brand of basketball. He's been a major help for the Cavaliers through the early part of the season.
He will continue that help when he switches uniforms and brings the Cavaliers more pieces to build with. 


For more on the Cavaliers, follow me on Twitter - @TheMichaelKeefe