DeMarcus Cousins and the Overanalyzation of "Character Issues"
January 5, 2012
The key to good parenting is consistency.
There is no singularly perfect way to raise a child. Every parent rears their piece of the next generation with some different style. Some are stern and terse, some prefer to coddle, and so on.
It can be forever debated as to what method raises the best child. The 'best child' can be debated even more, because every parent should hold that their own child is the best, regardless of how they turn out in reality.
To extend that idea, a team should work like a family. In the most typical case, the coaches should be the parents. They can, will, and do fight with their players, but they should ultimately have the back of every person on their roster.
There is merit in discipline and in negative reinforcement, but when a child or player becomes convinced that the tough love directed at them is just hatred, they become unmotivated and unhappy.
An unmotivated and unhappy player can only perform so long without wanting out.
The Sacramento Kings' DeMarcus Cousins has reached the point where he is unhappy and unmotivated, but it is not because of any deficiencies, or 'issues,' in his character. 
Paul Westphal's statement that Cousins has demanded to be dealt from the Kings was the first announcement in a series of confusing and troubling statements from both the Kings organization and Cousins himself.
In the statement, Westphal said that:
"when a player continually, aggressively, lets it be known that he is unwilling/unable to embrace traveling in the same direction as his team, it cannot be ignored indefinitely."
Cousins' agent, John Greig, quickly stated that Westphal's statement was the first time that he had heard of a trade demand.
Cousins himself then released a statement that said:
"I want to address my missing the New Orleans game Sunday. I have not demanded or requested a trade. I don't agree with the actions taken but will give my sincere effort to put it behind me and compete the best I can for my team."
Westphal sent Cousins home for his alleged outburst before the game against the New Orleans Hornets, but he rejoined the team on the flight to Memphis and came off the bench and played limited minutes in that game.
The most current development in the saga has come from the Kings saying that they will not be trading Cousins and the New Jersey Nets inquiring about his availability.
What we have here is a sheer familial breakdown. No one is on the same page, no resolution is in sight, and both sides are angry. 
Sadly, this is the kind of situation that Cousins has found himself in, publicly, since high school.
There was the infamous phone call situation at Kentucky, the conditioning concerns and the perpetual attitude concerns.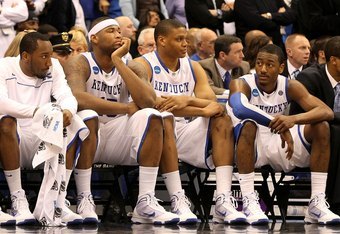 Jim McIsaac/Getty Images
In college, Cousins probably thought he dismissed those concerns.
Yes, the phone stunt was immature, but it was a minor transgression when looked at in an objective light and not through the pressurized media lens it was presented in. He bonded with his teammates and was a double-double machine. 
When Kentucky fell short of the NCAA title, most analysts blamed it on their immaturity. They used youth as a crutch and excuse, a shortcoming that should be excused and not a damning factor.
Then came the draft, where men like Jay Bilas said words like character issues, adolescent, unmotivated, and sophomoric to attach a red flag to Cousins name on draft boards everywhere. Youth switched from excusable to damning, but Cousins still went fifth overall to the Sacramento Kings.
Criticism continued, so Cousins showed up to training camp in what may have very well been the best shape of his career, determined to take the step that all potential great players must take and silence his critics.
It was a mature move, but it has been largely overshadowed by Westphal's statement. 
In many eyes, Cousins does not deserve the benefit of the doubt anymore. He is now a concern and not a character, more a red flag than a person.
But, definitively, if all of the negative speculation around Cousins in his years turned out to be completely true, could we still say that this is a bad person?
How can we, from the media, to the diehard, to the casual fan, decide that a person has character issues?
Judgment is a natural function of humanity and society, yes, but in the sporting world in particular, negative judgment is far too prevalent. 
There are teams that flag players on their draft boards for attitude issues and will, in no circumstance, draft them. ESPN will spend 24 hours daily programming the immaturity and overall poor character of athletes into the public conscience. 
A large part of this is the overall desensitizing of the athlete from the public. We have shifted, over the years, to looking at players more like entertainment commodities rather than people. 
As sports consumers we have embraced character concerns far more than we ever should have. 
Everyone has circumstances and context surrounding their lives. It is not, of course, our responsibility to know what makes players act as they do, but in that same vein it is not our responsibility to judge their actions as negatively as we do. 
The public should want to see Cousins succeed. The NBA has a clear lack of elite big men, and Cousins is one of the only players in the league that could conceivably join that small number. 
We assume players are used to and able to deflect criticism, but history has continually shown us that this is nowhere near as true as perceived.
LeBron James is the most recent and significant example.
Every year that passes between LeBron and 'The Decision' shows James express more and more regret over handling the situation like he did. He is not likely to come out and say it, but the negative public criticism around him not being able to win a championship in Cleveland was most likely the largest factor in pushing him out of the city.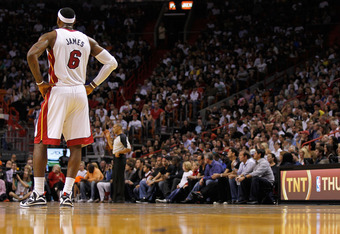 Mike Ehrmann/Getty Images
He thought he would be able to reverse some of that criticism, but the hatred only intensified. Rather than taking it in stride and winning anyway, he struggled and disappeared.
He was rattled and upset that his actions did not change the public perception of him.
If the best player in the NBA can be mentally phased by negative criticism, DeMarcus Cousins easily can too.
James has never been pegged as a character concern guy, either, and he still lives his life in a veritable storm of venom. 
Fans do not need to feel bad for the players who are labeled as red flags in the same way that other kids are not obligated to feel bad for the problem children they grew up around. 
However, someone in a position of power needs to. Be it a coach or an executive, someone needs to have these player's backs. There are certain inexcusable transgressions, of course, but until an action that terrible is actually taken by these individuals, they do deserve the benefit of the doubt. 
They deserve it consistently. 
Parenting styles differ, but what unites them in efficiency is consistency.
Coaching styles differ, but what unites them in efficiency is consistency. 
A child whose parent acts drastically different can not grow up on solid footing, and a coach who does not treat his players in a uniform manner can not expect his roster to behave in a uniform manner.
DeMarcus Cousins and those lumped into the same group of troubled individuals he finds himself in cannot be expected to grow and move beyond whatever past issues without being shown some manner of consistency and support.
Today's sporting world does not show that to them, and as more and more players enter and emerge from colleges with character concerns, we would do well to remember that the fault does not always lie with them as individuals. 
Sometimes, there is no fault.