Why Franchising Mario Williams Is the Right Move for the Houston Texans
January 4, 2012
Bob Levey/Getty Images
If I were to tell you that I might have a defensive end available for your team who is 6'7", 295 pounds, can run a 4.7 and has strength and explosion, is that something you might be interested in?  What if I were to tell you that the same guy logged 43.5 sacks from 2007-2010 and was just 26 years old?  Well that guy is Mario Williams from the Houston Texans and he just might be available this offseason if the price is right.
Unfortunately for Williams, he tore his pectoral muscle and missed most of this season, which happened to be the final year of his rookie contract.  The Texans have until late February to decide if they want to use the franchise tag on him or they could choose to give him a new contract.  My money is on the franchise tag and if the Texans gave Mario a long-term deal, I think it would be a big mistake.
Moneyball at Work
Williams has suffered through various injuries over the last three seasons that have hampered his productivity but he's still a physical specimen with loads of untapped potential.  Williams posted five sacks in his first five games of 2011 before going out with the pectoral injury and was on the way to a big season under Wade Phillips if he had stayed healthy. 
The problem for the Texans is that they paid $13.8 million for Williams and will have to open the vaults for him if they give him a new contract.  But is he worth it?  In fact, they've paid Williams $54 million over the last six years and have 53 sacks by him to show for it.  They have paid roughly $1 million per sack.
While I will be the first person to tell you that simply glancing over the sack column is an incomplete way to evaluate a defensive end, it is worth noting that I simply haven't seen Williams dominate enough games to warrant giving him a new, long-term deal.  Williams played well in this defense, but so did first-time starter Connor Barwin and rookie Brooks Reed.  The entire defensive front, including Antonio Smith and rookie J.J. Watt, has rushed the passer effectively with or without Williams in the lineup.
Wade Phillips is a "scheme-buster" as a defensive coordinator.  He relies less on individual talent and more on effort and execution.  Not only were all the motors cranked up at all times (which has sometimes been a knock on Williams), but the schemes that Phillips employed were frequently responsible for shaking a pass-rusher loose.  He knows how offensive lines will try and protect the quarterback and he does an excellent job of putting his pass-rushers in position to succeed. 
So if it is the system as much as the talent, why would the Texans pay Williams a contract anywhere near the one that Julius Peppers inked with the Bears or even a lesser deal like the one Charles Johnson signed with the Panthers?


The Texans' Options
The Texans could let Williams walk, but I don't see that happening.  My best guess is that they will slap a franchise tag on him and decide what to do from there.  Williams should make over $16 million in just one season with a franchise tag and the Texans may look to bring him back for one season to add to Reed and Barwin, giving them a terrific trio of pass-rushers.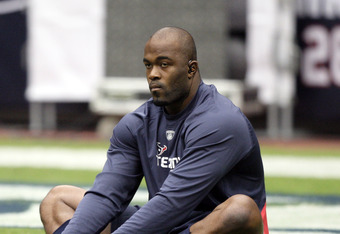 Bob Levey/Getty Images
With the Texans enjoying a wide open window of opportunity, retaining Williams for a year might make sense.  Then again, it might make even more sense to see what kind of trade value Williams would bring pre-draft.  While I don't expect the Texans to be able to a pair of first-rounders for Williams, I do think they could get a team to part with one first-round pick.
If the Texans were to trade Williams, they would need to find another outside linebacker to rush the passer and my vote would be to target edge speed which is still a component missing from the Texans pass rush.  Williams, on the other hand, would probably find himself back at home in a 4-3 defense where he can set the edge against the run and rush the passer with his hand on the ground—free from any coverage responsibilities. 
The Texans could use the money they are freeing up to extend Arian Foster and re-up underrated center Chris Myers.  They could also look to target a veteran free-agent wide receiver who could be a complement to Andre Johnson.
Bad front offices and organizations fall in love with players while good organizations remain committed to value.  That is a reality in baseball, basketball and football. 
I'm not saying you don't pay special players above and beyond the norm, because you do.  Julius Peppers was given a huge chunk of change and he lived up to his contract so far.  Quarterback contracts can be hard to swallow for general managers and owners, but without a quarterback, a team is lost. 
The Texans are in a spot where they must seek out productivity from their outside linebackers at a set amount of dollars.  If the Texans can get 80 percent of the productivity that Mario Williams would have given them, but for 70 percent less (and this year seems to suggest just that), then the best Williams can hope for is a one-year audition with the Texans with nothing more than a franchise tag.