Chicago Bears Fire Jerry Angelo and Leave the New GM Up to Lovie Smith
January 4, 2012
Jonathan Daniel/Getty Images
Like a cockroach scurrying around after a nuclear holocaust, coach Lovie Smith survived the purge as the Chicago Bears fired GM Jerry Angelo, offensive coordinator Mike Martz and quarterback coach Shane Daly.
In fact, it was a Lovie-fest at Halas Hall during the press conference on Tuesday as team president Ted Phillips made it clear that the new general manager has to be in step with Lovie's way of thinking.
With Martz as one of the casualties, Lovie will be looking to appoint his fourth OC since he took over the team in 2004. That brings symmetry as he has also had four defensive coordinators if you count the year he took over in 2009.
If you add them all up, it's like Lovie has nine lives, because he's still here and everybody else is gone.
I think one of the Bears' Ten Commandments is thou shall not cast blame on Lovie Smith.
Listening to the accolades Phillips was spewing out, I thought there was going to be a 21-gun salute for him.
Here are some of those:
"We're going to find the right person who is going to make a good fit with Lovie and the coaching staff."
"The one restriction that will be placed on any candidate is that Lovie Smith is our head coach in 2012."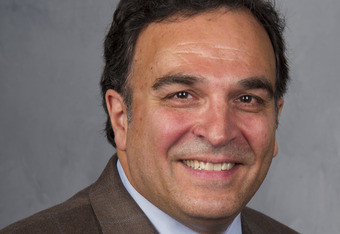 Handout/Getty Images
"Ultimately, we felt that Lovie is the right coach for this team. I have a lot of confidence in Lovie."
"I want to bring in a general manager that understands Lovie's philosophy."
You would think Bill Belichick was the Bears coach after listening to this drivel.
Phillips mentioned that, "Smith is definitely going to obviously talk to the candidates when they come in," so why don't the Bears just let Lovie pick the general manager?
He made the call on Martz, according to Phillips, citing "philosophical differences."
It looks like he's running the show at Halas Hall, and with him having a voice in the decision, he's not likely to give a thumbs-up to someone who doesn't think like him. (That is a scary thought.)
Ted Phillips let it be known that he's in charge of the football decisions, saying that he decided to fire Angelo, with support from ownership.
He also said he had some candidates in mind, but was not anywhere close to a final list yet.
I thought when the next McCaskey in line took charge, he was supposed to be different than his brother Michael. Unfortunately, George proved that if you've seen one McCaskey you've seen them all, saying that he was staying in the background while Phillips makes the team decisions.
That's like letting Bob from Accountemps handle the decisions that will shape the future of your football team. (Phillips was formerly the team accountant before becoming president.)
Mike Florio of Profootballtalk.com mentioned on the Tribune Live Show on Comcast Sportsnet in Chicago that he was surprised by Angelo's firing, but that he was even more surprised that Lovie is staying.
He said, "Good luck hiring the GM that you truly want if you're going to tie his hands the minute he walks in the door. Every GM wants his own head coach, and I think that's going to be an impediment to getting who they want."
The Bears don't seem to learn from their mistakes. They did the same thing when they hired Angelo.
Dick Jauron was in charge at the time and they wouldn't let Angelo make a change then either. The Bears had a fortuitous season in Angelo's first year, and he ended up stuck with Jauron for two more seasons until he was finally able to cut ties with him.
This is setting up the same way.
With Lovie hiring a new offensive coordinator, this will be the third for QB Jay Cutler with the Bears, along with the two he had in Denver. You now set up a possible situation where that guy gets fired after next season if the Bears play poorly and Lovie is finally shown the door.
That's not good for the team, and not good for Cutler.
Who is even going to want this job under that scenario?
Before the Bears hired Martz for the position, they were turned down more than a straight guy at a lesbian bar.
Florio agreed, saying, "I think bringing in a coordinator this year is going to be that same trepidation that it could be a one-and-done career in Chicago."
If they hadn't extended Lovie's contract after the horseshoe-up-the-rear-end season they had last year, his contract would be done now, and they would be free to do a clean sweep. Already eating Angelo's contract, they're not about to eat Lovie's $5 million-plus for two more years.
Next year could be the press conference announcing Lovie's dismissal, so why waste another season?
And on what?
Lovie was almost giddy when the Bears intercepted a Minnesota Vikings pass late in the game Sunday to ensure the victory. I'll bet he didn't show that much excitement on his honeymoon.
In his Monday press conference after the game, it was like Lovie was reading from a script of everything Bear fans didn't want to hear.
"When you are 7-8, and disappointing things have happened during the course of the season, the only thing you can do is get to 8-8. That was a big goal of ours. We put a big emphasis on it, and the guys came through."
All that meaningless victory did was almost put the middle linebacker out to pasture for good when he got injured late in the game, and dropped the Bears from the 13th pick in the draft down to 19.
That wouldn't have meant much if Angelo was still there considering his record with first round picks, but with a new GM, who knows?
He continued on with his clueless rant.
"Starting this New Year, we're 1-0. This was an 8-8 year, but we didn't have a losing record."
He talked about the team gaining over 2,000 yards rushing for only the second time since 1990, saying, "If you're going to be getting off the bus running..."
When one of the media asked Lovie about making the playoffs just once in the last five years, and his defense for why the club shouldn't make sweeping changes including him, Lovie corrected him.
"We have made it once in the last two that I can recall, and I think we would have been in it this year if some unfortunate things didn't happen. That's my defense."
The unfortunate thing that happened was that the Bears didn't have a competent coach. With one, even with the injuries to Cutler and running back Matt Forte, they should have made the playoffs.
He continued on saying that the core is there, and with adding just a few guys, they would be in pretty good shape.
Can you believe this is the guy the Bears place so much value on that the next GM has to acquiesce to him?
It seems like there's no way to get rid of him. I wonder if Raid Max Roach Killer would.