Sugar Bowl 2012: Michigan Dominated by Virginia Tech, Ekes Out Ugly Overtime Win
January 4, 2012
Chris Graythen/Getty Images
I know it was the Sugar Bowl. And I know you do anything to win college football games in January.
But there was something not quite right with watching my Michigan Wolverines play this badly yet beat Virginia Tech 23-20 in New Orleans on Tuesday night.
"This felt wrong," tweeted a talented fellow B/R writer.
"It feels dirty," my brother texted. (I can only hope he was talking about the football game.)
And it's hard to disagree.
No, I don't think the Hokies got "jobbed" like many do on the overtime Danny Coale play originally ruled a ridiculous diving catch in the end zone but overturned on replay. The ball clearly hit the ground as he dove, and in my (completely biased) judgment, Coale didn't have control of the ball before it did. Sorry, great effort, but it's no catch.
The reason this amazing win rings hollow for this Michigan fan?
Because Michigan played terribly for about 80 percent of this football game.
Denard Robinson was downright awful in the game that would supposedly kick off his 2012 Heisman Trophy campaign. The man known as Shoelace went 9-for-21 through the air for a measly 117 yards. He officially recorded one interception on a bad pass into double coverage, his 15th pick of the season, but he easily could have had three more. And if he continues to put the ball up for grabs by throwing the ball off his back foot and without getting his feet set, he's going to continue to turn the ball over way too much in 2012.
Yes, he had two touchdowns through the air, but both were on verrrrrrrrry questionable throws into double coverage on which senior wideout and Sugar Bowl MVP Junior Hemingway made terrific plays.
Yet the Wolverines walked out of the Superdome with a huge bowl win.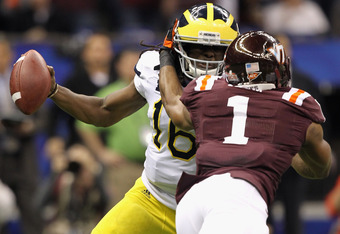 Matthew Stockman/Getty Images
Running the ball, typically Shoelace's forte, didn't go any better. He was absolutely stifled by the Virginia Tech front seven to the tune of just 13 yards on 13 carries, and he looked indecisive and unsure of himself and his offensive line. Tailback Fitz Toussaint didn't fare much better, compiling just 30 yards on his 13 rushes. As a team, the Wolverines ran for just 56 yards, way below their 235.7 per-game average in the regular season, a mark good for 11th in the country.

The Wolverines gained a total of 11 yards on their first 14 offensive plays of the second half.
In all, Virginia Tech held Michigan to just 184 yards on offense, their lowest total since putting up 91 in their 2007 loss to Ohio State.
Yet Michigan won.
And Greg Mattison's defense wasn't a whole lot more successful. Sure, they held up-and-coming Hokies quarterback Logan Thomas to 20 points, but they allowed 377 total yards and couldn't stop Thomas and the VaTech offense on third down, allowing far too many improbable conversions on third and long. 
Sure, the "bend but don't break" approach served Mattison and his unit well all season long and they managed to make enough plays to win the game, but…
How many missed tackles can we continue to withstand?
How many blown coverages can we endure—yes, I mean you, Blake Countess—before a more experienced quarterback takes advantage?
How many times can our stunting linemen be blown off the ball by the opposing team's line because they're shifting too late?
It's just not a recipe for long-term success. Yet Mike Martin and his teammates were all wearing their "Pour Some Sugar on Me" T-shirts in the locker room after the game.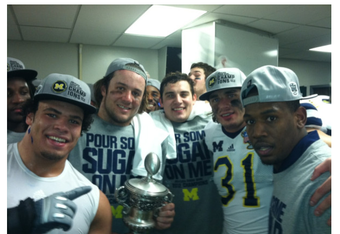 Yes, you take the win. And you take the 11-2 record. (Boy, do you!)
Brady Hoke did a masterful job with this team, taking them from the depths of the Rich Rodriguez era and turning them into BCS bowl game champions in one season. And there were plenty of positives a less cynical fan or critic might choose to focus on.
But this win against a decent, yet hardly dominant Virginia Tech team feels nowhere near as good as a dominant performance (remember Nebraska on Nov. 19, Michigan fans?).
This Sugar Bowl win just had too many unbelievable, lucky, karma-based, mind-blowing moments—a blown (or was it a fake?) field goal-turned-pass that's tipped by two Hokies defenders before it's caught by your long snapper for a first down?—to feel justified in celebrating this win. 
It felt like Michigan did everything wrong. They should have lost by three touchdowns. But just about every bounce, every questionable referee call went their way.
And the Wolverines are leaving NOLA with their first BCS bowl victory since 2000.
Don't get me wrong: I'm delighted. I've already ordered my very own "Pour Some Sugar on Me" T-shirt.
But unless Denard Robinson and the Wolverines make some major improvements before the 2012 season starts, a return trip to the BCS will be awfully unlikely.