2012 NFL Free Agents: Which Players Should Seattle Seahawks Keep & at What Cost?
January 4, 2012
Otto Greule Jr/Getty Images
Although no one attached to the Seahawks would ever admit it, this season was less about winning than about building a team that can win next year and beyond. The Seahawks are among the youngest teams in the NFL, and realistic observers knew they would struggle this season with a new quarterback, young offensive linemen and a young secondary.
Despite injuries across the entire offense, the Seahawks did better than we thought they would and yet not as well as they could have. But they certainly made progress, as the play of the defense (ranked ninth) and the late production from the running game showed.
The record (7-9) might be the same as last year's, and the Hawks may not not be going to the playoffs as they did last year, but there is little doubt this team has improved at almost every spot but quarterback.
Many fans think they are poised to make the playoffs next season, and they might be able to even if Tarvaris Jackson is their quarterback (although, as we have said, they can't win a playoff game with him pulling the trigger).
But they also have to re-sign a few key players first.
The future of Marshawn Lynch has been foremost on people's minds the last few weeks, as he has been among the hottest rushers in the league, and the Seahawks have been talking to his agent about a contract extension.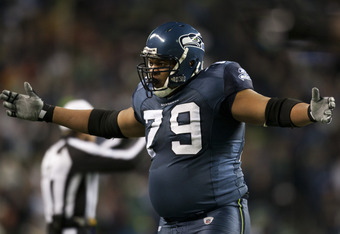 Jay Drowns/Getty Images
But Lynch is not the only key player the Hawks will have to decide whether to keep in 2012. He's not even the most important.
Red Bryant, David Hawthorne and Leroy Hill also will be free agents, and Chris Clemons has only one year left on his contract and might seek an extension based on his excellent play the past two years.
The Seahawks figure to have plenty of salary cap space, especially since they have hacked and slashed all of the big deals that were on their books: Aaron Curry, Marcus Trufant, Lofa Tatupu, Colin Cole et al.
Teams reportedly can get credit for unused cap space under the new CBA, and the Seahawks reportedly finished the season $20 million under the cap. Including that money, they figure to have as much as $70 million to spend this year.
That would be plenty of money to sign Green Bay backup quarterback Matt Flynn, if they so choose, and bring back Lynch, Bryant, Hawthorne, Hill and others. But Pete Carroll and John Schneider have shown they aren't going to throw money at just anyone—Zach Miller and Sidney Rice are the only players they have splurged on in two years.
We already looked at what Lynch is worth, but what about the others?