Detroit Pistons: Analysis of the First Week of the Season
January 3, 2012
Gregory Shamus/Getty Images
This past week saw quite a wacky ride for the Detroit Pistons and their fans.
A week that began with a team that looked like perfect strangers, ended with a team that looked exciting and much further along than many (see me) expected.
There are a lot of things to get to and I will try to touch on everything that I saw from this team.
The Good
Three players really stood out to me this past week for the Pistons: Jonas Jerebko, Ben Gordon and Greg Monroe.
Plenty of other players did good things for Detroit, but those three were by far the most impressive to me.
Jerebko plays with a level of hustle that can be contagious. There are three things in basketball that tend to be contagious: defense, passing and effort. If you get a transcendent player that does any of these things well, it typically leads most of their teammates to follow suit.
Look at Sacramento when it drafted Jason Williams. He dazzled with passes, which in turn made Chris Webber and Vlade Divac try to respond in kind. It turned them into an incredibly fun team to watch, and a relatively successful one at that.
Next, look at Detroit when Ben Wallace came over from Orlando. Almost immediately, he transformed the team into one that prided itself of defense, and it started with him but spread to everyone. Nobody wanted to get beat.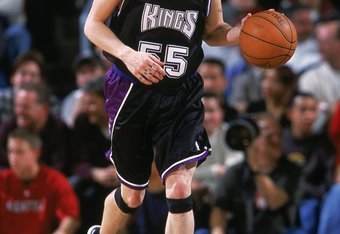 Otto Greule Jr/Getty Images
Now look at Jerebko and his effort. He doesn't give up on any play, and as a result it has fueled players like Monroe, Brandon Knight and even Tayshaun Prince to hustle as well.
Jerebko is doing just about everything right, and is providing a very important piece to this team's success.
Gordon has probably been the best playmaker thus far for Detroit. In an interesting twist that defies logic, he actually looks like the best point guard on the team right now.
Despite looking uncomfortable in the first game, he has turned it around and is routinely finding teammates open underneath, and he no longer looks tentative with his shot. We are seeing a "Benaissance" with Gordon.
Monroe was probably the most predictable to have a good year.
While his down low defense has been inconsistent (looked bad against Indiana, great against Orlando), he has become a real force on offense.
His footwork looks great, his mid range shot is excellent and he plays very well with Jerebko.
He still is somewhat soft on defense, but his rebounding is getting better. He really needs another physical presence inside next to him to take the heat off of him.
At this point, Monroe might be the best Pistons draft pick since Grant Hill.
Needs Improvement
This team desperately needs offensive penetration. Knight has shown the ability to get to the hoop, but at this point he is settling too much for the perimeter jumper.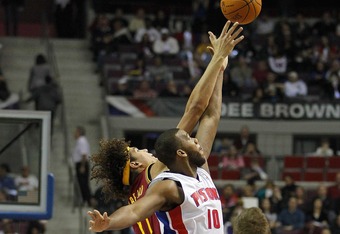 Gregory Shamus/Getty Images
Perhaps he is setting himself up for defenders to try to take away his shot, allowing him better position to drive to the hoop. But at this point, he really needs to take the ball to the hoop and open up his teammates down low.
But overall, Knight is playing well.
The problem is that the team needs to just settle on grooming him as a point guard. Stuckey still has the ball in his hands too often on offense, and despite solid assist numbers, he really isn't setting up his teammates.
Nothing has changed, Stuckey still isn't a point guard and the sooner everyone realizes it, the better for this franchise.
The interior defense still needs a lot of work, but last night's game against Orlando was a revelation. However, it depended on a level of effort from Wallace and Jason Maxiell that it is hard to see coming every night.
Remember, Dwight Howard always has struggled against Detroit, and apparently Wallace is still in his head.
This team desperately needs another big man or two, if for no other reason than to suck up some fouls. Detroit is an injury to Wallace away from being in serious trouble on defense, and do you really want to play injury Russian Roulette with a guy in his late 30s?
Back to Stuckey. He might be the worst finisher on the team. And while he still has no trouble getting to the hoop, he does so in a way that really doesn't compliment the team. It's as though he never has played "team" basketball in his life.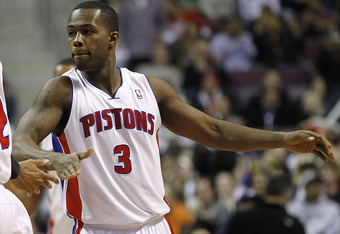 Gregory Shamus/Getty Images
In a lot of ways, watching Stuckey play for Detroit is like watching an All-Star game. Disjointed offensive possessions, drives to the hoop with awkward finishes, and no real sense of unity in the half court game.
Stuckey really needs to improve his team game. The problem is that he doesn't appear to be built that way, which means Detroit needs to get what they can from him.
He can score, and he plays solid perimeter defense. Detroit needs to just run their offense through the post with Monroe and set up the perimeter players that way.
Treat Stuckey like a black hole, and just assume every time he gets the ball he is going to go to the hoop and try to score. That way, he can be a sort of end of the shot clock bailout if the play breaks down.
But he must not touch the ball early in the play clock as no good things seem to happen when the offense runs through him.
The Ugly
Austin Daye and Prince have been pathetic.
I am finally starting to regret the Prince re-signing, as he still refuses to embrace his role as the elder statesman.
Offensively, he must be out of shape because his shots have been woefully short, even post shots.
He slows down fast break opportunities, preferring to dribble back out and get into the half court set. If this team has numbers on a break, he needs to get out of the way since he obviously isn't comfortable in the up-tempo game.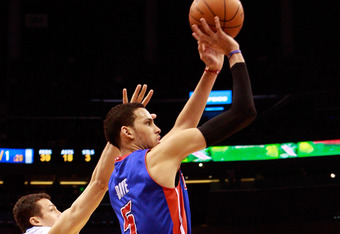 Sam Greenwood/Getty Images
His post play on the offensive end has been lazy at best, inept at worst. He made Omri Casspi look like an All-Defensive First team caliber player.
Defensively, however, is where he really has slipped. Although it can be argued that Prince has always been somewhat overrated defensively, he now is almost a liability. He still has his length, but his foot speed is slower, and his instincts appear to be sorely lacking.
He no longer should draw the top defensive assignment.
One of the arguments for keeping Prince was the fact that Daye probably wasn't ready to step up. This has proven true beyond belief.
Daye has looked lost on offense, and even worse on defense.
He kind of just runs around aimlessly on defense, and on offense he parks on the three-point line and watches the game.
The only time I saw a pulse from him was in the closing minutes of a blowout loss to Boston in which he finally showed some aggressiveness.
It is looking more and more like Daye will not find his niche here, and he is likely to continue to lose playing time to Damien Wilkins, who although not blessed with a ton of talent, conducts himself with professionalism and plays hard.
Overall
The one thing that can be said about this team is that they play hard. And in a season in which the schedule will be an opponent to most clubs, the Pistons combo of effort and youth will help them get some wins.
There is a lot to like about the young guys, and some of the vets are showing new life.
I think coach Lawrence Frank deserves a lot of credit for getting this team to really play hard day after day, and Jerebko needs to at least get half of an assist for that too.
I was getting ready to say that this team was probably worse than last year from a talent standpoint, but better as a team, but that was before the Orlando game.
Now, I think that this team is really being built the right way, and fans should really be excited about Monroe, Jerebko and Knight.
Obviously this team is far from a playoff team, but they also might not be the worst team in the league. This team could end up with a winning percentage similar to last year's which would be a good start for them.
They still are woefully short on talent at all positions, and their front court depth is ridiculously thin. Their interior defense is still pretty suspect and the offense can be schizophrenic.
But the rebuilding process is starting off on the right foot, and this team is one that the city should rally around.
Good things are coming for Pistons Nation.