What the Boston Celtics Can Do to Make Up for Key Offseason Losses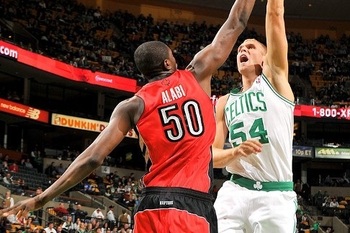 Brian Babineau/NBAE/Getty Images
The Boston Celtics' 0-3 start may have had people clamoring for the returns of Glen Davis and Delonte West, but since the return of Paul Pierce, people's fears are dissipating.
While Pierce and the other members of the Big Four were never a question, all of the new acquisitions coming off of the bench were.
The Celtics bench in 2012 is mostly different, but the new players have filled in well during the early going this year. The outlook is bright for the reserves, considering that their chemistry should only get better as the season goes on.
After all, there was virtually no training camp to assimilate to.
So, while the new-look Celtics bench doesn't jump out at you with the personality of last year's team, the new players could surpass the production level of last year's bench.
Again, it may take time, but this bench is better than last year's.
Brandon Bass vs. Glen Davis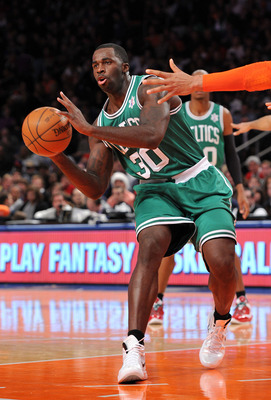 Christopher Pasatieri/Getty Images
The tradeoff between Brandon Bass and Glen Davis is virtually non-existent. To date, there has been no difference in the production between Bass this year and Big Baby's last year.
You could argue that Bass has even been better because he shoots a much higher percentage from the field (53-percent vs. 45-percent).
The rebounding numbers are the same, and neither guy was a shot-blocker, so all things considered, the Celtics haven't missed a beat with the first guy off of the bench during the 2012 season.
Keyon Dooling vs. Delonte West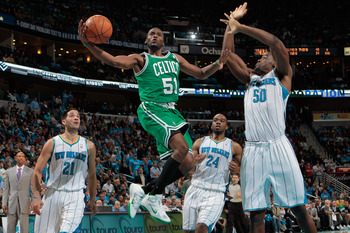 Chris Graythen/Getty Images
The loss of Delonte West may have some people concerned, since Delonte was always a fan-favorite, but Keyon Dooling has filled in admirably now that West is a member of the Dallas Mavericks.
Dooling gives Boston a legit backup point guard, something that wasn't there last year, and thanks to solid play early on, Keyon has become a welcomed addition to the C's.
Dooling has actually been more impressive with his scoring (8.6 PPG in 19.0 MPG) than his passing skills, but consistent production is all that he needs to bring to the team.
He may not be known for his shooting skills either, but Dooling has hit 50-percent of his shots from downtown, which is an added bonus no one saw coming.
Marquis Daniels vs. Von Wafer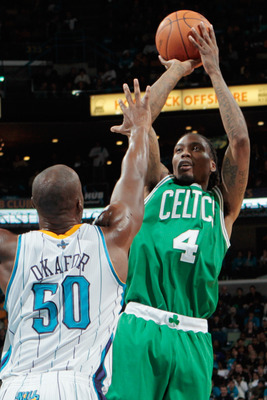 Chris Graythen/Getty Images
This one is a bit wonky, since Daniels was on the team last year, but ask anyone if they could have their pick between him and Von Wafer and Marquis will win every time.
Daniels and Wafer's offensive games are fairly similar, but while Wafer would roam the three-point line, Daniels is much more heavily involved in the Celtics offense.
Marquis can rebound and pass fairly well, plus he's always been a quality defender, so the Celtics really win out in this scenario.
Daniels isn't great, but he's a solid team player that will help the Celtics gel.
Chris Wilcox vs. Nenad Krstic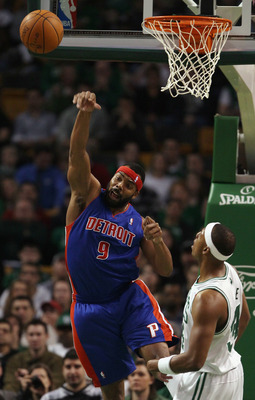 Elsa/Getty Images
One area that the Celtics may have issues with this season is replacing the production of Nenad Krstic. The team brought in veteran Chris Wilcox to replace Nenad, but so far during the young season, Wilcox has not been productive.
Krstic may not have been a rough-and-tough center, but he had a soft offensive touch around the rim. Wilcox is not a finesse player and hasn't brought much to the team this year.
In Wilcox's defense, he's missed a couple of games, so the jury is still out, but don't expect him to be a valuable asset off of the bench.
Luckily for the Celtics, the team has an answer for Wilcox's early lack of production.
Greg Stiemsma vs. Shaquille O'Neal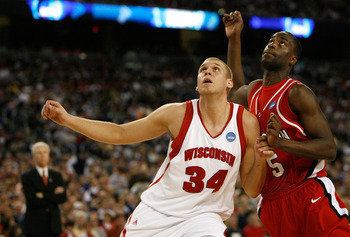 Gregory Shamus/Getty Images
Greg Stiemsma doesn't block shots. The ball fears him and jumps out of his way.
Chuck Norris jokes aside, the Wisconsin product has become a very necessary piece to the Celtics puzzle in 2012. He's blocking shots, and unlike most of the other players on the team, he's not a broken-down aging vet.
While it was nice to have Shaq in Boston last season, it wasn't something that translated into wins. The big man was often injured and only played 12 minutes in the playoffs for the C's.
It's a little early to crown Stiemsma the second-coming of Bill Russell, but he's playing at a very high level for someone that no one considered to be on the radar in Boston during the 2012 season.
Keep Reading

Boston Celtics: Like this team?