Cleveland Browns Can Learn from Patriots' Success and Indianapolis' Downfall
January 3, 2012
Elsa/Getty Images
If two Polians do not equal one Belichick, what do Mike Holmgren and Tom Heckert do with the No. 4 pick in the 2012 NFL Draft?
Is it really that big of a shock to NFL fans that Indianapolis Colts owner, Jim Irsay, fired Bill and Chris Polian? No, it's not, and here's why.
A Comparison
The New England Patriots are 13-3 this season. Since 2001, the Pats have won 10 or more games each season—except 2002 when they won nine. They have four Super Bowl appearances, and three championship rings. 
One of those postseasons they stayed home was 2008. That year Tom Brady was placed on I.R. after playing part of the first quarter in their season opener. The team—lead by a seventh round quarterback named Matt Cassel—finished 11-5, second in the division. 
Brady came back in 2009, lead them to the playoffs, and did it again in 2010. This is their ninth trip to the postseason in the past 11 years.
The Indianapolis Colts were 10-6 last season. In 2009 they won 14 games and have won 10 games or more since 2002. Indy has been a dominant force in the AFC—making the playoffs every year since then. The team has two Super Bowl appearances, and one championship ring.
This season, a delayed recovery from neck surgery put Peyton Manning on the shelf, and eventually for the whole season. The team—lead by a quarterback concoction of Kerry Collins, Curtis Painter and Dan Orlovsky—finished 2-14. A trip to the postseason would have been their 10th in a row.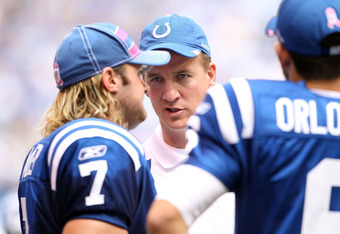 Andy Lyons/Getty Images
Two different teams, two quarterbacks done for the year, one ginormous difference. And in the case of Bill and Chris Polian, unacceptable.
So which should come first, the quarterback or the team?
In Indianapolis, the quarterback came first. Peyton Manning clearly brings out the best in everyone around him, including the defense and special teams. His absence greatly affected the organization's success. 
In New England, the team was first. The quarterback position became interchangeable. Not taking anything away from Tom Brady (he also brings out the best in his teammates), but the team still performed, competed and succeeded with him sidelined.
In the upcoming weeks and months, the Cleveland Browns brass will analyze their situation, and among others, the quarterback position. During their evaluation, I encourage Mike Holmgren and Tom Heckert to ask themselves these questions.
No. 1. If Colt McCoy were QB of the Indianapolis Colts, would they have performed better than 2-14? Could he match success in New England or Green Bay?
No. 2.: If a healthy Peyton Manning were QB of the Cleveland Browns in 2011, would they have performed better than 4-12? What about Matt Flynn, or Andy Dalton?
Analysis of Answers
If the Browns brass answers YES to No.1, and NO on No.2: 
Cleveland needs to build the team around Colt, add more playmakers and customize the playbook to his strengths.
If they answer NO to No.1, and YES on No.2:
The Browns need to evaluate all options to upgrade at QB, but only if the right player is available. It has to be the right player. 
If the answer is "NO" to both questions, then the Cleveland Browns are in deep trouble, and have a long, long way to go. 
And if the answer is "YES" to both—well we wouldn't be here right now, would we?