Colts Owner Jim Irsay Is Cleaning House and It's Best for Indy's Future
January 3, 2012
Sean Gardner/Getty Images
With the regular season over in the NFL, teams are firing coaches and preparing for next season.  The biggest changes a team made came from the Indianapolis Colts.
After finishing 2-14, Colts owner Jim Irsay felt he had to make a change.  He fired Vice Chairman Bill Polian and General Manager Chris Polian.
It was a move that shocked even Peyton Manning.
This is a great move by Jim Irsay.  He currently owns a team that is full of mentally weak players and one Hall of Fame quarterback who became bigger than the franchise. 
Without Manning on the field, the Colts played awful.  Part of the issue was the fact that Manning wasn't out there, but the bulk of the issue was the team just played without any hope.  
This had to be troubling for Irsay to watch.  He is paying millions of dollars to these guys. Many of them are pro bowl players and they played with no passion.  
A NFL team can't just rely on one player to be successful.  Anything can happen and anyone can get hurt.
Indianapolis learned this the hard way.
In 2008, the New England Patriots lost QB Tom Brady in the first game of the year.  New England went to backup quarterback Matt Cassel and finished the season 11-5.
The Polians made the mistake of not having a quality backup quarterback just in case Manning got injured.  There was no excuse for that.  Manning has had injury issues over the last few years.  There are plenty of quality backup quarterbacks in the NFL who could have gotten more than two wins with the players that Indianapolis has.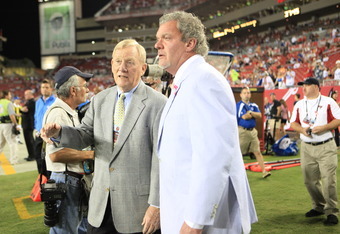 Marc Serota/Getty Images
Irsay is doing the right thing shaking up his franchise. He can get a fresh start by drafting QB Andrew Luck and building for the future.
Manning should take note that everyone's time runs out in the NFL and his time is running out too.
Irsay did not fire head coach Jim Caldwell yet.  He is evaluating what he wants to do next before deciding on the coach's future.
I believe if Irsay is serious about cleaning house, Caldwell has to go too.
The Colts need a coach with some passion to get these players to play up to their potential.  Jeff Fisher would be a great choice for the Colts, if they can get him.  
I applaud Jim Irsay for what he is doing.  He is being aggressive and doing whatever he can to get the Colts back on track and ready for success in the future.