Los Angeles Lakers: What If Mark Cuban Owned the Lakers?
January 2, 2012
Ronald Martinez/Getty Images
While pondering the thought of how much it would take for the Los Angeles Lakers to part ways with Kobe Bryant, I reached a road block when I realized I was making a mistake. 
The question is not how much the Lakers would want for him but rather which teams would be willing to take on his huge contract—a three-year deal worth $90 million that will expire in 2014.  His current contract does have a no-trade clause, but he could always opt out if he and the Lakers were to come to a mutual agreement.  
Who would be crazy enough to take on that contract?  I could only think of one owner, Mark Cuban. He is one of the few owners who can rival Kobe's desire to win.
However, the point I want to look at is not whether the Lakers would consider trading Kobe. What I want to know is what if Mark Cuban was the owner of the Los Angeles Lakers instead of Jerry Buss?  How would that have affected Kobe Bryant's career up to and including now and heading into the future?
Not to say that one owner is better than the other, but you can't help but give the advantage to Dr. Gerard Hatten Buss.  Since purchasing the team in 1979, Buss, the former chemist, has certainly put his chemistry skills to good use by putting together enough great teams to win 10 NBA championships. This is not to mention the fact he's played with some pretty volatile chemicals, notably Ron Artest, Shaquille O'Neal and of course Kobe Bryant. 
Mark Cuban's career as the owner of the Dallas Mavericks has been far shorter. He bought the team on Jan. 4, 2000; however, in that time he built some great teams around Mavs star Dirk Nowitzki. The Mavs have made the playoffs every year since he took over in 2000 and finally captured his first NBA title this past season.    
However; I'm going to say it again, I'm not here to compare the number of championships each owner won, I'd rather focus more on their ownership styles, in particular their relationships with their players and the team as a whole.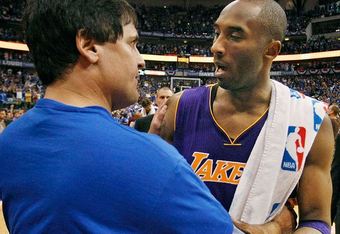 Mark Cuban is not your conventional NBA owner. You can always find Mark Cuban in the crowd at Mavs games hootin' and hollerin' from the stands—much to the displeasure of commissioner David Stern.  Not only is Cuban always close to the game but he's also close to the players, just look at his relationship with star Dirk Nowitzki.
What if Cuban came to Los Angeles in 2000 instead of Dallas?  What would his relationship with Kobe Bryant look like?  Would Shaq have stayed in Los Angeles?  If not, would the Lakers still have landed Pau Gasol?
It's impossible to answer all of those questions, but I am confident that had Cuban become the owner of the Los Angeles Lakers in 2000 instead of the Mavericks, he and Kobe Bryant would have enjoyed quite the interesting relationship; whether it would have been "interesting good" or "interesting bad" I honestly cannot say for sure. 
Although he has his moments, I consider Kobe to be more of an introvert. He doesn't talk a lot of smack, he's a "put up or shut up kind of guy." He'd much rather put up than waste time talking. Cuban on the other hand, wants to do both.  Cuban is far more vocal and likes to get under people's skin, just Google his beef with Phil Jackson to learn more about that. 
To shed some light on a possible answer, for some weird reason I think that despite their contrasting styles Bryant and Cuban would have been quite close—I would argue even more so than Cuban and Dirk. 
After seeing Mark Cuban celebrate his world title with his players, I can't help but imagine him down on the court celebrating with Kobe and Shaq.  That would have been quite the spectacle, not to mention, Cuban might have been successful in keeping Shaq in Tinsel town. They might not have stopped celebrating after the third title, Pau would probably be playing alongside his brother in Memphis and the Mavs would look more like the Cowboys than the Mavs we have come to know under Cuban's ownership.
What about the future? This is where it get's interesting.  It is becoming more and more clear that Cuban aims to sign star PG Deron Williams this summer, whether he'll be successful is yet to be seen.  If Cuban owned the Lakers, would he have continued to fight the vetoing of the CP3 trade?  Or would he have gone after Dwight Howard right from the get go. That is, before the Lamar Odom fiasco would have happened.
Final Thoughts:
Kobe and Cuban would have been quite the interesting on-court/off-court duo.  There is potential there for some great things and also some bad things, particularly due to their different styles.  Would they have thrived together?  I tend to think so, mostly because I expect they would have both put their differences aside in order to focus on a common goal: winning.  That being said, I won't deny that it's also very possible they would have clashed.  What do you think? Let me know your opinion.