Philadelphia Phillies: Grading the Depth of Prospects at Each Position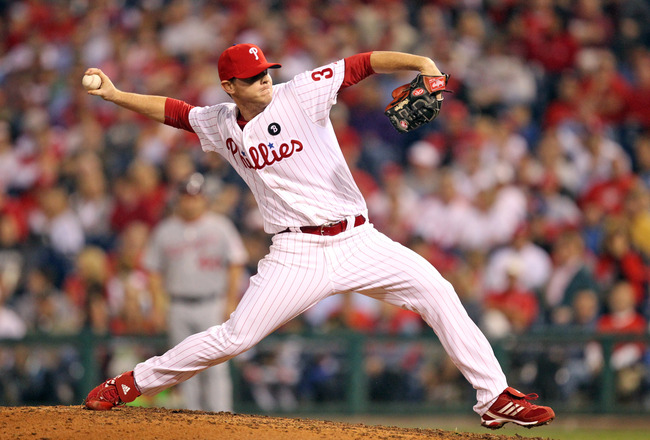 Hunter Martin/Getty Images
There may only be 25 men on the active MLB roster, but the number of important players in the Phillies organization is much higher.
At each position, there are prospects in the minor leagues who can be just as impactful as the guys playing at the highest level.
The Phillies have made a handful of huge trades in the past few years—the Halladay, Lee and Pence trades are some examples—and the common theme in these trades is the movement of prospects out of the Phillies' farm system.
In the deal that brought Hunter Pence to Philadelphia, for example, the Phillies had to give up top prospects Jonathan Singleton and Jarred Cosart, as well as outfielder Domingo Santana.
But that doesn't mean that the farm system is completely depleted; at some positions the Phillies show great depth, while at others there are few players who could make the majors.
Catcher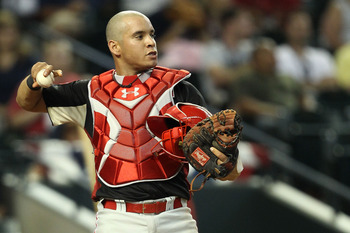 Sebastian Valle
Christian Petersen/Getty Images
Grade: B
Yes, the Phillies do have Sebastian Valle, who is the heir apparent to Carlos Ruiz, but outside of that they don't have much.
Valle is a great prospect. His defensive ability and athleticism match his quick hand speed—all qualities that indicate he has a bright future.
Last year in High-A Clearwater, Valle hit .284 and drove in 40 RBIs in 91 games. At age 20, the fact that he is so highly thought of is a good sign that he'll have success down the road.
Looking past Valle, the Phillies have Cameron Rupp, 23, who played in Single-A Lakewood last year. Unlike Valle, Rupp is a more prototypical catcher, bringing more power but less athleticism with his 6'1", 240-lb frame.
While he can't be considered a top prospect, Rupp's strength and power potential make him an interesting guy to watch behind the plate.
First Base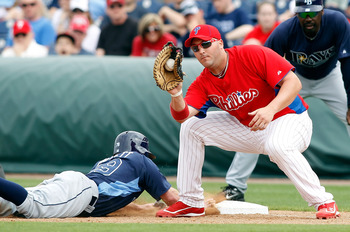 Matt Rizzotti
J. Meric/Getty Images
Grade: C+
When the Phillies traded top first-base prospect Jonathan Singleton for Hunter Pence last summer, it seemed like the right thing to do.
Ryan Howard looked to be the long-term answer in the Major League level, and prospects Matt Rizzotti and Cody Overbeck were both doing decently in the minors.
Looking back now, however, it's hard to say the Phillies have depth at first base. Rizzotti (pictured) did well in Double-A Reading last year, but at age 26, he probably won't drastically improve.
His power numbers looked good in 2011, as he slugged .511 in Reading, but his numbers in Triple-A (where he played 17 games in 2010) were terrible. He came out with just a .267 slugging percentage.
Age is also the thing keeping Cody Overbeck from being considered a prospect. At 25, Overbeck is a little better-off than Rizzotti, but his stats in Lehigh Valley are nothing extraordinary.
A .279 batting average and .747 are all right, but nothing that screams prospect.
Darin Ruf, another 25-year-old, had an amazing year at High-A Clearwater in 2011, driving in 82 RBIs with a .502 slugging percentage, but his breakout performance may be too late for him to be a prospect.
Second Base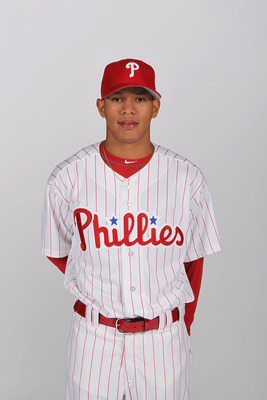 Cesar Hernandez
Nick Laham/Getty Images
Grade: B
The Phillies may not have a top prospect at second base, but they do have two promising young faces in Cesar Hernandez (pictured) and Roman Quinn.
Hernandez, 21, has been in the organization for five years now. He has shown ability as a lead-off hitter with his speed and hitting for contact. Scouting reports have indicated that he has good fielding instincts, and his .975 fielding percentage in 2011 backs that up.
Quinn, 18, was drafted in the second round by the Phillies in 2011. He hasn't played a game at any professional level yet. That being said, Quinn stood out as the fastest player in the 2011 draft and is known for his ability to hit leadoff.
He has experience playing shortstop and center field as well, and his arm strength and range may lead him to move off of second base. For now, he's considered a second-base prospect to watch.
Fans should also keep an eye on Harold Garcia, 25, who is a mid-level prospect with good power and decent speed, but who sat out almost all of 2011 due to a torn ACL.
Third Base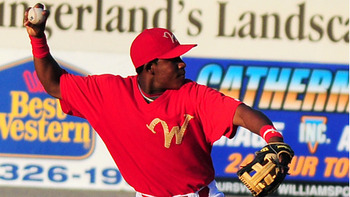 Grade: C
After last season, Maikel Franco (pictured) seemed to come out of nowhere to land on many scouts' radars as a top prospect.
Ranked 10th best in the organization by Baseball America, Franco is an extremely raw prospect. At age 19, he has more than enough time to develop. Scouts have noted his good throwing arm and potential for power hitting.
Other than Franco, though, the Phillies have no third-base prospects to speak of. They lost Carlos Rivero, 23, to the Nationals when he was claimed off of waivers last month.
Shortstop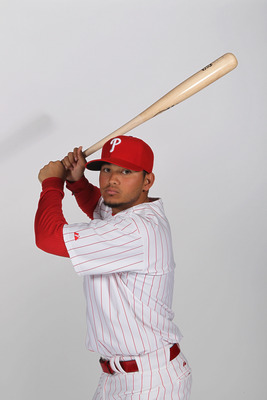 Nick Laham/Getty Images
Grade: B
In addition to Freddy Galvis (pictured), the Phillies have a couple of mid-level prospects at shortstop. Galvis, 22, may be young, but he's already playing as high as Triple-A Lehigh Valley. If he can work on his hitting, he will be ready for the MLB by the end of 2012 or beginning of 2013.
Tyler Greene and Mitch Walding—both 2011 draft picks—are two prospects that have drawn some interest.
Greene has all the early makings of a five-tool prospect, but it's hard to tell since he hasn't played a full season with the club yet. Greene, 18, played in just 17 games in the Gulf Coast League in 2011, but his stats were solid at .276/.386/.379.
Walding hasn't played any games yet, but scouts have spoken very highly of his hitting ability. If he can have a good rookie season, his stock will rise tremendously.
Outfield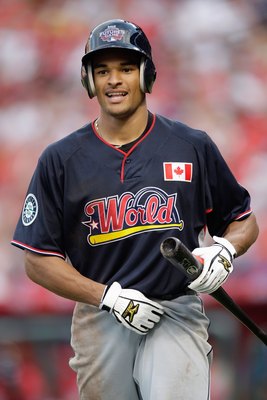 Jamie Squire/Getty Images
Grade: A
The Phillies have a lot of prospects in the outfield. From Jiwan James, who shows the early signs of having five-tool potential, to first-round draft pick Larry Greene, who has the potential to be as big of a power hitter as Ryan Howard.
This is in addition to Tyson Gillies (pictured), who was brought over in the trade that sent Cliff Lee to Seattle in 2009. Gillies hasn't been healthy since 2009, but if he can fix his hamstring problems he is a decent prospect.
And don't forget about 24-year-old Domonic Brown. He'll be repeating Triple-A Lehigh Valley next year, and if he can improve his fielding while there, he'll be a potential five-tool guy in 2013.
His broken hand in 2011 may be the reason behind his lackluster performance offensively, so coming back 100 percent healthy in 2012 will be an advantage.
Other raw talent in the outfield includes Aaron Altherr (20), Anthony Hewitt (22) and Leandro Castro (22).
Starting Pitching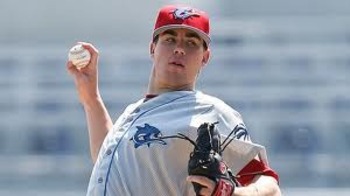 Grade: A+
The Phillies have their best depth at starting pitching. They have the Baby Aces—Trevor May, Jon Pettibone, Jesse Biddle and Brody Colvin—and they have sleeper prospects Julio Rodriguez and Lisalberto Bonilla.
May (22), ranked No. 1 in the organization by Baseball America, won the Paul Owens award for best minor-league pitcher in the Phillies' system in 2011. He went 10-8 with a club-record 208 strikeouts in 151.1 innings for High-A Clearwater.
Pettibone (21), ranked fourth by Baseball America, held a sub-3 ERA in Clearwater last year. Biddle (19), ranked second best, also had a sub-3 ERA in Single-A Lakewood.
Colvin (21), who is ranked eighth best, struggled last year in Clearwater, but has the potential to be a top-three starter in the MLB down the road.
Rodriguez (21) may not be considered a "Baby Ace," but he did post the best numbers out of any minor league pitcher in the Phillies system. His 16-7 record, 2.76 ERA and .186 batting average against were all league-leading or top three within the South Atlantic League.
Bonilla (21) pitched as both a starter and reliever for Lakewood in 2011, amassing a 2.80 ERA.
Relief Pitching
Rob Carr/Getty Images
Grade: A
Like with their starters, the Phillies have many prospects in relief pitching. Unlike starters, though, the Phillies relievers are, for the most part, ready to play in the MLB (or one year away).
With Antonio Bastardo (26) and Michael Stutes (25) are proving themselves as major league-quality relievers. September call-ups Michael Schwimer (25, pictured), Justin De Fratus (24) and Joe Savery (25) showed in 2011 that they aren't far behind.
Also, keep in mind Phillippe Aumont (22) is just a year or two away from being a solid set-up guy in the MLB. Between Triple-A and Double-A last year, Aumont pitched in 43 games, keeping a 2.68 ERA with a .216 BAA.
His 6'7" frame allows him to dominate hitters with a fastball in the middle 90s and a "power slurve" in the mid 70s to low 80s.
Keep Reading

Philadelphia Phillies: Like this team?