Derrick Rose Is a Lot More Like Michael Jordan Than You Might Think
January 1, 2012
Stephen Dunn/Getty Images
Having had the opportunity to watch Michael Jordan's entire playing career with the Chicago Bulls, I knew I would never say another Bulls' player was better, but Derrick Rose is starting to remind me of him more and more.
They both came into the league with superior athletic talent, but without a complete game. Neither one of them was accused of being a lights-out shooter coming out of college.
Instead, they each had an incredible ability to get to the basket despite not having an outside shot. Even though you could play back on them and dare them to shoot, they would still go by you and at times slice through the entire team going to the hole, and you know what, there wasn't a damn thing you could do about it.
But Rose like Jordan didn't just settle for letting his exceptional athletic ability define his game.
Jordan recreated his game numerous times throughout his career. He became a very good outside threat as his career progressed, to the point that he was shrugging his shoulders in the Finals game against Portland in 1992 when he buried six 3-point shots in the first half. It was like he was saying, "Wow, I can't believe this either."
But of course he could, because he worked at his game to become better and not so one-dimensional, even if that one dimension was superior to any player who ever stepped on a basketball court.
After retiring and taking off almost two years, he came back with a turnaround jump shot that was almost unstoppable. Even though his athletic skills weren't quite the same as the years went by, his game was better because he learned how to negate the effects of age.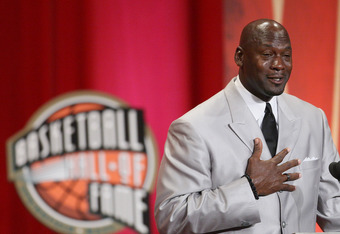 Jim Rogash/Getty Images
While his game was no longer a highlight reel of dunks, he still showed up on the highlights with his burgeoning array of ways to beat you.
That's Derrick Rose. Nobody today goes to the hole better than Rose, but that's no longer all he can do.
In his second year, he worked on his jump shot and made the All-Star team.
Last year, he expanded his repertoire, adding a 3-point shot that made him even harder to guard. You could no longer back off and dare him to shoot because he could now take that shot and make it, and it's even better so far this year.
He also worked on his post-up game this past summer. I haven't seen much evidence of it so far, but you can believe he will pull it out of his bag of tricks when he needs it.
Friday night against the LA Clippers and Chris Paul, a player many consider to be the best point guard in the league, emphasized just how good Rose has become.
Despite Paul putting up 15 points on 14 shots along with 14 assists in 44 minutes, his performance was pedestrian compared to Rose.
On those same 14 shots, Rose poured in 29 points, with 10 of them coming from the line, and 16 assists in 42 minutes.
You barely noticed Paul was on the court because Rose's performance was so dominating.
Jordan came to a Bulls team with nothing there, and eventually took them to rock star status.
While Rose came to a better team with the likes of a Luol Deng, Kirk Hinrich, and Ben Gordon on the roster, there clearly was not a transcendent player on the club.
Rose has become that player, and has elevated the Bulls to the level of a championship contender for years to come, with just one obstacle in their way.
Again, that is reminiscent of Jordan and the "Bad Boys" of basketball, the Detroit Pistons. The Bulls had to go up against them and lose a few times before they could finally get past them, and that's what's likely to happen with this Bulls team.
The Miami Heat are the new "Bad Boys" of the league: the team that people love to hate.
The Jordan-led Bulls were loved and cheered in practically every arena they played in. The same thing is happening with the current Bulls team with Rose.
Chants of MVP echoed the Staples Center Friday night late in the game as Rose dismantled the Clippers. He regularly gets cheered everywhere he plays, because fans appreciate his game, and the humbleness of his demeanor, rather than the arrogance Miami exhibits.
Rose has another trait of Jordan's: his burning desire to win.
In an ESPN Chicago column by Jon Greenberg, he related that Rose told him he never celebrated his many accomplishments from last season, including the MVP award.
"I didn't win a championship yet, so there's no point to celebrate," Rose said.
He mentioned in the article that he had offers to go on talk shows after the season, but he turned them down.
Here where he shows winning is the only thing that matters attitude.  "At the end of every show, they're going to ask you, 'So what happened with whoever you lost to?'  "I want to be on the show where they say, 'How did it feel to win a championship? That's how I want to be on the show."
There's one other similarity to Jordan that is scary, particularly for his opponents.
In a recent KC Johnson column in the Chicago Tribune, he said, "I remember everything. When I play, I'm a quiet guy, so I think of anything to get me going. I hold grudges, man."
If anyone remembers Jordan's Hall of Fame speech where he talked about every perceived slight that motivated him throughout his career, including getting cut from his high school team, you can see where Rose is coming from.
And if that isn't scary for anyone playing against him and his Chicago Bulls team, I don't know what is.