John Cena vs. Dolph Ziggler and 10 Must-See WWE Feuds in 2012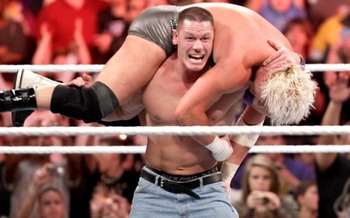 John Cena delivers an Attitude Adjustment to the brash Dolph Ziggler.
With 2011 now in the books, the WWE Universe looks forward to an another exciting year in 2012. Some may argue that last year wasn't as great as many hoped it would be, but I can assure you that the Creative Team's New Year's resolution must be to provide better programming in the year ahead, as we have one hell of a week scheduled in the first of the new year.
As more younger athletes such as Dolph Ziggler, Cody Rhodes and Daniel Bryan take center stage, I fully expect more experienced veterans such as John Cena, Kane and Randy Orton to take somewhat of a backseat to help put over the future of the WWE.
While that statement may turn out to be completely false, one can only hope that the newest batch of stars will provide us with fresh feuds and more ruthless rivalries.
The current roster has the potential to emerge into something amazing, as I present to you 10 must-see feuds that we hope to see come to fruition in 2012.
John Cena vs. Dolph Ziggler

John Cena vs. Dolph Ziggler

I kick off the presentation with a rivalry that we've seen hinted at in the past, but has yet to form into a solid rivalry on Monday nights.
At the conclusion of 2010, then-Intercontinental Champion Dolph Ziggler made a surprise appearance on Raw to challenge the go-happy John Cena to match in that night's main event. Although the obvious victor was Cena, Ziggler proved to me and many others that December night that he's capable of hanging with the top talent in WWE.
Their similar amateur wrestling backgrounds make for a classic bout, much like Cena's critically acclaimed match with CM Punk at the Money in the Bank pay-per-view in July. With the bleached blonde Superstar receiving a shot at the prestigious WWE Champion on the upcoming edition of Raw, one could only imagine that this is the sign of huge things to come for Dolph Ziggler in 2012.
Alberto Del Rio vs. Sin Cara

Sin Cara vs. Alberto Del Rio

I think I speak for many members of the IWC when I say that Sin Cara's WWE career thus far has been extremely disappointing. However, if there's anyone on the roster who can bring the best out of the Mexican sensation, it's Alberto Del Rio.
Although Alberto Del Rio and Sin Cara's match didn't live up to my high expectations when they collided in early October, it was mostly due to the fact that they weren't given enough time to shine during their match on SmackDown. Since it's widely known that Sin Cara is not an expert when it comes to the English language, fellow Latinos such as Del Rio, Chavo Guerrero, and mostly recently Hunico are able to work well with Mistico given the fact that they're able to communicate with him a bit better than some of the other Superstars in the locker room.
While Sin Cara is currently nursing an injury at the moment, I'd love to see these two Mexican natives live up to my high standards of being a lucha libre classic upon his return later in the year.
The Miz vs. Zack Ryder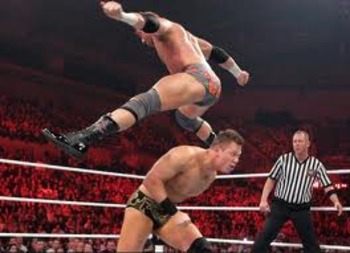 Zack Ryder dodges The Miz.
In mid-2010, Zack Ryder was chosen via the fans vote to be The Miz's tag team partner that night at the People's Choice edition of Raw. I was ecstatic at the fact that WWE had finally come to their senses and put these two in a match against one another given their strong similarities in personality, but sadly, the alliance was short-lived.
Although the two egotistical Superstars have crossed paths here and there in recent months, they surprisingly have yet to collide in a one-on-one match. It may seem like a step down for Miz at this point, but challenging Zack Ryder for the United States Championship in the near future could help Ryder gain even more credibility if he were to defeat the former WWE Champion.
The natural chemistry between the two has the potential to be an extremely entertaining feud, as the matches themselves might also be quite enjoyable if given enough time. Pulling the trigger on this feud on the road to WrestleMania 28 would be the perfect way to bring prestige back to the star-spangled prize.
Mark Henry vs. Rey Mysterio

Rey Mysterio vs. Mark Henry

Correct me if I'm wrong, but I don't recall there ever being an on-going rivalry between Rey Mysterio and Mark in years past. Given the enormous size difference between the two, you'd expect WWE to pull off a huge David vs. Goliath feud with Mysterio and Henry by this point.
Since his debut in WWE a decade ago, Rey Mysterio has been portrayed as the Ultimate Underdog who is always able to overcome any obstacle put in front of him. He's proven that time and time again, capturing three World Championships so far in his career.
Mark Henry, however, has taken the role of an absolute monster since turning last April, destroying everyone and everything that dare cross his path of destruction. Despite losing his World Heavyweight Championship a few weeks ago, Henry still maintains that same intimidation factor that has made him the most feared competitor in the company today.
Although Mysterio is out with an injury at the moment, there are still numerous potential feuds for the Master of the 619 to partake in before he eventually hangs up his boots, and stepping up to Henry could provide an excellent story-telling angle. If the World's Strongest Man continues to take the WWE by storm going into 2012, I could certainly see Rey Mysterio being the one to put an end to his reign of terror.
Daniel Bryan vs. Christian

Christian vs. Daniel Bryan

In a recent article I composed a few days ago, I made my claim as to why Christian should challenge Daniel Bryan for the World Heavyweight Championship at WrestleMania 28. Whether that comes to fruition or not still remains to be seen, but it doesn't take away from the fact that this is a rivalry that must occur in 2012.
It's no secret that these both in-ring technicians are extremely skilled inside the ring, as seen during their first-ever match contested against one another at the conclusion of August last year. Their similar styles make for an exciting bout without question, having the potential to be one hell of a rivalry if booked correctly.
With a lack of faces to rival against upon his return, Daniel Bryan would be the perfect opponent for Christian to compete against at this year's Show of Shows. Regardless of who would go over in the end, one could only imagine that pairing these two together could create fireworks on Friday nights.
Beth Phoenix vs. Kharma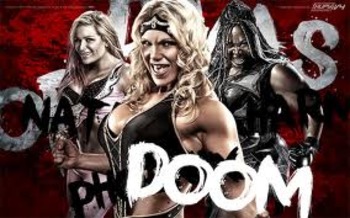 Beth Phoenix, Natalya and Kharma
Since it was announced in late 2010 that WWE had signed Awesome Kong to a contract, the IWC nearly exploded at the thought of a potential Kong and Beth Phoenix showdown, give or take then-Divas Champion Natalya. Despite the match not coming to fruition at WrestleMania 27, intriguing vignettes began to air hyping the debut for the one known as Kharma.
Although Kharma's reign of terror only lasted three weeks due to an unexpected pregnancy, she vowed she will return to once again strike fear in the eyes of the Divas division. She even recently took it to Twitter hinting a potential rivalry with Phoenix upon her return, possibly over the Divas Championship.
Personally, I find it unlikely Kharma will be back in time for WrestleMania 28, but there is a strong possibility we see this dream match come true sometime this year.
Sheamus vs. Kane

Kane vs. Sheamus

Upon his return at the 2011 WWE Slammy Awards, Kane has adapted a new persona that we haven't seen in years from him, returning the symbolic mask that hides his scarred face. He's recently targeted John Cena, but numerous other potential rivalries await Kane once he's finished with the multiple-time WWE Champion.
Sheamus, on the other hand, has found himself without direction on SmackDown as of late, mostly due to the fact that he's without a credible heel to work with. Although there is the possibly he emerges victorious in this year's Royal Rumble match, there isn't much left for the Celtic Warrior to do as a face on Friday nights.
With that being said, why not have Sheamus be the one to put an end to Kane's recent wrath? Given their similarities in size and pure power, an eventual bout between the two unstoppable forces could be quite enjoyable indeed.
Randy Orton vs. R-Truth

Randy Orton vs. R-Truth

Once R-Truth shockingly turned heel last April, he developed a new crazed persona that saw him paranoid about almost everything. Regardless if he's heel or not at this point, Truth plays this gimmick to absolute perfection.
Another sadistic Superstar in the WWE who experiences much of the same is Randy Orton, who has heard voices in his head for the past three and half years now. Despite turning face in 2010, that hasn't stopped him from punting his adversaries in the skull, including the likes of Sheamus, Cody Rhodes, and the entire New Nexus.
Ironically enough, Truth and Orton had a one-off match this past summer on SmackDown that saw the former rapper picking up the victory due to Orton's disqualification. A feud between these two insane competitors would be highly desirable, even if Truth is slowly becoming a fan favorite again.
Cody Rhodes vs. Goldust

Goldust vs. Cody Rhodes Promo

Of all the feuds already proposed on the list, this personal rivalry looks to be the quickest to come to fruition between Intercontinental Champion Cody Rhodes and his half-brother Goldust.
Since Goldust returned to the WWE in late 2008, a feud with his younger sibling Cody Rhodes has been highly anticipated. They've had a few backstage confrontations here and there, even Cody eliminating Goldust from the 2009 Royal Rumble match, but nothing that signaled a continuous rivalry.
For months now, Goldust has taken his dream of facing the Intercontinental Champion at WrestleMania 28, a petition that has since taken notice of numerous WWE officials. After so long, we were given a teaser of this potential feud this past Friday night on SmackDown, where Dustin emerged without make-up to confront Cody, only to be met with a Beautiful Disaster kick to the face instead.
Whether or not these two face-off at WreslteMania 28, Cody Rhodes vs. Goldust is one dream match that looks to finally becoming a reality sooner rather than later.
CM Punk vs. Wade Barrett

CM Punk vs. Wade Barrett

As one of the most underrated feud yet to come to fruition, I'm personally really looking forward to the day when CM Punk and Wade Barrett collide again.
This rivalry has a bit of history behind it as well, where CM Punk replaced Wade Barrett as the leader of the Nexus during his absence. On the premiere episode of Raw of 2011, Punk symbolically exiled the Englishman from the group by removing his Nexus armband as well as costing him a shot at the WWE Championship.
Although they participated in their first-ever singles match prior to the Royal Rumble pay-per-view, it didn't last long due to John Cena serving as the special guest referee and deeming the bout a double disqualification. The two former Nexus leaders have yet to cross paths since, leaving this viewer extremely intrigued as to the next time they do.
Now that Punk is a fan favorite again, I don't see the chances of this feud occurring being slim, as Barrett's recent resurrection has made him a force to be reckoned with on Friday nights. Their in-ring skills would mesh nicely without a doubt, creating a solid match that is quite possible if the NXT Season One alum can win this year's Royal Rumble match to advance to WrestleMania 28 to challenge the Straightedge Savior.
Conclusion

CM Punk and Wade Barrett Promo

Please note that I opted to not utilize inactive talent such as Triple H or Undertaker or unsigned Superstars including Chris Jericho and John Morrison, in addition to using ever Superstar only once on the list.
With all that being said, which of these 10 rivalries would you like to see come to fruition over the course of 2012? Are there are any other rivalries you'd like to see become a reality by the time the year comes to a close?
Thanks for reading, Bleachers, and feel free to voice your opinions below in comments as to whether these feuds could be helpful to the talent, television, or improving the product overall. As always, your criticism and overall feedback is greatly appreciated. Have a happy New Year!
GSM out.
Visit my website at Next Era Wrestling as well as my WrestleRant and Spoilers podcasts for more of my thoughts and writings, along with WWE/TNA news, rumors, reviews and more. Follow me on Twitter @SAVE_US_GSM.
Keep Reading