Chicago Bulls: Derrick Rose and Company Head Home After a 3-1 Road Trip
December 31, 2011
Stephen Dunn/Getty Images
Derrick Rose is still the best point guard in the NBA. 
In a December 20th article http://bleacherreport.com/articles/991977-chicago-bulls-is-derrick-rose-the-best-point-guard-in-the-nba, I raised a debate about who is the best between Rose and the Clippers' Chris Paul. One of the key stats was Rose's 7-0 record against whom many consider his chief rival along with Deron Williams. After last night's 114-101 win over the Clippers, Rose is now 8-0. 
For the moment, that is all the argument that I need.
The Bulls ended the tough road trip with a 3-1 record in games that answered many questions and developed a few others. 
One question was: How would the Bulls respond to four games in six nights on the road? The 3-1 record is a tad bit misleading, if you consider that they needed late-game heroics to defeat the Lakers in game one. I didn't believe for one moment that the Bulls would win versus Golden State in Oracle Arena, a place where they have always struggled, including losing three out of four there in recent years.
The Bulls came out flat against a speedy team who has a good shot to contend for a playoff spot. 
The Kings game had me scratching my head a bit. Sacramento is improving. They have one of, if not the most talented young frontcourt rotations in basketball. Few teams can march out DeMarcus Cousins, J.J. Hickson, Donte Greene, Tyler Honeycutt, Hasaan Whiteside and Jason Thompson. Each guy is under 26 and has a ton of upside. The problem for them is that coach Paul Westphal doesn't seem interested in coaching defense and he misuses his rotation.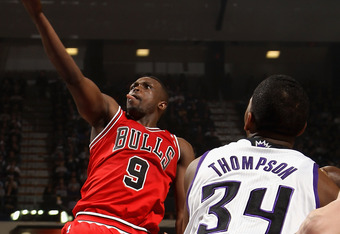 Ezra Shaw/Getty Images
At the end of the day, the Kings are a young bunch whom the Bulls toyed around with too long.
I caught a lot of flak in my last article for suggesting that the Miami Heat would've blown out the Kings if they had built a 15 point lead. I am not always correct in my assessments but, I will stick to my point by stating this: "Good teams build deficits, great teams sustain them." 
No, you are not a great team or having a great game if you let a 15 point lead slip to two if the team you are facing is inferior. Sloppy play in the third quarter nearly cost the Bulls a win. If it weren't for backup guard C.J. Watson's stellar performance once Derrick Rose sat with foul trouble, the Bulls would have lost this game. I will chalk it up as a great team having a bad game. 
Good teams lose that game, great teams find a way to win that game. 
Versus the Clippers, it was a matchup that could serve as an NBA Finals preview. Fans of the Heat and Thunder might be rolling over right now but why should fans of other NBA teams concede defeat? The schedule will serve as the toughest foe in the season for any team with championship aspirations.
For anyone who wants to know what a great team looks like, watch the Bulls/Clippers game over and over again. The Bulls came out slow and sluggish yet finished fast and furious and clearly broke the Clippers' will. 
This is the Bulls team many of us have expected. This is the Bulls team that several media outlets including ESPN, Yahoo Sports, and the Sporting News have suggested may be the dark-horse to win it all. No team in the league has guys such as Ronnie Brewer (found his shooting touch), Taj Gibson, Kyle Korver and Watson coming off the bench with the capability to take over a game. Offensively and defensively, no team is this strong when they are firing on all cylinders. 
The Clippers game and the 3-1 road trip to start the season is an indication to what to expect this year, but the Bulls are still missing that final piece.