Charlotte Bobcats at Miami Heat Key Matchup: Maggette vs. LeBron
December 31, 2011
Mike Ehrmann/Getty Images
SUNDAY'S KEY MATCHUP
AmericanAirlines Arena - Miami, FL 

Corey Maggette vs. LeBron James
In the Bobcats' last outing against the Heat, we focused on the matchup between Gerald Henderson and Dwyane Wade and this proved to be an important one as both played huge parts down the stretch in the outcome of the game.
Henderson had a good game, leading the team in scoring and hitting a clutch three-pointer to give the Bobcats the edge. Dwyane Wade had a pretty subpar game by his standards partly due to Henderson's defense and partly because of a foot injury sustained in the first half. Ultimately, Wade got the last word by hitting the go-ahead six-footer to win the game.
Still, Wade only had 10 points, while James had a game-high 35 points to go with seven assists and six rebounds.
Most of James' damage was done in the post in the second half, as he took advantage of mismatches against smaller guards, so the larger Maggette (6-6) is going to need to step up his game to try and keep James in check.
Maggette struggled through a 1-for-10 shooting night on Wednesday while battling a cold and was held out of practice Thursday due to the same illness. He returned on Friday to lead the Bobcats in scoring with 20 points. Maggette scored 12 points with seven rebounds and two assists in the opener against Milwaukee.
Head Coach Paul Silas said earlier in camp that if Maggette plays up to his potential, he can be an All-Star this season. Going head-to-head with James will give him a chance to prove it.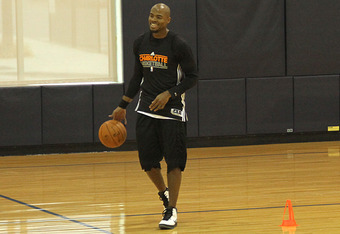 SCOUTING THE BOBCATS (1-2)
Since winning their season opener at home against the Milwaukee Bucks, the Bobcats dropped a heartbreaker against the Heat and sleepwalked through a loss to the Magic. D.J. Augustin has had a strong start to the season with performances of 18, 20 and 14 points despite playing on a sore ankle; he continues to be listed as day-to-day. He's averaging 17.7 points, 6.0 assists and 2.7 rebounds through three games.
Gerald Henderson has had a strong start to the season as well, averaging 15.7 points, six rebounds and one block and Kemba Walker has been coming off the bench to average 9.6 points, three rebounds and 3.3 assists to round out a young but strong backcourt for the Bobcats.
This game is the first of three straight road games to open the season for the Bobcats.
SCOUTING THE HEAT (4-0)
Miami has started off this season on a tear and seems more focused on making a serious title run this season. Miami played in Minnesota on Friday and is returning to South Beach on a four-game winning streak.
James is leading the way with averages of 33 points, 7.5 rebounds, seven assists, 2.8 steals and 1.5 blocks, showing he still knows how to fill a stat sheet.
Wade follows with averages of 19.8 points and 5.8 assists but was limited by a foot injury he had in the first half in Charlotte and finished with just 10 points, including the game-winner. Wade also caught the go-ahead alley-oop pass on Friday night to narrowly defeat the Minnesota Timberwolves.
Chris Bosh rounds out the "Big Three" with averages of 16.8 points and 8.3 rebounds. Norris Cole is the only other Heat player averaging in double-digit scoring with 11 points.