Why Home-Field Advantage Is Vital for San Francisco 49ers' Postseason Run
December 30, 2011
Ezra Shaw/Getty Images
Dwight Clark and Everson Walls know a few things about home-field advantage.
As recounted by Gary Myers in his vivid 2009 book, The Catch, 58 seconds remained in the NFC championship game on January 10, 1982.  Chased by Dallas Cowboys defenders, 49ers quarterback Joe Montana rolled right and hit Clark, who leaped high above rookie cornerback Walls in the corner of the end zone for a 28-27 win and the Niners' first trip to the Super Bowl.
The field was a sodden mess, and that section of the end zone was so boggy that 49ers players referred to it as "The Quag."  It may be just lore, but I have strong memories from the next day of reading that Montana instructed Clark, "Take him into The Quag."
Montana and Clark became instant superheroes, and, thanks to a stunning Sports Illustrated cover photo by Walter Iooss, Jr., Clark and Walls were captured forever in the mind's eye of the sporting public.  Last month, the two were even reunited—both Pro Bowlers, both with Super Bowl rings—for an autograph session commemorating "The Catch" at a Bay Area sports memorabilia shop.
"Take him into The Quag."  Those five words, spoken or not, sum up the power of home-field advantage, especially in an era of heated domes and perfect plastic turf.
It's an advantage the 49ers will need, especially if, as expected, they draw the New Orleans Saints in the playoffs.
There is no Quag in the Mercedes-Benz Superdome.  What there is, in addition to perfect footing for Saints quarterback Drew Brees and his receivers, is noise—and lots of it, from more than 76,000 raucous fans.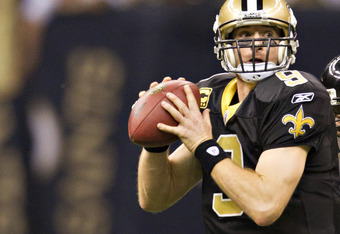 Wesley Hitt/Getty Images
Noise is great when it's on your side—for example, when you're on defense and want to make it tough for your opponents to hear their signals.
When it's against you—well, it's a pain in the ears.
Noise is such a part of home-field advantage that the 49ers, before their recent 20-3 victory over the Pittsburgh Steelers, posted instructions on their website for fans to make lots of it when Pittsburgh had the ball and remain relatively quiet when the 49ers offense took the field.  (Unfortunately, they forgot to remind the local utility to keep the lights on, but that's another story.)
Field conditions, fan noise—and let's not forget weather.  Even on a summer afternoon, Candlestick Park is usually cool and blustery.  In winter, the cold, the fog and the wind are positively bone-chilling.  It's one thing if you're used to it.  It's quite another if your home is wind-free and always 72 degrees.
Finally, there's travel.  Flying from San Francisco to New Orleans takes the better part of a day.  Even to the degree that people can work on the plane, preparation time is lost.  Far better to put in a good day of work in Santa Clara and then sleep in your own bed the night before the game.
In all likelihood, ultimate home-field advantage will belong to the Green Bay Packers.  (The only way they can lose it is by getting knocked out of the playoffs in the second round.)  If the 49ers are to reach the Super Bowl, they'll probably have to get there via a freezing Lambeau Field. 
But until that day comes—and the Niners find themselves surrounded by crazed partisans wearing yellow cheese slices for hats—home-field advantage at Candlestick will remain essential for San Francisco.  Jim Harbaugh knows it, the coaching staff knows it and the players know it. 
With that in mind, look for a solid, businesslike performance on Sunday against the St. Louis Rams as the 49ers try to lock up a first-round bye and home-field advantage against their first opponent in the playoffs.
PS—Be sure to read the inspiring, in-depth story by Barry Horn in the Dallas Morning News about Everson Walls donating a kidney in 2007 to his old teammate and close friend, running back Ron Springs, who died this past May.