Kevin Durant and Russell Westbrook: 5 Ideal Destinations for Young PG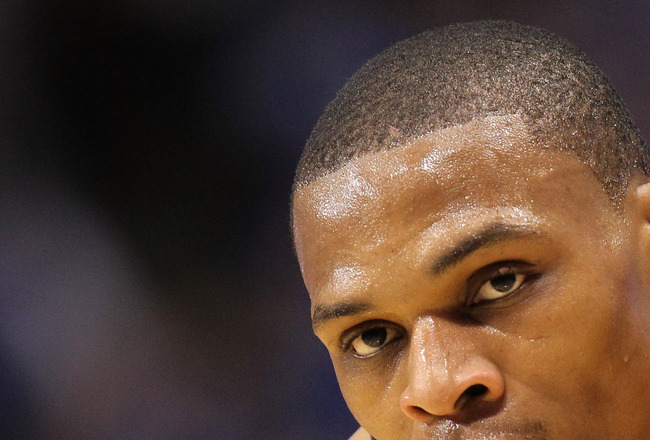 Ronald Martinez/Getty Images
I doubt Russell Westbrook will be traded from Oklahoma City. While sometimes Westbrook's attitude and cocky demeanor do him an injustice, he is a skilled basketball player and future perennial All-Star (received his first last year) that is too good of a talent to be traded away. That being said, Westbrook might get himself traded due to said attitude off the court.
And if he does, where will he land? Where would the Thunder trade him, and what would they get in return?
As an author's note, if you feel like any of the trades I've proposed are unrealistic, please tell me in the comments below.
New Orleans Hornets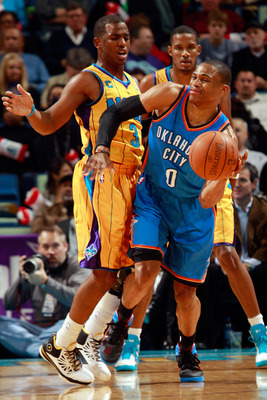 Chris Graythen/Getty Images
Hornets Receive: Russell Westbrook
Thunder Receives: Jarrett Jack, First-Round Pick (2012), Second-Round Pick (2013)
A simple trade to the Hornets would give the Thunder a great facilitating point guard in Jarrett Jack. Jack, while not an assist machine in his career, was also never a threat at scoring, either, and would free up valuable shots for Kevin Durant.
He also would not demand as many minutes as Westbrook, which would allow James Harden to eat them up. The Thunder probably would not win a title this year if this trade was executed, but two draft picks in future years would allow the Thunder to either draft a point guard of the future, or trade for one with the extra draft picks.
The Hornets, on the other hand, would receive an immediate star in Westbrook. Westbrook would immediately love the air in New Orleans surrounding his first game, where he would be the main offensive option. However, living in Chris Paul's shadow could dampen this effect, as well as young upstart Eric Gordon possibly stealing the spotlight.
Another trade could be:
Hornets Receive: Russell Westbrook, Thabo Sefolosha
Thunder Receive: Jarrett Jack, Eric Gordon, First-Round Pick (2012)
This trade would give the Thunder much more to work with immediately, however the trade would result in the Thunder being stuffed at shooting guard, with both James Harden and Eric Gordon being legit starters.
Phoenix Suns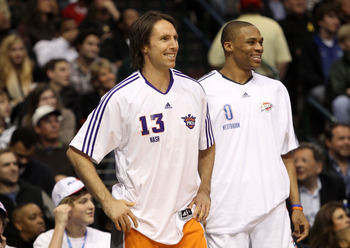 Ronald Martinez/Getty Images
Suns Receive: Russell Westbrook, First-Round Pick (2012)
Thunder Receive: Steve Nash
The Thunder give up more in this trade, because Steve Nash is a complete veteran and Russell Westbrook is still unproven. Still, the Thunder end up with a steal here in this scenario, at least for the short time being.
Nash has about two to three years left in the league, and he could easily team up with even more powerful Kevin Durant to bring OKC a championship before he hangs up his shorts.
This would also allow the Suns to begin rebuilding, and give Westbrook an ideal location for his talents. Since Nash is a little older then Chris Paul, Westbrook would not have to deal with the stigma surrounding his arrival. However, many fans of the Suns might dislike the trade and boo Westbrook.
While that remains to be seen, Westbrook would immediately become the No. 1 option on the Suns squad—just how he likes it.
Indiana Pacers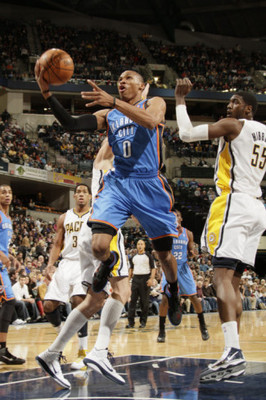 Roy Hoskins
Pacers Receive: Russell Westbrook
Thunder Receive: Darren Collison, First-Round Pick (2012), Second-Round Pick (2013)
This is another trade where Thunder are injured for the short-run. While Darren Collison is an exciting young prospect, he cannot help lead the team like Westbrook could. The Thunder would still be a force in the Western Conference, but they would no longer be favorites to win the title.
This trade puts them in a better position then the Hornets trade, as Collison is younger then Jack, and also a little better in terms of scoring an assists.
This allows the Thunder to also turn to the draft for additional support, so they could make a run in the next two or three years.
The Pacers, on the other hand, are already a playoff team, and the addition of Westbrook could put them over the edge.
Eliminated by the Chicago Bulls in the first round last year, they could look to make a surprise upset and possibly reach the Eastern Conference Finals with Westbrook at point.
Memphis Grizzles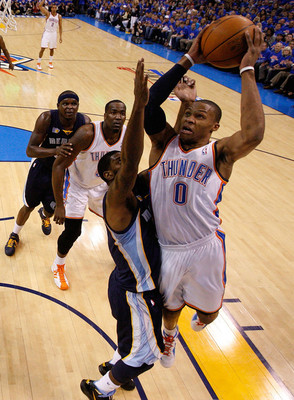 Ronald Martinez/Getty Images North America
Memphis Receives: Russell Westbrook, Thabo Sefolosha
Thunder Receives: Mike Conley, Tony Allen, Second-Round Pick (2012)
This trade would allow the Thunder to compete immediately.
Mike Conley is a great young point guard often overlooked because of Memphis' poor play and the other big names on the team. However, he averaged a solid 12 points per game last year and 6 assist.
Trading Sefolosha as well would allow James Harden to take over the starting spot, and Tony Allen would provide support minutes from the bench.
The Grizzles, on the other hand, would immediately be able to take a shot at the title with this trade. Memphis overall has one of the best starting units in the entire league, and adding the All-Star talent of Westbrook would put them over the edge.
With Rudy Gay and Zach Randolph receiving passes from Westbrook, both could increase their points per game.
Not only that, but some of the pressure would be taken off the inside of the floor, where Memphis is strongest. Without that inside pressure, all the members of the Grizzles would benefit and they could make a surprise run at the title this year.
The Thunder could be reluctant to pull this trade off, however, with Mike Conley's ankle currently injured. Not only that, but after the hard run Memphis gave them last year, the Thunder might be wary to trade away their star point guard to an already playoff-ready Memphis squad.
Oklahoma City Thunder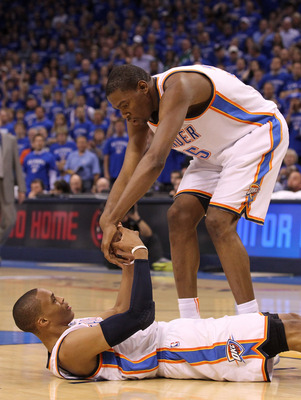 Ronald Martinez/Getty Images
I know, I know, I'm cheating with this one.
This article was inspired by the recent struggles the Thunder have had with the relationship between Kevin Durant and Russell Westbrook. Many people feel that Westbrook takes Durant's shots and that they are both superstars who cannot both call the same city their home.
However, as many shots as Westbrook "steals," he is still the second option in Oklahoma City and still their point guard. Whether or not he's better than Kevin Durant, or whether Westbrook and Durant are friends or not makes no difference.
The recent mid-game fight between Westbrook and Durant has sparked a resurgence of these kinds of comments, and most do not take into account that in-game fights happen all the time.
The infamous Manning-Saturday fight is called to mind from a 2006, as well as the Brady-O'Brien argument from a couple of weeks ago.
Westbrook and Durant do not need to be friends. They simply need to look out for each other on the basketball court, as well as outside of it. We have never heard an instance of bad blood between them outside of the NBA, and one in-game fight means almost nothing.
A day later from the fight, this happened. While Westbrook was charging down the court for a slam dunk, he was fouled and lost his balance and fell into the sideline. Westbrook was the only Thunder player on the side of the court, and struggled to right himself. Seconds later, James Harden and Kevin Durant rushed over to check if Westbrook was OK.
This kind of without-thought action is mere proof that no bad blood exists between Durant and Westbrook. If there was, Durant would not have run down the court to help.
The way things are going right now in in Oklahoma City, a championship run is in sight. Durant and Westbrook have worked together and existed for three years in Oklahoma City, and if it was a problem before, it would have been solved already.
Here's hoping.
Keep Reading

Oklahoma City Thunder: Like this team?