Pittsburgh Steelers: Why Ben Roethlisberger Should Not Start Against the Browns
December 29, 2011
Karl Walter/Getty Images
The burning question amongst Steelers fans is "how is the ankle of Ben Roethlisberger?"  Likewise, many in the Steel City wonder whether he will take the field before the playoffs.
Considering that Sunday's game includes playoff implications, if Roethlisberger is completely healthy he should start, and few would debate that point.  While heeding the fact that only the team and its medical personnel would fully understand the nature of Ben's injury and progress, I still dare to ask: 
How can he already be fully healed?  Either way, why risk further injury, foregoing extra recuperation that can be had this coming week?  Many feel that the team should start Ben Roethlisberger from this week forward, utilizing him at whatever level of health he makes himself available.
This is the type of short-term thinking I don't feel that the Steelers can afford to consider.
Make no mistake that a quick-strike passing game can be accomplished with Pittsburgh's weapons, but it cannot be successful with Ben Roethlisberger—long term, that is. 
Fans who expect him to grimace to the line of scrimmage, take the snap and make fast, decisive completions are unrealistic.  Ben's mobility, his ability to extend plays and take advantage of defenses by finding his rocket receivers downfield, is essential.
The Pittsburgh Steelers face two potential scenarios heading into January, either of which ideally includes a version of Ben Roethlisberger that is much closer to the genuine article than the
injured clone fans witnessed two weeks ago in San Francisco.
Let's consider scenario one:
The first possible situation is a road trip next weekend to compete against the winner of the AFC West, either the Denver Tebows or Oakland Overraters.  These opponents may not seem too daunting a challenge by record or eyeball examination, but any road contest could be a hurdle for the Steelers. 
Under said circumstances, Ravens fans will be basking in the glow of an AFC North Championship, while the Steelers will face the daunting task of winning three road playoff games (barring long odds of a home AFC Championship against the sixth seed).
Unlike 2005, when the Steelers navigated the elite of the AFC playoff field, the 2011 Pittsburgh squad plays more "heavy like steel" than "hard like…" on the road. 
Dating back to their first championship season for this generation, Steelers Country traveled to watch their team prove themselves as amazing road warriors.  
With Terrible Towels taking over enemy territory, the Steelers won 11 straight away games, from playing in a hurricane in Miami (Ben's first start) until a win over Brett Favre at Lambeau Field in 2005.
The "Super Season" came into great jeopardy when Pittsburgh lost three straight games, including two contests in Baltimore and Indianapolis to snap their streak.  
However, they rebounded to win their last four games of the season, including two road bouts, before streaking to four playoff wins (including Super Bowl XL) away from the friendly confines of Heinz Field.  That championship crew won 17 of 19 games away from the Steel City in just under two years.
This season, the Steelers have withered under the heat of opposing crowds and unfamiliar territory. Whether noise-induced, coincidental or the result of being distracted, Pittsburgh has more often than not shown difficulty with winning on the road in 2011.
Turnovers in the red zone, false start penalties and inopportune mistakes have altogether resulted in a few unnecessary nail biters.
Certainly, this is not an indictment on the Steelers' talent or potential.  They field a roster able to win the Super Bowl.  Still, every team has a unique set of attributes (good and bad) that culminate in their identity, a very fluid set of items that can change by season, if not faster.  
The 2011 Steelers are not better suited to win a championship on the road, despite the argument of those fans who recall the 2005 squad as proof of this ability.
They are two different teams who performed in two very different ways in similar circumstances.  Road games were a forte of the 2005 Steelers and a hindrance to the 2011 club.
To address the counterargument to my eventual main point: considering their enhanced ability to win at home, why not go with Big Ben on Sunday, right?  After all, Pittsburgh can't secure a bye week without one of the culminating factors being a win over Cleveland.
While a healthy Roethlisberger always enhances odds of victory, it is inherently flawed to consider starting him unless he is near 100 percent. After all, a Steelers win is not enough to celebrate another division title.  
Ben's ankle, even if only still hurt marginally, could regress and the Ravens may just win.  That's the reality.
If indeed the Steelers go on the road in the postseason, it is foolhardy to risk the ankle of a franchise quarterback dependent on his mobility as a key attribute of his style.  
Already struggling on the road, the team will need its leader to be at the peak of his game (or as close as possible) entering the weekend of January 7th, 2011.
Winning on the road is difficult.  Finding nomadic success without Big Ben—especially sustained through divisional rounds and conference clashes—would be nearly impossible.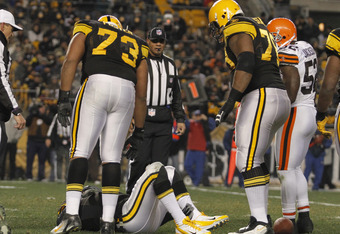 Justin K. Aller/Getty Images
Scenario two is obviously far more ideal, the notion of winning the AFC North and playing at home in the first round or beyond.  After all, the 'Burgh's last two trips to the big game have come by virtue of winning football games at Heinz Field.
What if the Ravens lose on Sunday?  Unfortunately, the implications won't be known in advance, so a debate will ensue whether or not Roethlisberger starts.  Both camps will have their points.
The Steelers will have no way of knowing ahead of time, so they must play in anticipation of a Baltimore loss at Paul Brown Stadium. Amidst rooting on the home team, black and yellow hearts will certainly don tiger stripes, if only for a few hours.
In that circumstance, many fans would argue that not starting Ben is foolhardy.  Sure, Roethlisberger gives us our best chance at winning...
However, if the circumstances were ever more ideal for playing an experienced backup quarterback, I've not witnessed it.  
The Steelers play the team they've beaten 17 of 18 times—featuring a pedestrian
quarterback, anemic offense and lackluster run defense—in the same matchup that saw their starter injured weeks earlier.
Against the 49ers, Steelers fans learned that an injured Roethlisberger isn't always the best chance at winning.   While he has had time to heal, any further aggravation is far less ideal than additional time to
heal, albeit one or two weeks.
If Roethlisberger is closer to his normal self than most fans would estimate, he should start.  There's never a reason to bench your healthy starter unless there are no implications to the pending contest.
An athlete's determination to make the field of play is difficult to measure against good long-term sense. The window to capture another Lombardi Trophy may be closing for this group of capable and  dedicated veterans.
Should the Steelers beat the Browns either way?  Yes. If they lose in either circumstance, should they have a bye week?  No.
Is there a guarantee the Ravens lose? No.  Whether on the road or at home later in January, do the Steelers need a healthy Roethlisberger to succeed?  Yes.
The season is far bigger than this game, despite its implications. 
In other words, even in a best case scenario where the Steelers win and Ravens lose, it's Pittsburgh who ultimately loses if the risk of Ben's health results in weeks of healing being undone, or merely undermined.
Let's not forget that this is not the first time that Roethlisberger has been injured, nor the initial disconcerting moment for fans of Big Ben at the hands of the Browns. 
Remember the concussion to end 2008?  Yes, that was the Steelers' last championship season, and for part of the regular season finale, a concussed Roethlisberger laid on the Heinz Field turf courtesy of Cleveland.
Ben may be ready to play, but are the Steelers actually ready to risk him if he's not absolutely, undeniably, completely healed?  If he isn't, it only makes sense to let the chips fall where they may, no matter when the first playoff contest is to be played, and allow him to be at his best when it's do or die.
After all, Charlie Batch can certainly command the troops against Cleveland in a game that the Steelers should win.  Batch is a great backup option and the Steelers are blessed to have him. 
In fact, it's the perfect time to place faith in Batch, against a team nearly as helpless against the run as the 32nd-ranked Rams. They practically carried Pittsburgh running backs to first downs last weekend.
Moreover, Ben or no Ben, if Pittsburgh loses to the Browns, they don't deserve to win the AFC North anyway.
It all comes back to something so elementary, so simple, so pedestrian in concept: the Steelers need a healthy Ben Roethlisberger.  Any risk to his ability to play after Week 17 is a game called jeopardy.
In this version, sans Roethlisberger, the Steelers would fall short of their goals.  There is no question about it.