Oakland Athletics Trades: From Moneyball to Triple-A's, Lew Wolff's Betrayal
December 29, 2011
Jed Jacobsohn/Getty Images
Baseball history has seldom seen a series of pocket pickings as disgraceful as the A's recent trades of Gio Gonzalez, Trevor Cahill and Andrew Bailey. Were David Stern at the head of MLB and not the ever-cautious Bud Selig, the trades would never have been allowed.
At one time the A's, under Billy Beane's "moneyball" scheme, acquired solid but undervalued major leaguers at bargain-basement rates. Now they trade their best players and get no major leaguers at all.
Expect a once-loyal fan base to continue to desert the team next year as the team's ownership, headed by Lew Wolff, continues to destroy the franchise.  
I'll be brief with details of the trades since I don't want the symptoms of my Christmas flu attack to return.  On December 9, the A's traded Cahill (18-8, 2.97 ERA in 2010) and lefty reliever Craig Breslow (career 3.06 ERA) to the Diamondbacks for promising starting pitcher Jarrod Parker and two prospects. It was a lopsided trade, but Parker could ultimately be a good one. Had they stopped there not much of a fuss would have been made.
Unfortunately, that was only the beginning. On December 22, the A's sent staff ace Gio Gonzalez (16-12, 3.12 ERA in 2011) and his killer curve ball to the Nationals for four more alleged "prospects." The losing trifecta was completed yesterday when stud closer Andrew Bailey and projected outfield starter Ryan Sweeney were sent to the Red Sox for outfielder Josh Reddick (a Sweeney clone) and two more class A "prospects" about whom little is known except that they possess a pulse.
And so the three players who represented the A's in the last three All-Star games are gone along with last year's starting outfield of Josh Willingham, David DeJesus and Coco Crisp (free agent Crisp hasn't signed elsewhere but will soon).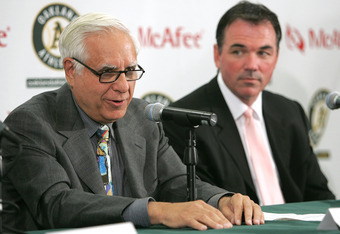 Justin Sullivan/Getty Images
Wolff took over the team in 2005 from previous owners Steve Schott and Ken Hofmann.  Schott and Hofmann were tight-fisted in their own right but, with Beane's help, crafted a team featuring exciting young players like Jason Giambi, Miguel Tejada and the Big 3 pitching staff of Tim Hudson, Mark Mulder and Barry Zito. They also made the playoffs in each year from 2000-2003 and went 91-71 in 2004.  Though they won the ALDS with the remnants of the team put together by the previous owners in 2006, it's been all downhill since then.
Wolff continues to cry poor, saying that aged O.co Coliseum won't generate the revenues necessary to build a competitive team though his predecessors were successful under the same limitations. As for his embarrassing decision to tarp over the third deck in 2006, it's done nothing but limit gate receipts for big series against the Giants, Yankees and Red Sox and make the Coliseum a less desirable ticket.
It won't be a surprise if Lew tarps over the second deck this year. He may not need it.
But the A's continue to make money. Last March, Forbes Magazine listed the team's operating income at $23 million.  They also estimated the franchise's present worth at $307 million. Wolff bought it for $180 million. It's hard to shed tears for a guy who has seen his investment grow in value by 70 percent in just seven years.
Rumors earlier in the month that MLB would buy out the Giants' territorial rights to San Jose and pave the way for a new A's stadium there have disappeared. Perhaps Wolff's gutting of the once-proud A's is a way to force the hand of MLB. The NFL had its "Suck for Luck" campaign last season.  Perhaps this is the A's saying "We won't play 'til we get San Jose."
Whatever the reason, the Triple A's off-season has constituted nothing but a deliberate attempt to put an inferior team on the field. As such, it must be seen as an outright betrayal of the A's fan base and a cynical denial of a MLB franchise's responsibility to put a competitive team on the field.