Brock Lesnar and the 5 Best Wrestlers in MMA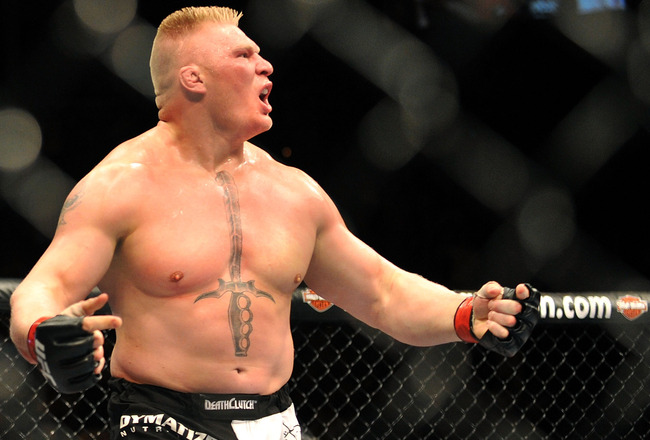 Jon Kopaloff/Getty Images
Brock Lesnar will undoubtedly look to take the fight to the ground in his UFC 141 matchup against Alistair Overeem.
Lesnar is not only one of the most gifted athletes to grace the Octagon, but he's also one of the best wrestlers to fight in MMA.
He's transitioned his amateur wrestling credentials into powerful wrestling and superb top control. The fighters on this list all have the same traits with their wrestling.
Some guys look more for submissions while others look to ground and pound their opponent's head through the mat, but all use their wrestling to succeed in the Octagon.
Brock Lesnar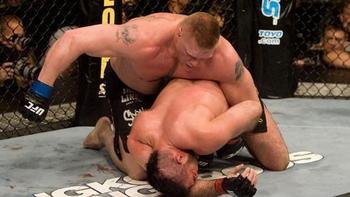 As said before, Brock Lesnar's takedowns are some of the strongest in MMA. Besides his freakish size, Lesnar also possesses lightning speed for a heavyweight.
Once Lesnar gets his opponent to the ground, their night goes from bad to worse. Unlike some of the top wrestlers in MMA, Lesnar doesn't believe in "lay and pray."
His "lunchbox-sized" fists are a face's worst nightmare, just ask Frank Mir and Heath Herring. Lesnar's also shown to have an understanding of jiu-jitsu after his victory against Shane Carwin.
I'm not going to give him a black belt after pulling off a simple submission, but it's nice to see that Lesnar is opening up his ground game some.
Daniel Cormier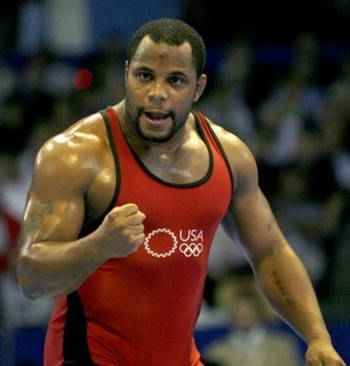 411mania.com
Daniel Cormier has impressed fans and analysts more with his striking than his wrestling in MMA.
But perhaps that's more of fans expecting Cormier to be a dominant wrestler instead of mixing his striking with his wrestling.
Cormier came into MMA with some of the best credentials of any fighter, credentials that include junior-college championships and qualifying for the U.S. Olympic wrestling team.
He's shown an ever-improving striking game but when that fails him, don't be shocked to see Cormier's wrestling ability shine against some of the lesser heavyweights in the UFC.
Georges St-Pierre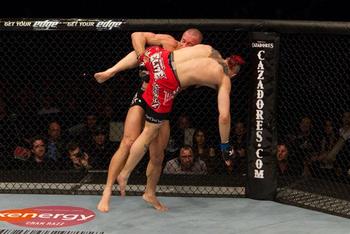 Perhaps the best fighter to utilize wrestling without having an actual background in it is Georges St-Pierre.
GSP has used his wrestling to not only win multiple UFC titles, but to dominate his opponents in the process.
He may have used striking to dominate in his last two title defenses, but make no mistake about it, GSP's bread and butter is wrestling.
Besides his matchups against Thiago Alves and Dan Hardy, GSP has used his takedowns to control even the best grapplers in the world, like BJ Penn and Matt Hughes.
Jon Jones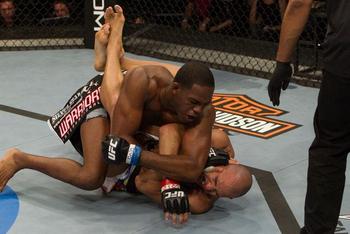 Jon Jones lands on this list because he not only has some of the best takedowns in MMA, but he also has some of the more innovative.
Most fans have never seen most of Jones' takedowns, and that only adds to the flashiness of his style. Not only are his takedowns flashy, but they're deadly effective as well.
Ask any of Jones' victims, including his "loss" against Matt Hamill, and any of them will tell you Jones is an imposing fighter while on top.
His ground and pound is vicious as well as his submission game. He's the only fighter in the UFC to submit "Rampage" Jackson and dropped Lyoto Machida like a bad habit with a nasty guillotine.
Chael Sonnen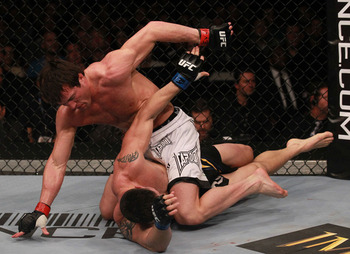 Chael Sonnen has some of the more heralded wrestling credentials in MMA. He's a NCAA division I All-American and a silver medalist in the Greco-Roman World University Championship.
Besides his wrestling credentials, Sonnen has some of the best ground and pound in MMA. His strikes aren't all that powerful, but Sonnen overwhelms his opponents by sheer volume. Every second that ticks by is filled with a punch while Sonnen is on top of his opponents.
We've all known that the best way to defeat the pound-for-pound best is by taking him down, but when Sonnen took down and held down Anderson Silva in such dominating fashion, even the most cynical critic had to give him credit.
Keep Reading