Does Colin Kaepernick Deserve to Start for the San Francisco 49ers in 2012?
December 29, 2011
Thearon W. Henderson/Getty Images
The San Francisco 49ers traded up in the 2011 NFL Draft to select Colin Kaepernick, out of the University of Nevada. Kaepernick starred for the Wolfpack in 2010, guiding them to a 13-1 record, No. 11 AP ranking and a victory in the Kraft Fight Hunger Bowl, over Boston College.
Kaepernick threw for over 3,000 yards, with 21 touchdowns and eight interceptions in his senior season. He completed a very strong 64.9 percent of his passes. Over his four-year career at Nevada, Kaepernick threw for over 10,000 yards and 82 touchdowns.
Kaepernick was also a dual threat, as he rushed for over 1,100 yards on 173 attempts in 2010. For his career, he amassed over 4,000 yards rushing for the Wolfpack.
As a 49er, Kaepernick saw very little action in the regular season. Heading into the Niners' regular season finale against the Rams, Kaepernick has completed three of five passing attempts for 35 yards. All of his action has come in mop-up duty.
Where we saw Kaepernick display his talents the most was in the preseason. He played in all four contests and completed 24 out of 50 pass attempts for 257 yards. His below 50 percent completion rate showed that Kaepernick still had a lot to learn.
Kaepernick threw five interceptions and had no touchdowns, again showing his need to learn the NFL game and how to read defenses. Quite frequently, Kaepernick took off and ran, when his first receiver was covered. He needs to improve his skills at going through his progressions quickly and decisively.
The University of Nevada ran the Pistol offense under head coach Chris Ault. Kaepernick excelled with this system, as he was able to use his athleticism to his advantage. However, the Pistol is nothing like a pro-style set that is used in the NFL.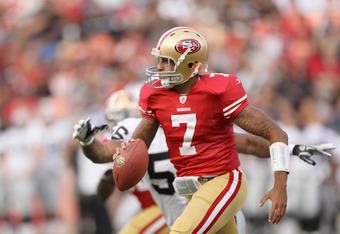 Ezra Shaw/Getty Images
Kaepernick has now had virtually one full season to watch and learn the NFL game. Sitting on the sidelines and learning was the best thing for him, as he has a long way to go to learn the pro-style offense and how to read NFL defenses.
The 49ers head into their final game needing a win to clinch a first-round bye and home-field advantage in their first playoff game. With a victory over the Rams, the 49ers will achieve a gaudy 13-3 record.
This season we saw how Jim Harbaugh has transformed Alex Smith into a solid NFL quarterback. Under Harbaugh's tutelage, Smith gained confidence and grew tremendously as a player.
Smith has completed 253 of his 415 pass attempts, for 2,931 yards and 15 touchdowns. His low total of five interceptions is crucial in that Smith is not making major mistakes to hurt his team.
Smith has utilized his mobility very effectively to gain key first downs and also extend plays. His command of the offense and field presence has improved greatly. He now looks like an accomplished NFL quarterback and is playing like one.
The 49ers will need to sign Smith, who is on a one-year contract. I am confident they will, as Smith wants to stay with Harbaugh and will likely give the 49ers a home-town discount.
GM Trent Baalke will most likely sign Smith to a multi-year extension, probably for two or three more seasons. I agree with this approach, as Smith should continue to improve and develop under Harbaugh.
By signing Smith, it will also allow Kaepernick to continue to learn the Niners' offensive system and the nuances of NFL defenses.
Kaepernick is an incredibly gifted athlete. He has a very strong arm and is an excellent runner. He may well be the 49ers' quarterback of the future, but for now, their best chance to win this year and in 2012, is with Alex Smith.
I would play Kaepernick extensively in the 2012 preseason, giving him close to half the snaps in the exhibition games. We will then have a much better gauge on how much he has learned from being on the sidelines this year.