Florida State Football: 2012 Starting Lineup Projection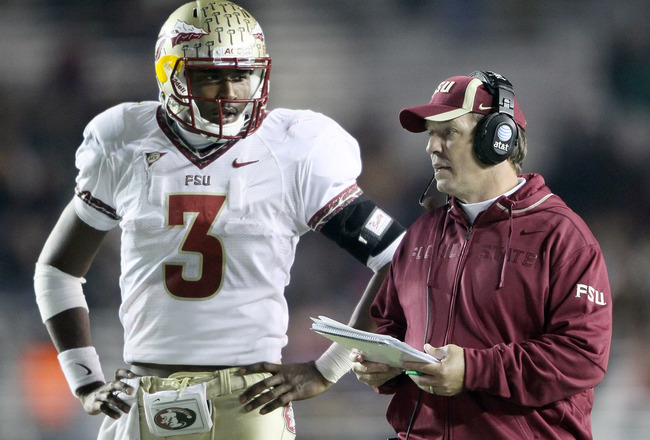 Jimbo Fisher and EJ Manuel will get another chance to help a loaded FSU squad return to national prominence in 2012
Elsa/Getty Images
Regardless of the result of Florida State's upcoming Champs Sports Bowl matchup with Notre Dame, fans have been looking ahead to the 2012 season with anticipation of what could be a special year.
FSU coaches got started a bit early on 2012, when they used the initial practices allotted for the bowl game more like an extra spring practice.
Several young players got their feet wet with significant playing time this season, and next year should see the 'Noles field a team with talent, experience and depth at nearly every position.
Still, there will be a few major holes that will have to be filled and questions abound on the offensive line, where several underclassmen may be counted on to protect senior quarterback EJ Manuel.
With the finishing touches yet to be put on the 2011 season, we will take a peek forward into what the future holds for the Seminoles.
Here is the 2012 starting lineup projection for Florida State.
Quarterback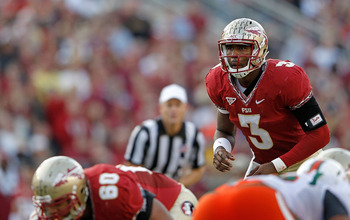 Manuel will be the team's unquestioned leader as a senior in 2012
Mike Ehrmann/Getty Images
After an up and down year in his first season as the Seminoles' starter, EJ Manuel will enter his senior season as the team's unquestioned leader.
Backup Clint Trickett took over for Manuel, and despite losing both games he started. He showed that he's capable of filling in should Manuel go down again.
Projected Backup: Clint Trickett, Sophomore
Running Back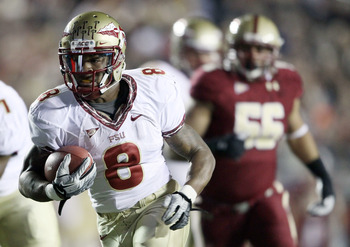 Freeman will look to build on an impressive freshman season in 2012
Elsa/Getty Images
True freshman Devonta Freeman will finish as the 'Noles' leading rusher in 2011 after stepping up when starter Chris Thompson was lost for the season with a back injury.
Freeman is the clear number one back entering spring, but he will be pushed by former 5-star recruit James Wilder, Jr. and incoming stud freshman Mario Pender.
Projected Backup: James Wilder, Jr., Sophomore
Wide Receiver X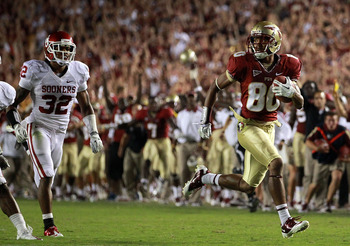 If he stays healthy, Greene could emerge as one of the top WR's in the ACC in 2012
Ronald Martinez/Getty Images
Perhaps the biggest surprise for the 'Noles in 2011 was the play of true freshman Rashad Greene, who emerged as the team's top big-play threat early in the season.
Greene and Kenny Shaw will both be counted on to increase their production while staying healthy, with both missing time due to injuries this season.
Projected Backup: Kenny Shaw, Junior
Wide Receiver Z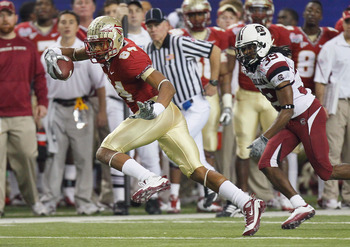 After an average 2011 season, Smith could be pushed by promising freshman Christian Green
Kevin C. Cox/Getty Images
Rodney Smith enters his senior season still looking to deliver on his enormous potential.
Smith was the team's leading receiver in 2011, but still had stretches where he disappeared.
The man who will push him, Christian Green, flashed his big-play ability as a freshman this season catching 25 passes and averaging almost 18 yards per catch.
Projected Backup: Christian Green, Sophomore
Fullback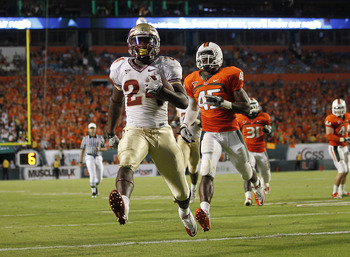 Pryor will enter 2012 as one of the nation's top fullbacks
Joel Auerbach/Getty Images
Perhaps the most underrated cog in Jimbo Fisher's offense has been three-year starter Lonnie Pryor.
Pryor, who is an excellent lead blocker in addition to carrying and catching the ball, is entrenched in his versatile role.
Chad Abram, a converted safety, and seldom used Debrale Smiley, will fight for the backup role.
Projected Backup: Chad Abram, Junior
Left Tackle

Lovelady will battle JUCO transfer Daniel Glauser for the left tackle spot in 2012

The departure of senior stalwarts Zebrie Sanders and Andrew Datko will undoubtedly be one of Fisher's biggest question marks entering the spring.
Promising freshman Sterling Lovelady will likely get the first crack at the job, but incoming JUCO transfer Daniel Glauser will battle him for the job in the spring and perhaps into the fall.
Projected Backup: Daniel Glauser, Junior
Left Guard

Matias will make his first start in FSU's bowl game

Jacob Fahrenkrug struggled making the transition from the JUCO ranks to the ACC.
Another offseason should help him feel more comfortable, but judging by the youth movement on the line entering the bowl game, freshman Josue Matias can takeover the job permanently if he plays well against the Irish.
Projected Backup: Jacob Fahrenkrug, Senior
Center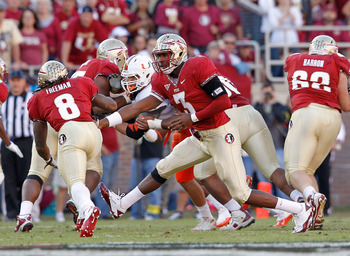 Austin Barron (No. 62) made two starts filling in for an injured Stork this season
Mike Ehrmann/Getty Images
Bryan Stork started 10 of the Seminoles' 12 games at center this season despite battling various injuries.
True freshman Austin Barron spelled him for two starts, and may make a third in the bowl game.
Both players will likely battle for the job in the spring and heading into fall two-a-days.
Projected Backup: Austin Barron, Sophomore
Right Guard

Tre Jackson will battle Faircloth for the right guard job

Garrett Faircloth started the last six games after replacing injured starter David Spurlock.
Faircloth may now give way to yet another member of the 2011 recruiting class, Tre Jackson, in the bowl game.
Faircloth and Jackson will carry their competition for the job into spring ball.
Projected Backup: Tre Jackson, Sophomore
Right Tackle

Hart will have nine college starts under his belt before his 18th birthday

True freshman Bobby Hart will make his ninth consecutive start in the Seminoles' upcoming bowl game.
Hart struggled early on, but played better as his confidence grew with each start.
Depth could be an issue, but look for the 'Noles to address that in their 2012 recruiting class.
Projected Backup: Daniel Foose, Sophomore
Tight End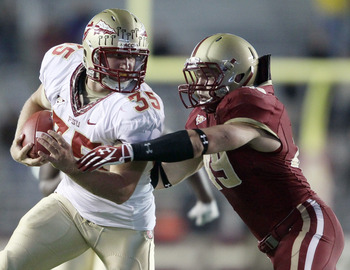 O'Leary should become a bigger part of the offense as a sophomore
Elsa/Getty Images
Freshman Nick O'Leary represents the best pass-catching option at tight end for the Seminoles since Jimbo Fisher arrived in Tallahassee.
O'Leary needs to get stronger and become a better blocker, but assuming he does, look for his role in the offense to increase.
Projected Backup: Will Tye, Junior
Left Defensive End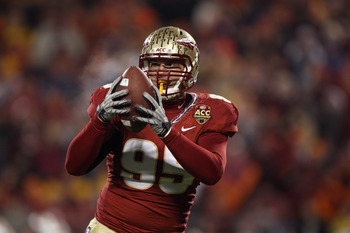 Werner will be one of the ACC's best defensive linemen in 2012
Streeter Lecka/Getty Images
Sophomore Bjoern Werner had a breakout season in 2011, and at times was an unstoppable force as a pass-rusher and against the run.
Werner's backup, junior Tank Carradine, came on strong at the end of the season and may slide to the other end if Brandon Jenkins turns pro.
Projected Backup: Tank Carradine, Senior
Right Defensive End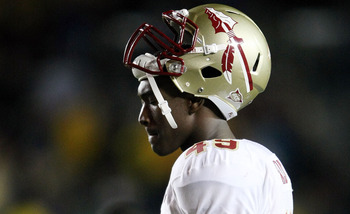 Jenkins is a legit threat to turn pro if he receives if favorable grade from NFL scouts
Elsa/Getty Images
Brandon Jenkins had a solid season, but failed to match the 13.5 sacks he registered in 2010.
If he returns, FSU could potentially field the best defense in the country next season.
If he turns pro, Dan Hicks will get first crack at the job, but he will have to fend off a trio of highly-touted incoming freshmen.
Projected Backup: Dan Hicks, Junior
Nose Tackle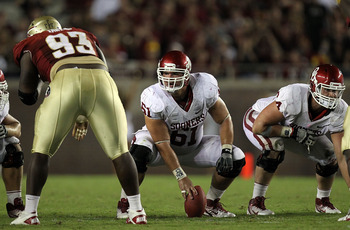 Dawkins (No. 93) will provide senior leadership for a talented group of young FSU pass rushers
Ronald Martinez/Getty Images
FSU is extremely deep and talented with talent and depth across the entire front four.
Everett Dawkins will return for his senior season and provide a reliable and dependable force in the middle.
He will be pushed by Cameron Erving, who played well when he was called upon this season.
Projected Backup: Cameron Erving, Sophomore
Defensive Tackle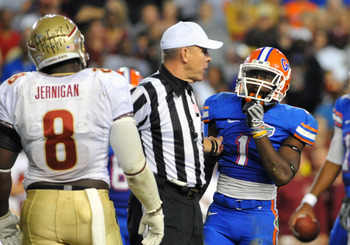 After a strong freshman campaign, Jernigan may unseat returning starter Anthony McCloud in 2012
Al Messerschmidt/Getty Images
True freshman Timmy Jernigan came on strong towards the end of the season, and may end up beating out senior Anthony McCloud for the spot.
Given the way Odell Haggins likes to rotate his tackles, both will play big minutes, but Jernigan is simply too talented to keep off of the field.
Projected Backup: Anthony McCloud, Senior
Strong-Side Linebacker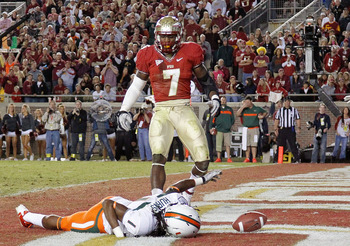 Jones is a candidate to bust out with a big year for the Seminoles defense in 2012
Mike Ehrmann/Getty Images
Christian Jones finished as the team's second leading tackler this season, and considering his immense talent, he could be on the verge of a breakout season in 2012.
Depth is thin at linebacker for the Seminoles, and Jones will be backed up by Nigel Terrell.
Terrell has spent most of his first year on the field on various special teams units.
Projected Backup: Nigel Terrell, Sophomore
Middle Linebacker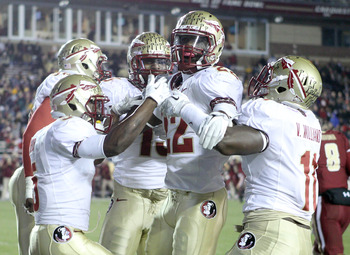 Smith and Williams will continue to man the middle for Mark Stoops' defense in 2012
Elsa/Getty Images
Vince Williams started 11 games in the middle for FSU this season, but Telvin Smith made his presence felt when he spelled Williams.
Williams is the prototypical middle linebacker, while Smith is an undersized playmaker too good to keep off of the field.
Expect both to play often, but Williams will likely keep the starting role.
Projected Backup: Telvin Smith, Junior
Weak-Side Linebacker

Jeff Luc will get a chance to live up to his prep press clippings as a starter in 2012

Nigel Bradham's departure leaves a huge hole to be filled going into next season.
Jeff Luc, a former stud recruit, will get the first crack at replacing the Seminoles' leading tackler the last two seasons.
Depth could become an issue, and the recent arrest of freshman Arrington Jenkins could make that problem even worse.
Projected Backup: Terrance Smith, Freshman
Boundary Cornerback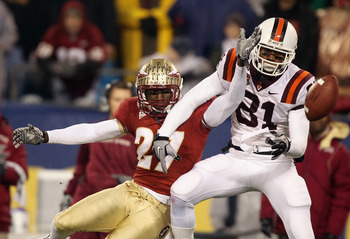 Rhodes would leave a huge void should he decide to enter the 2012 NFL Draft
Streeter Lecka/Getty Images
If Xavier Rhodes turns pro, the depth at corner could consist of incoming true freshmen.
Rhodes had a somewhat disappointing season one year after claiming ACC defensive rookie of the year honors.
Assuming he stays, versatile sophomore Terrence Brooks (who also plays safety) is capable of filling the dependable shoes of the departing Mike Harris.
Projected Backup: Terrence Brooks, Junior
Field Cornerback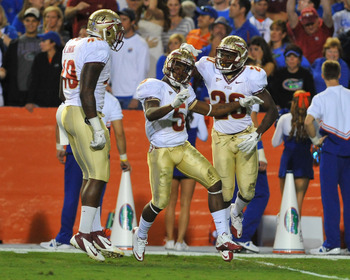 Reid is another Seminole junior that has filed paperwork for a NFL Draft evaluation
Al Messerschmidt/Getty Images
Greg Reid could conceivably test the draft waters like Rhodes, and if he leaves, the same scenario for the boundary corner would apply at field.
Nick Waisome was one of the top prep cover corners in the nation last year, and he would be in line to replace Reid should he opt for the NFL.
Projected Backup: Nick Waisome, Sophomore
Strong Safety

Williams was the top prep safety in the class of 2011

The 'Noles will lose another senior leader with Terrance Parks graduating.
However, FSU has the luxury of replacing him with either Nick Moody (who started in 2010) or Karlos Williams (the top high-school safety in the class of 2011).
Expect the uber-talented Williams to make a strong push for the job.
Projected Backup: Nick Moody, Senior
Free Safety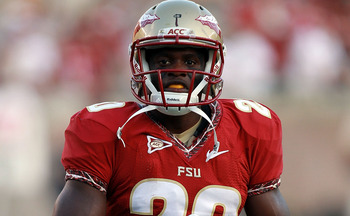 Joyner is another Seminole defender who is ready to burst onto the national scene in 2012
Ronald Martinez/Getty Images
Lamarcus Joyner made a smooth transition from corner to safety, and should only get better after a strong 2011 season.
Depending on what happens at corner, Brooks could spell Joyner and give the 'Noles quality depth.
If Brooks is need at corner, redshirt freshman Keelin Smith could be next in line.
Projected Backup: Terrence Brooks, Junior
Kicker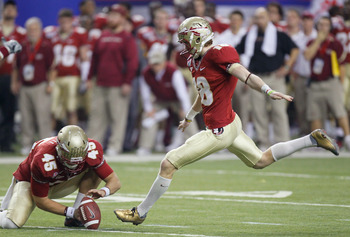 Hopkins will contend for All-American honors in 2012
Kevin C. Cox/Getty Images
Coming off of a 2011 season that saw him named a Lou Groza Award finalist, Dustin Hopkins will give the 'Noles the luxury of having a reliable kicker.
Considering the added value his powerful leg brings on kickoffs, the Seminoles should once again have a strong kicking unit.
FSU will be bringing in Roberto Aguayo, who is a talented kicking prospect in the 2012 class.
Projected Backup: Roberto Aguayo, Freshman
Punter

Beatty will have the unenviable task of replacing Shawn Powell

The loss of consensus All-American punter Shawn Powell may be the biggest loss of all for Fisher's team to replace.
FSU will likely turn to incoming freshman Cason Beatty, who will have huge shoes to fill in replacing the dependable Powell.
Projected Backup: Derek Williams, Sophomore
Kick Returner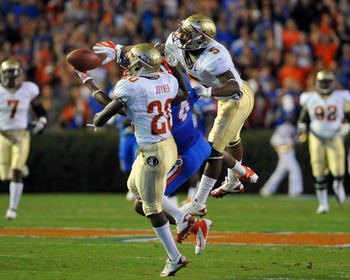 Reid and Joyner form a dynamic kickoff return duo for FSU
Al Messerschmidt/Getty Images
Reid's potential departure could sting FSU in their return units.
Lamarcus Joyner will return, but if Reid leaves, he will likely be flanked by the electric Karlos Williams.
With him, the 'Noles will continue to field one of the most dynamic return units in the nation.
Projected Backup: Kenny Shaw, Junior
Punt Returner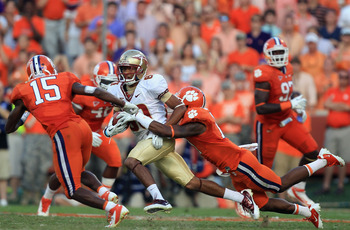 If Reid enters the NFL Draft, Greene could be next in line to fill his shoes as a punt returner
Streeter Lecka/Getty Images
Reid is a fearless return man capable of breaking a game open any time the ball touches his hands.
Aside from Greene and Shaw, another name to keep an eye on will be incoming freshman Marvin Bracy, who possesses the speed of a track star.
Projected Backup: Rashad Greene, Sophomore
Keep Reading

Florida State Football: Like this team?