UVA Basketball Continues Its Holiday Feast on Fowl, Beats UMES 69-42
December 28, 2011
Streeter Lecka/Getty Images
Coach Tony Bennett, the Audubon Society would like a word with you.
For the third consecutive game Virginia consumed some version of a flying mascot, this time picking the bones clean of Maryland-Eastern Shore's Hawks in a 69-42 win.
The Cavaliers scored the first nine points of the game and were never threatened. As has become their style, they quickly expanded on a 10 point half-time lead in the second half. That gave Coach Bennett the opportunity to give all nine members of his expected rotation at least 15 minutes of playing time.
Included in that group was Paul Jesperson, a freshman who was the 2010 Associated Press Wisconsin High School Basketball Player of the Year. Jesperson elected to burn his redshirt after the developments over the past few days in Charlottesville.
Jesperson drew one of the biggest roars of the night from an appreciative JPJ crowd when he drained a three-pointer with his first shot as a Cavalier.
Mike Scott led Virginia in scoring. He had 17 points in just 15 minutes of playing time. Scott was named the ACC Player of the Week for the second consecutive time on Monday.
He became the first Virginia player to garner the honor in consecutive weeks since Sean Singletary in 2007.
Perhaps the best news the Cavaliers and their fans can take away from the night's victory, is the fact that for the first time this year neither of Virginia's top two rebounders was named Mike Scott or Assane Sene.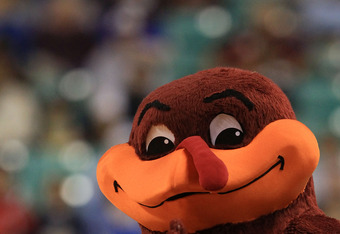 Streeter Lecka/Getty Images
In performances described by Coach Bennett in his post-game comments as "quick and lively", Darion Atkins and Akil Mitchell each turned in their best game of the year. 
Atkins, a freshman, registered career-highs with 13 points and seven rebounds.  He also added two blocks.
Mitchell, the only remaining member of Virginia's heralded "Six Shooters" recruiting class besides Joe Harris, equaled his career highs in both points and rebounds with nine each. 
Streaks of all kinds stayed intact this evening. It was UVA's ninth consecutive win, tying their longest streak since a 2001 season-opening run of nine wins. 
It was also the Cavaliers' ninth straight home win versus non-conference opponents. Virginia has been very inhospitable during that streak, defeating opponents by an average of over 21 points a game during the run.
Virginia improved to 18-0 versus the Mid-Eastern Athletic Conference.
The Cavaliers are also ranked in the Top 25 for the second consecutive week (AP, 23 and ESPN/Coaches, 24) for the first time since December 2004.
Finally, it was the 21st straight road loss for the Hawks. They haven't won a road game since beating Navy two days after Thanksgiving of last year.
Virginia wraps up the 2011 portion of their season by entertaining 0-12 Towson University on Friday evening at JPJ. 
And oh yeah, in case you were wondering, Towson's mascot is a Tiger.