Colorado Football Recruiting: Why the Stampede Will Stay Servile
December 28, 2011
It is quite surprising that Colorado won three games this year. Most thought the Buffaloes would finish with just one win against Colorado State (which they did get). But Colorado also won two (Utah and Arizona) of their last three games, and showed signs of performance improvement towards the end of the season.
Hopefully coach Jon Embree can also find some recruiting performance improvements in the next few weeks, because if these 20 two-star and three-star players is all they will capture in 2012, then Colorado is in for a rough season in the next few years.
Colorado has won a national championship. Not many Pac-12 teams can say that—maybe USC, maybe Cal. So the Buffaloes have won more NC's than Oregon, although it seems the Ducks may win one a long time before the Buffs get their next one.
It will be a long time for the Buffs because of the talent level at Colorado. Three-star players can be coached up, but more often than not, four and five-star players are the "playmakers." They are usually the ones who make it into the NFL. They are the difference between a six-win or a nine-win season.
Colorado pulled in two lousy recruiting classes in 2010 and 2011. This year's class in 2012 doesn't look much better. Coach Embree might have to get use to winning three or four games a year in the near term. A two or three-year recruiting-winning lag is the common school of thought, although a study by Lloyd argues a one-year lag. Either way, times will be tough in the immediate future. 
| | | | |
| --- | --- | --- | --- |
| Year | Grade | Avg. Stars | National Ranking |
| 2012 | D | 2.75 | 42nd |
| 2011 | F | 2.68 | 57th  |
| 2010 | F | 2.68 | 58th  |
| 2009 | D | 2.84 | 48th |
| 2008 | A | 3.24 | 15th |
| 2007 | D | 2.68 | 32nd  |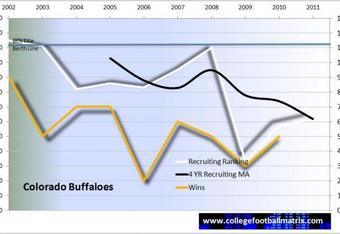 2012 has been a poor year in recruiting so far for the Buffaloes. Colorado's latest commit is athlete Marques Mosley, who is not ranked. 
Total 2012 Verbals: 20
5-Star Verbals: 0
4-Star Verbals: 0
Latest Verbal: 12/20/11 ATH Marques Mosley (unrated)
Colorado made it through a complete coaching revision in 2011, so at least they have that behind them. The Buffs will lose seven starters on offense and five starters on defense. Considering the large player turnover and less-than-average recruiting the last few years, Colorado just might continue to pull up the rear in the Pac-12 South. 
But there isn't anything that would stop coach Embree and staff from coaching up a team of three-star players to challenge for the title. It's just that a few playmakers on the roster would help.