Belk Bowl 2011: NC State Wolfpack Will Eat Louisville Cardinals Alive
December 27, 2011
Mike Ehrmann/Getty Images
Louisville should care more about its No. 4-ranked basketball team's matchup with No. 12 Georgetown on Wednesday than their football team's bowl game against North Carolina State.
The what bowl?  The Belk Bowl will be dominated by the Wolfpack on Tuesday night, so Cardinals fans should just start hyping themselves up for tomorrow night's hoop action.
NC State will force Louisville's offense to be one-dimensional from the opening kickoff.  Led by J.R. Sweezy, the talented Wolfpack defensive line will have a field day in shutting down the Cardinals running game.  Louisville's leading rusher in Dominique Brown averages just 3.7 yards a carry.
Both offensive lines are horrible, so getting a consistent ground game going on either side will be a challenge.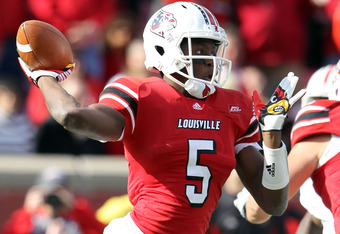 Andy Lyons/Getty Images
Teddy Bridgewater has a bright future, but he'll only have one side of the field to throw to in the Belk Bowl.  Wolfpack starting cornerback David Amerson is the definition of a ball-hawk.  He picked off opposing quarterbacks a whopping 11 times this season.  Bridgewater can't afford to give Amerson a chance to snag another one.
Comparing offensive playmakers, NC State is better at every level.
While Bridgwater is a freshman, Wolfpack starting QB Mike Glennon is a senior with superior production.  While the Louisville passer had a touchdown-to-interceptions ratio on the year of 12-9, Glennon went 28-11.
NC State running back James Washington rushed for 852 yards and seven touchdowns on 4.0 yards a pop this season.  No Louisville back even gained 500 yards on the ground.  Of course, no receiver did through the air either, while Wolfpack wide out T.J. Graham brought down 39 receptions for 641 yards and five touchdowns on the season.
And with the game being played in Charlotte, it'll practically be a home game for NC State.  Louisville is too young to pull the upset in this one.  
David Daniels is a featured columnist at Bleacher Report and a syndicated writer. Follow him on Twitter.