Indiana Hoosiers Basketball: Are the No.13 Hoosiers for Real?
December 27, 2011
Andy Lyons/Getty Images
Tom Crean came to Indiana knowing he had to clean up a mess.
Hoosier fans have suffered three seasons of agony, but in Crean's fourth year, Indiana is heading into Big Ten play undefeated at 12-0 and ranked No.13 in the nation.
Since Crean took over in Bloomington, the Big Ten competition has been horrific for the Hoosiers, totaling for a combined record of 8-46 (.174) in Crean's first three years.
Many questions arise when the past few years of conference play have been so dreadful for a new coach: Is this the end of IU's success for the season? Will they hit a road block and perform like they have the past three seasons? Can the Hoosiers continue to play well against much harder opponents?
Are the Indiana Hoosiers for Real?
Tom Crean (or #swagface) has to answer all these questions in his first season leading a potentially powerful squad that has proven to play well together.
Although the Hoosiers only quality wins this pre-conference season have been against No.1 Kentucky, at N.C. State and against Notre Dame on a neutral site, their stats can speak for themselves.
IU is putting up an average of 84.8 points a game, the seventh most in the NCAA. Along with high scoring, the Hoosiers field-goal percentage is the fifth best in the country at an impressive 51.4 percent.
Saying the buzzer-beater win at home against top-ranked Kentucky gave Indiana momentum would be an extreme understatement. They have been playing with the type of focused confidence that has not been displayed from Indiana's basketball program since 2007 with Eric Gordon.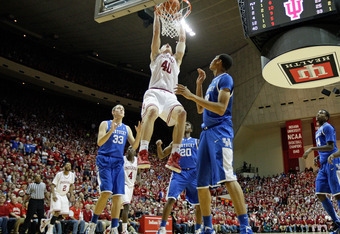 Andy Lyons/Getty Images
IU's play has been fueled by a number of dominant components that must continue to thrive into Big Ten play for the Hoosiers to have a chance to compete this season.
One aspect is the ability to shoot the three ball. Jordan Hulls (12.1 PPG) can just about hit any open three-pointer and has a 56.3 shooting percentage beyond the arc.
Hulls has been getting space due to Indiana's focus on getting freshman center Cody Zeller the ball down low, causing defenses to collapse.
The big man leads Indiana in scoring with 15.1 points per game and has been the dominant factor this program has been missing for the past three years.
With Zeller and Hulls playing their best, and breakout sophomore Victor Oladipo (12.2 PPG) continuing to penetrate the lane with quickness, IU has the recipe to compete with conference opponents. Also, Crean has always focused on defense and to his delight, this Indiana team has major depth on the bench to tend to defensive needs.
Also, junior Christian Watford and sophomore Will Sheehey are coming into their own with powerful starts, both averaging over 10 points per game.
The pieces to the puzzle are starting to fall into place for Crean and the Hoosier program. With a great start and momentum pushing in their favor, Indiana is set to stun the Big Ten and continue with their winning ways.
Tom Crean's enthusiastic yet professional methods have this squad pumped up for conference play, which starts on Wednesday at No. 16 Michigan State, followed by No. 2 Ohio State at home on New Year's Eve.
This is the first week of Big Ten play and the first chance to see what this undefeated Hoosier team can do against real competition.