Dallas Mavericks' Poor Play Makes Mav Player Throw Up (Literally)
December 27, 2011
Hey Tyson Chandler, the Allas Mavericks called and they want their D back.
Indeed, Chandler in his absence is showing how pivotal a piece he was to the 2011 Dallas Maverick title run. 
Denver Nugget Ty Lawson was fearless while running through a porous Mav defense in the Nugget 115-93 trouncing of the Mavs. On more than one occasion the 5'11" Lawson drove directly to the hoop as if he had received a pregame letter from Chandler, reminding him that the former Mav had taken his shot-blocking talents to New York this season.    
While Ty Lawson was running to the hoop, the Mavs were running into the ground.
In just two games, Dallas has earned a dubious award: quickest turnaround from best to worst. That distinction is obviously provisional this early in the season, but just as quickly as they lifted the championship banner, the Mavs have arrested many lofty fan hopes for a repeat, and sent some in a free-fall descent.
In less than 48 hours, American Airlines Center went from cheers to jeers.
Still, this team is full of too many hardworking veterans for this nosedive to lead to a playoff-less crash, and most Mavs fans are still holding on, even until bitter ends. 
Those who stayed until the conclusion of a consecutive lopsided loss, this one against another running and gunning team, the Denver Nuggets, were still cheering on any signs of Mav hustle.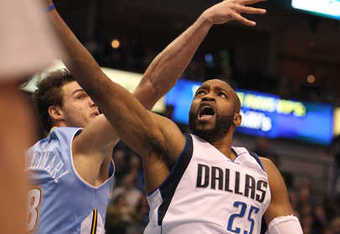 Things were so desperate at one point that my wife yelled praise to Vince Carter for taking a good open shot. He missed that one. And he was not alone.
If most fans are rightfully not panicking at this early stage of post-lockout discombobulation, many filing out of American Airlines did look bewildered about how out-of-sync the current lineup appears.
I should say lineups since it is also clear that Rick Carlisle has yet to find a coherent rotation.
Frankly, the Mavs look uninspired, and that is a little bit scary, even after only a couple of games.
Perhaps starting the season feted in eye-watering, banner-raising adulation makes it difficult to trade a party hat for a hard hat, but the Mavs better get to work soon because a shortened season means that there is less margin for error.
Thankfully, they do have a local workhorse on their team, and he was let out of the gates when some Mavs fans were peering toward the exits.
Local Dallas Metroplex native and Mansfield High graduate Sean Williams launched his lanky frame all over the court, at both the offensive and defensive ends. I watched as he continually seemed to break Mav convention by boxing out his man, Chris "Birdman" Anderson.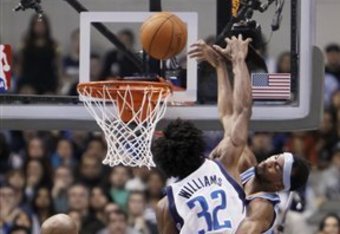 Williams picked up 12 points (and five fouls) in 11 minutes of action.
He left everything on the floor--including his supper.
Williams threw up when he returned to the bench.
Hey, Mavs fans, guess who they announced as player of the game in the second contest for our "defending" (and I use that word loosely) champions: a recent D-League player who saw only 11 minutes of action.
Care to respond Mav Veteran with a finger awaiting your precious ring? Any of you?
Hopefully, the Mavs will respond on the court with swarming help defense. 
Their offensive woes are obvious at the moment, but post-lockout rust on shots is a lot easier to take than all these weak-willed closeouts on the perimeter, and the no-rebound lethargy on the glass is dispiriting.
Time to get to work and lift our spirits, Dallas Mavericks.
Before it is too late.