Alabama Football: Why Alabama Wins the BCS Championship Game and Number 14
December 27, 2011
Kevin C. Cox/Getty Images
Larry Burton (Syndicated Writer) There are many reasons why Alabama could win the game against LSU for the next BCS championship. There are just as many reasons why they could lose it too.
But, which ones are based on theory that you could support with reasonable logic? Let's take a look and see what the biggest three are.
1. Jordan Jefferson: He reminds me of a nursery rhyme, with a special liberty taken, "when he was good he was very, very good and when he was bad, he was awful".
If Jordan Jefferson plays his best game for 60 minutes, LSU has a better than average chance of winning.
But if he gets frustrated because the Tide is shutting down his rushing attempts, option game, and starts to press in the passing game with that frustration present, then it could get ugly, fast.
Jordan Jefferson doesn't have a long history of mixed results in games. He's either on or off and he doesn't beat Alabama on an off day.
Last season, Jefferson threw 10 picks against just seven touchdowns and only averaged 108 yards a game. This year in nine games, he's had just six touchdowns and one pick for a game average of just 76 yards.
This is not a quarterback that will beat you with his arm and tends to be one dimensional. And the last thing you want to be against Alabama's defense is one dimensional.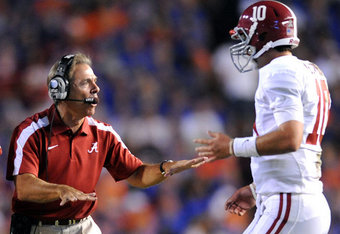 2. A.J. McCarron: He can throw a pick, shrug his shoulder, go out the next series, and complete seven or eight in a row with no problem. McCarron simply doesn't get ruffled.
The coaches may lose confidence in him after a bad play, but McCarron has a combination of confidence and cockiness and never stops doubting himself.
Looking back over the McElroy era, it's easy now to be nostalgic and forget that he had some days when he just simply had a bad day. Many of those days were against teams with talent bad enough that the rest of the team could overcome those days.
McCarron simply hasn't had a day yet this season when he had a bad day.
Compare the stats yourself. If Alabama stuffs the running game, LSU is in trouble. If LSU sells out to stop the Alabama running game, McCarron has the ability to make them pay and pay dearly.
Name              Yr      Games     Att    Comp  Pct   Yards   Yds/Att   TD  Int  Att/G  Yds/G
McCarron       2011      12        294     196   66.7      2400         8.2       16    5   24.5      200
Jefferson        2011       9          83       50   60.2        684          8.1         6    1    9.2       76
3. The Truth About a Balanced Game: You won't see much of Jarrett Lee and with that, there goes any semblance of balance in the office.
Meanwhile, Alabama will be a balanced offense as they have been all season.

Rushing Stats:

| | Name |     Yr |    |    G |     Att |        Yards |    Avg. |    TD |     Att/G |       Yards/G |
| --- | --- | --- | --- | --- | --- | --- | --- | --- | --- | --- |
LSU            2011     13       564           2797        4.96        35       43.38              215.15
Alabama      2011     12       473          2638         5.58        33       39.42              219.83
Passing Stats:
LSU w/ Jefferson       9         83             684          8.2          6          9.2                 76.0
Alabama     2011      12       323          2563          7.9         16        26.9               213.65
Total Average Yards Per Game - Total Offense
LSU -        291.15 yards for the BCS Game
Alabama -  433.58 yards for the BCS Game