Drew Brees Gets NFL Passing Record as New Orleans Saints Crush Atlanta Falcons
December 27, 2011
Wesley Hitt/Getty Images
It seemed it was only a matter of time during tonight's Monday Night Football game when Saints QB Drew Brees would break Dan Marino's 1984 record of 5,084 passing yards in a single season.
Brees broke the record late in the fourth quarter as the Saints beat the Falcons 45-16.  He now has 5,087 passing yards this season as the New Orleans clinched the NFC South division title. 
The record-breaking pass was a nine-yard touchdown pass to Darren Sproles.
Brees has shown throughout the season that he is an MVP candidate and a true leader.  Brees always keeps the Saints offense moving downfield, scoring a lot of points.  
He is a real danger to face in the playoffs at the great pace he set this season.  
The New Orleans Saints offense had their way with the Atlanta Falcons defense. 
The Saints offense made quick substitutions early and quickly in the game, which didn't give the Falcons defense time to make adjustments. 
It just shows how much depth the Saints have on offense. 
The running backs for the Saints alone are very dangerous.  Between Chris Ivory and Pierre Thomas pounding the ball up the middle and Darren Sproles making unbelievable moves, the Falcons defense had their hands full.
Brees threw for 307 yards with four touchdowns and two interceptions.  The interceptions were both deflections that the Falcons were able to recover.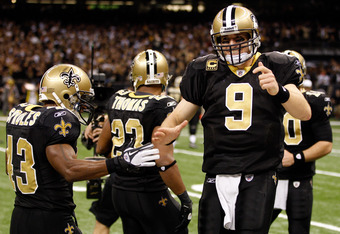 Chris Graythen/Getty Images
Falcons QB Matt Ryan had his ups and downs in his game.  He completed 34 passes for 373 yards, but he only had one touchdown pass. 
RB Michael Turner was completely taken out of the game by the Saints defense.  He only had 11 caries for 39 yards and no touchdowns.
Without a running game, most of the Falcons' drivers just fizzled out even after great passes by Ryan.
The Saints showed they are ready for the playoffs, but they will probably be the No. 3 seed unless they win their last game against the Carolina Panthers and the San Francisco 49ers lose their game against the St. Louis Rams. 
The Falcons need to get their team straightened out fast.  They made too many mistakes and bad penalties that killed scoring drives.  Unless something miraculous happens, the Falcons will get one more chance to beat the Saints in the first round of the playoffs.