Alabama vs. LSU: 5 Reasons Nick Saban Is Smarter Than Les Miles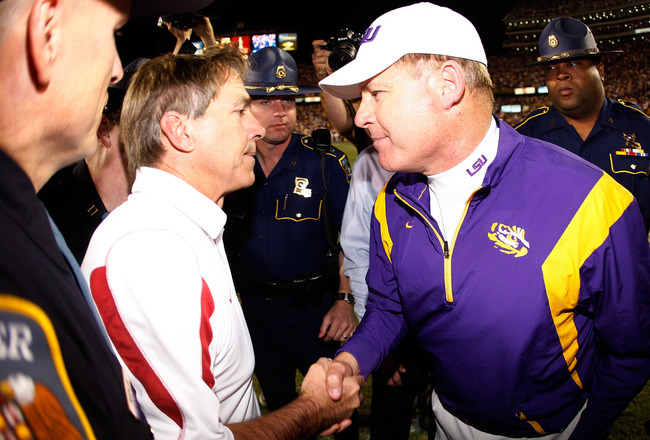 Chris Graythen/Getty Images
I think Nick Saban is a better football coach than Les Miles, and my reasoning behind it is that Nick Saban is smarter.
Over the past decade they both have brought in waves of 5-star recruits, fielded consistently good teams and won BCS National Championships. One could argue that both have proven themselves to be excellent coaches.
However, even though they have fairly even numbers historically in big games, Nick Saban is the man I would want leading my program if I was an athletic director. Running a major college football team is mentally taxing (as evidenced by Urban Meyer's required sabbatical), and thus the sharpest coach is the best coach.
Here are five reasons that Saban is smarter than Les Miles.
Lucky Breaks Have Kept Les Miles Afloat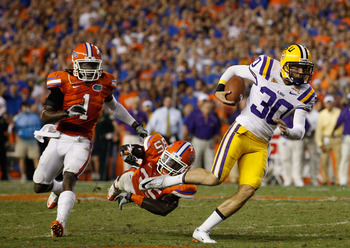 Sam Greenwood/Getty Images
Les Miles' reputation as the "Mad Hatter" has come from his ability to pull out wins in big (and close) games. However, a lot of these wins have happened because of lucky breaks for the LSU Tigers.
Against the Auburn Tigers in 2007, Miles famously called for a last-second pass in the corner of the end zone to Demetrius Byrd, which ended up winning the game. It was celebrated as a brilliant play call, but the fact of the matter was that LSU let almost 30 seconds run off the clock before snapping the ball, when Miles had a timeout in his pocket. Byrd caught the ball with one second left. If he had bobbled and dropped it, the clock might have run out, and Miles would have been condemned by every LSU fan as a complete moron.
Other examples abound. LSU almost blew a 20-point lead against the North Carolina Tar Heels in last season's opener, and only escaped when normally sure-handed Tar Heels tight end Zack Pianalto dropped two passes in the end zone in the closing seconds.
Later in the 2010 season against the Florida Gators, Miles called for his signature fake field goal (the no-look toss over the holder's head) with 35 seconds left. The pitch was terrible, but the ball bounced perfectly and kicker Josh Jasper consequently was able to snag it and still get the first down. The review of the play confirmed that the toss was just barely a lateral and not a forward pass.
Lucky breaks have bailed Miles out in a number of sticky situations. Yes, he deserves some credit for his gutsy play-calling, but he has caught an inordinate amount of breaks in the closing seconds of games over the last few years. If the ball had bounced the other way a few times, who knows where he'd be?
Les Miles Has No Clock Management Skills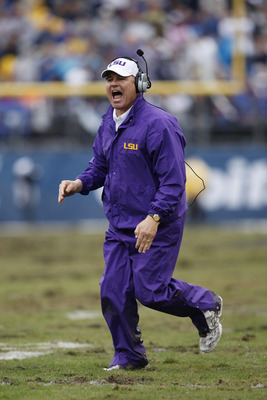 Joe Robbins/Getty Images
On a related note, there have been a number of times that Les Miles has displayed embarrassingly poor clock management skills at the end of a game during his career with the LSU Tigers. Sometimes the Tigers have won in spite of Miles' blunders, but other times it has cost them the game.
On January 1, 2010, thanks to an inexplicable screen pass in the middle of the field with no timeouts and only 42 seconds left, the Tigers ran out of time against the Penn State Nittany Lions in the Citrus Bowl.
Earlier that season against the Mississippi Rebels, Miles' team was completely unprepared after Jordan Jefferson completed a pass to Terrence Toliver at the Rebel six-yard line with one second left. Instead of using that second to try and get off a field goal attempt or run a play, Jefferson spiked the ball as the clock ran out.
There are numerous other examples where the Tigers won despite Miles last-second blunders. There is of course the 2007 Auburn Tigers game mentioned in the previous slide, and last year's game against the Tennessee Volunteers.
In that game, LSU was behind by four points when Jordan Jefferson was tackled at the Volunteer four-yard line with 26 seconds left. The Tigers inexplicably tried to change personnel, running the clock down to three seconds before LSU center T-Bob Hebert desperately snapped the ball past an unprepared Jordan Jefferson. But Tennessee, who had tried to change personnel in response, had too many players on the field. LSU got the penalty and another down, which allowed them to score and win the game.
It would seem with that giant clock on the scoreboard at the end of the stadium that Miles would know when the last seconds of a game are running out, but he never seems to (which makes me wonder if he knows how to tell time).
Les Miles' Success at LSU Was Built off Nick Saban's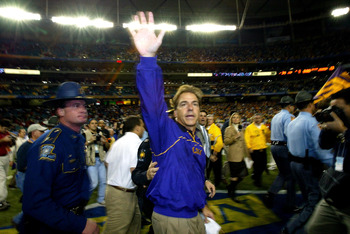 Jamie Squire/Getty Images
Les Miles has had a great career so far in Baton Rouge, but let's not forget that he came into a powerhouse program at the height of its success when he took over the head coaching job with the LSU Tigers.
When Nick Saban came into town, LSU hadn't finished ranked in the Top 10 since 1987. In just four years, he revived the program, turned it into a recruiting machine and made it a perennial BCS contender. In 2001, he helped the Tigers win their first SEC Championship since 1988, and two years later he got them their first National Championship since 1958.
Like Larry Coker and Gene Chizik, Miles came into a very good situation where his team was already established and (through the recruiting of his predecessor) great players were already present. Saban did most of the grunt work that led to Miles' success.
Nick Saban Has Rebuilt Two Programs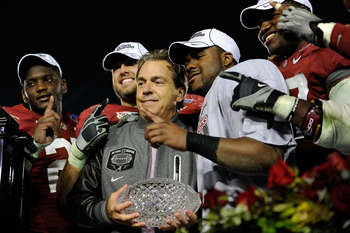 Kevork Djansezian/Getty Images
Ironically, Nick Saban is probably responsible for both of the teams that are playing for this year's BCS National Championship being where they are today.
As mentioned in the previous slide, Saban paved the way for Miles' success with the LSU Tigers. Miles likely never would have won the 2008 BCS National Championship if Saban hadn't built up the Tigers by winning his in 2004.
And just as he did in Baton Rouge, Saban has done a remarkable job reviving an SEC powerhouse in Tuscaloosa.
Alabama had not been as firmly mired in mediocrity as LSU before Saban arrived, but they were certainly down. The Crimson Tide only finished in the Top 10 twice between 1994 and 2007 and were also hit with a number of NCAA violations during that time.
In the last four seasons under Saban, Alabama has finished in the AP Top 10 every year while winning the 2010 BCS National Championship Game and also having the opportunity to win the 2012 BCS National Championship Game this season. This is pretty impressive considering Alabama hadn't won the SEC since 1999 when he arrived.
Les Miles Eats Grass
Les Miles has a tradition that has come to prominence in his time with the LSU Tigers: He eats grass off the field during the game.
Miles has offered reasoning for this behavior, saying it keeps him grounded and in the moment. But the fact of the matter is the man eats grass.
I don't know about you, but the kids I knew when I was young who did things like this generally didn't grow up to become rocket scientists.
Keep Reading