Villanova Basketball: Pre-Conference Performance Review and Big East Preview
December 26, 2011
Andy Lyons/Getty Images
At 7-5, the Villanova Wildcats are off to the worst start in Jay Wright's 11 seasons as head coach. In past years, the Wildcats have generally had one or two losses heading into Big East play. Their early-season performance does not bode well for their conference season.
Villanova has been known in Wright's tenure as a tough and scrappy team that wins with defense, clutch shooting and great guard play. This year's Wildcats are displaying none of those traits.
They have won seven of their first 12 games, so they aren't a terrible team, but they aren't very good right now. Villanova is No. 80 in the RPI rankings, behind such basketball powers as Oral Roberts and St. Bonaventure.
The Wildcats are 6-0 at home but just 1-5 in road and neutral site games. That is not a recipe for success, especially when you look at their current competition and their upcoming Big East slate.
None of their seven wins have been against a quality opponent. Their most respectable win is against LaSalle, which is ranked 86th in the RPI. It took overtime to win that game. Of their other six wins, no team ranked higher than 138.
Against top-50 RPI teams, Villanova is 0-4. To be fair, none of those were home games, but they were simply outclassed in all four games.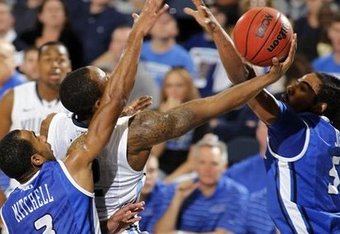 They lost to Saint Louis and Missouri on neutral courts, and lost at Temple and St. Joe's. In those games, they got outscored by an average of 78.3 points to 66.0. They lost by double digits in all four.
Those four games are also a microcosm of their overall alarming lack of ability to execute the way they want to play.
Offensively, they have a lot of athletic wing players with creaky jump-shots who should be able to beat teams off the dribble, score around the basket and get to the free-throw line.
What they do, though, is stand around the perimeter and shoot threes. A lot of threes. Over 22 three-point attempts per game. You would think teams that shoot that much from deep must be good shooters, but they only make 31.6 percent of those shots.
In their games against top-50 teams, they are shooting just 40.6 percent from the field, including 26.4 percent from three-point range. Despite this awful conversion rate, they attempted 91 threes in four games.
Maybe even more alarming is the fact that a program known for having great guards has only had 48 assists in those games against 52 turnovers. It's hard to win when you can't score and you turn the ball over.
On the defensive end, those long, athletic wings play pretty impressive on-ball defense. They move well laterally and stay in front of the man they're guarding. They have active hands and play with great effort. That is where the compliments stop though.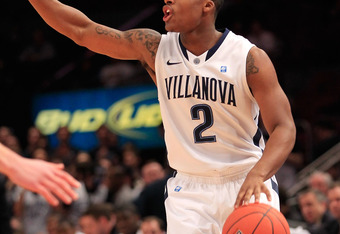 Chris Trotman/Getty Images
When it comes to defensive awareness, they don't seem to have any. All a team has to do is swing the ball twice around the perimeter and the result is always a wide open three-point shot. They always rotate way too slowly.
If you don't have a good three-point shooting team, just run a pick-and-roll or set your scorers up with screens. Villanova doesn't seem to be able to figure out how to switch or stay with a moving target. When a team uses movement against the Wildcats, it almost always results in someone out of position and a wide open lay-up.
The top-50 teams have shredded Villanova's defense. They have shot just under 47 percent from the field and an alarming 41.2 percent from three-point range. They also have a 1.92 assist-to-turnover ratio.
Basically, any good basketball team holds a huge advantage over the Wildcats. With all the great athletes they have, they don't possess many good basketball players.
Point guard Maalik Wayns may be the most sympathetic player in the nation. He is an ultra-quick point guard who can get to any spot on the floor. He is an unbelievable distributor, but he just has nobody that can help him out and knock down a shot.
Aside from trying to set up his teammates, Wayns also has to carry the brunt of the scoring responsibility. It forces him to do too much and it affects his overall performance.
Center Mouphtaou Yarou has loads of ability, but he hasn't been able to put it all together. A junior, he is running out of time to do it. He has a feathery touch from mid-range and great feet to play on the block. He just doesn't seem to know when to use either part of his game.
The other junior is Dominic Cheek. He has been just abysmal offensively. He is averaging 11.5 points per game, but is shooting below 40 percent from the field and under 30 percent from three-point range.
To his credit, Cheek has played very well defensively and plays with maximum effort.
After those three, Villanova has one sophomore and five freshmen. That right there is a huge part of the inconsistency and lack of awareness.
In order to make the NCAA Tournament, they will likely need to get to a minimum of 18 wins. That means they need to find 11 wins in conference play. In the Big East that is a tall order.
The 'Cats open their Big East schedule on Wednesday night at West Virginia. At 9-3, they are ranked No. 41 in the RPI. They follow that up with a New Year's Day matchup with 10th-ranked Marquette, also on the road.
They will be extremely lucky to win either of those games. They just can't score enough to keep up with good offensive teams and defensively, there are too many breakdowns to win low-scoring games.
Assuming they lose those two games, that leaves them needing to win 11 of their last 16 games. Highly unlikely.
After home dates with South Florida and DePaul, they have a daunting task over their final 14 games. Seven of those games come against teams ranked ahead of them in the RPI. Six are against top-25 teams.
At this point, all Villanova fans should hope for this season is development. Hope for Jay Wright to mold these young athletes into good basketball players. Hope they can pull a few upsets, win the games they should win and finish .500 in the Big East.
If they do that, they will be invited to the NIT in March and the kids can get some postseason experience to go along with their seasoning against stiff Big East competition.
The Wildcats may have bitten off more than they can chew this season, but they can use this experience to be a good basketball team next year when they have three seniors to lead them.