Auburn Football 2011: Will Rushing Dominate the Chick-Fil-a Versus Virginia?
December 26, 2011
Kevin C. Cox/Getty Images
Auburn has been widely criticized for their rushing defense this season. The Tigers gave up seven rushing touchdowns in the first two games of the season, giving up 560 rushing yards in the two contests. The Tigers then gave up 1,777 rushing yards and 11 rushing touchdowns in the final 10 games of the season.
The Tigers' 2011 Chick-fil-A Bowl adversaries, Virginia, on the other hand, has been complimented on their strong rushing defense this season. The Cavaliers gave up nine rushing touchdowns in their last 10 games and three in their last outing, while giving up 1,344 yards rushing in their last 10 games.
The average rushing offense Auburn faced this season ranked 50 nationally in rushing offense. The average opponent Virginia faced during the 2011 season ranked 64th.
In their final outing of the regular season Virginia faced the No. 30-ranked rushing offense in Virginia Tech, giving up 183 rushing yards and three touchdowns versus the Hokies.
Auburn, meanwhile, faced the 15th-ranked rushing offense of Alabama to close out the season, giving up 213 yards and one touchdown on the ground.
Virginia is ranked 53rd nationally in rushing offense. This statistic points toward Virginia being about average when compared to Auburn's competition this season. Three of Auburn's seven wins came against teams ranked higher than Virginia in rushing offense.
Auburn is ranked 38th nationally in rushing offense. This is 26 slots higher than the average team Virginia faced this season, and Virginia won just one of eight matchups against higher ranked teams than Auburn in rushing offense.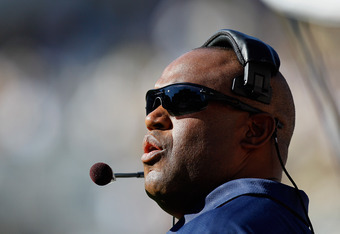 Kevin C. Cox/Getty Images
Auburn only scored 15 rushing touchdowns this season compared to Virginia's total of 17, and much of the pregame hype has been focused around rushing for this bowl game. A quick look at the two teams does not indicate that rushing will play a major role in any successful game plan for Virginia.
Georgia, Mississippi State, Florida and Clemson are teams ranked between 40 and 75 in rushing offense, and these teams combined for a total of four rushing touchdowns against Auburn this year.
Virginia Tech and Southern Mississippi are the only two teams that Virginia faced that were ranked within 15 slots of Auburn. These two teams combined had three rushing touchdowns against Virginia.
For Virginia to have a decent chance in the Chick-fil-A Bowl, they will likely have to effectively pass the football. Passing has proved to be the way to success against Auburn this year, as the Tigers have given up 21 passing touchdowns this season.
Contrary to popular belief, it does not appear that Virginia will have much rushing success against Auburn. Their offensive line is a good bit smaller on average than those Auburn has faced this season and they simply are not an overwhelming rushing team.
The Cavaliers O-line does not have much of a size advantage compared to that of Auburn's defensive line. This is another indicator that a rushing-based game plan might not be in the cards for Virginia in the Chick-fil-A; if they want a decent shot at victory, that is.
Furthermore, the Tigers should have success on the ground, as the O-line has a big size advantage compared to the Virginia D-linemen.
In the end, it appears that Virginia will have to lean heavily on the pass if they are to execute a successful game plan. For Auburn to be successful, it appears a balanced attack of passing and rushing should pave the road to success.