Green Bay Packers vs. Chicago Bears: The Joy of the Season and Christmas Wishes
December 25, 2011
Jonathan Daniel/Getty Images
Greetings from the Frozen Tundra and happy holidays to you and yours, friends!
A peace enveloped Casa Moen-Kadlec around 10 p.m. last night, my friends, and I believe it may be a true holiday miracle. 
Prior to this peace enveloping Casa Moen-Kadlec, Manpig, my beloved husband, decided to see if he could consume his body weight in eggnog (with a generous splash of Christmas cheer) with his good friend Fred. 
After doing such unspeakable things as singing along to Christmas carols (and country music, because nothing says "happy holidays" like My Red Beer Cup, right?) and hugging my incredibly Norwegian, non-huggy father, Manpig declared (at 10 p.m.), "It's not a very Merry Christmas after all!" before traipsing off to his manpig lair to regenerate brain cells and liver functions and recuperate.
Yeah, my poor dad probably had nightmares last night about hugs.  He will probably drop into the fetal position every time he sees someone who even slightly resembles Manpig. 
Merry Christmas, indeed!  Who said trauma can't be a fun part of the holidays?  And who better to inflict this trauma than your own family?
As I am a happy little (6-foot tall, furry) elf this morning, I have decided that the best way to ensure that Manpig is awake, and alert, this fine morning is to give my catnip-addicted cats catnip, which is right around the equivalent of giving them some sort of amphetamine. 
After 30 pounds of yeowling, deranged feline run across his head a few times and cling (upside down, like little furry space creatures/demons) to the curtains, Manpig should awaken, feeling refreshed and ready to cook.
Ahh...the Christmas spirit at its finest, friends.  The spirit of generosity and cooperation is alive and well at my house!  I will generously supply the cats catnip, they will cooperate to make Manpig's morning a living hell.  See, it all works out!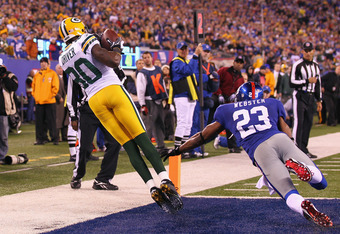 Al Bello/Getty Images
This fine evening, the Green Bay Packers take on their division foe, the Chicago Bears.  It has, up until the loss to the Kansas City Chiefs, been a truly joyful season.  And, as it is Christmas, I have a wish list, as do many other Packers fans, I'm sure.  What is on this wish list?
Receivers who catch, and maintain control, of the football.  Last week, the normally rock-steady receivers dropped passes left and right.  While this was truly concerning, I have been assured by fellow Packers fans that it was just an off day.  My wish is that Jordy Nelson, Donald Driver, Jermichael Finley and all of the receivers have a phenomenal day. 
The defense proves that Dom Capers has just been waiting out the season to bring the heat.  Remember last year, and the emergence of James Starks in the playoffs as a powerhouse threat?  As I am under the firm belief that Dom Capers is an evil genius (with an army of highlighters!) intent on world domination, I am wishing that he has a devious plan in place to get the defense moving and aggressive. 
Sack, intercept, stop first downs and touchdowns, repeat.  Sounds simple right?  Bonus wishes:  Clay Matthews has six sacks, Tramon Williams and Charles Woodson get at least three interceptions and B.J. Raji intercepts and gets to do a touchdown celebration. After all, nothing says "holiday cheer" like a B.J. Raji celebration, whether it is the "no way, uh-uh" move or the hula dance.
While it is probably too much to ask for a healthy offensive line (which would truly be a Christmas miracle), it would be nice to not see Aaron Rodgers on the ground, picking grass out of his helmet.  Additionally, having Aaron Rodgers get to do his "touchdown dance" on Christmas would mean that I won't have to throw down the belt around the house at random for the day.  If Manpig is out of his eggnog coma by this evening, he will probably be grateful for this.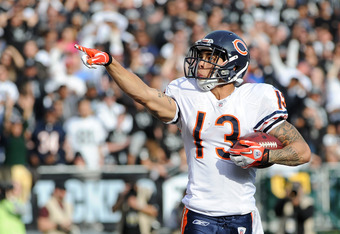 Thearon W. Henderson/Getty Images
A game with no injuries.  This is a wish for both the Packers and the Bears as both teams have had so many injuries in the recent weeks.  Seeing Derek Sherrod injured last week was a scary moment, to be sure.  But seeing the injury to Johnny Knox of the Bears last week was truly a sobering and frightening moment for any sports fan.  
Nobody wants to see players injured, after all.  A wish for a speedy recovery to all the injured players seems to be the most appropriate Christmas wish for all fans of football.
Home field advantage in the playoffs.  Ahh, there is nothing like football in Wisconsin in January, my friends.  The football is kind of like throwing, and catching, a frozen Christmas ham hurtling towards you at the speed of light.  The ground, thanks to (normally) a healthy dose of snow and ice means that if you catch the ball, you certainly don't want to be tackled to the ground as that is really going to hurt. 
Have you ever had an ice burn?  Let me tell you, if you have a mouth as smart as mine, and have a slightly sadistic older sibling who enjoys giving "face washes" (i.e. taking a hand full of snow and ice and rubbing it all over your face until it melts), you know what I'm talking about.  I spent the first 20 years of my life with rosy cheeks and it wasn't from my Norwegian heritage. 
Ice burns hurt.  Trust me.
And, most of all, my Christmas list includes a Packers victory today, a Packers victory on New Year's Day, continued Packers victories throughout the playoffs and a Super Bowl victory. 
Really, is that too much to ask for?
Happy holidays, my friends, and Go Pack, go!