Bulls vs. Lakers: Chicago's Carlos Boozer Needs to Dominate LA's Josh McRoberts
December 25, 2011
Jonathan Daniel/Getty Images
If Chicago Bulls power forward Carlos Boozer wants to make a good first impression, he needs to dominate the Los Angeles Lakers' Josh McRoberts in the NBA's season opener.
Boozer, who signed a huge contract with the Bulls last season, has not made a good impression with Bulls fans. He suffered through injuries that made him miss 23 games while limiting him to under 32 minutes a game.
The Bulls hoped Boozer would be a consistent 20-point, 10-rebound guy, but Boozer struggled to establish himself as a dependable force. He played soft in the post and around the rim last year, resulting in missed baskets and opponents gaining easy points.
Boozer vowed he would play better for the Bulls and worked hard in the offseason to get in athletic shape. According to Bulls coach Tom Thibodeau, Boozer is 20 pounds lighter and ready to go.
The Duke product had an uneven preseason with the Bulls. Chicago's first game against the Indiana Pacers saw Boozer play softly around the rim as Boozer missed his first five shots and finished 3-of-10 from the field with five fouls.
Pacer big men Tyler Hansbrough, Jeff Foster and Roy Hibbert pushed Boozer around in the post all-night long.
Come Tuesday, Boozer seemed a changed man as both Derrick Rose and newcomer Richard Hamilton opened the paint for Boozer to maneuver. Boozer dominated his arch nemeses on the offensive end by going 11-of-17 for 24 points and three assists. 
Defensively, Boozer was not impressive, as Hansbrough scored 19 and 24 points with Boozer as his primary defender. Hansbrough is a solid player, but Boozer is more athletic and should stay in front of him more often.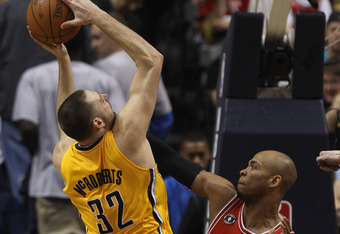 Jonathan Daniel/Getty Images
What Boozer is looking for is a fast start, and McRoberts could be the perfect victim for him to achieve that.
McRoberts, a fifth-year player out of Duke, was acquired by the Lakers to the recently traded Lamar Odom. He was a backup power forward for the Pacers, who averaged 7.4 points and 5.3 rebounds a game last year.
However, McRoberts will never be a consistent NBA starter, as he is temporarily filling in for Lakers center Andrew Bynum as he serves his five-game suspension for clobbering J.J. Barea in the playoffs.
Since Bynum is suspended, Boozer will face McRoberts instead of Pau Gasol as the Spanish baller will shift to the middle.
Boozer has a decided advantage by playing McRoberts over Gasol. McRoberts is not a very good defender, who has average lateral quickness and cannot stop more physical power forwards.
The Bulls' Boozer is healthy and ready to go. Being lighter allows Boozer to be quicker and jump higher. He historically is a physical player and can utilize his superior post moves to dominate McRoberts.
A fast start would be optimal for Boozer, who desires to erase an uneven 2010-11 season.
If Boozer can score 25 or more points against McRoberts, the Lakers are in for a long night as Boozer  announces to the NBA his return to top form.
If Boozer somehow does not perform well, the Bulls will have to worry that Boozer will always remain an inconsistent player who will never take his game to the next level.
Bob Bajek is a Featured Columnist for the Chicago Bulls. He is also a freelance reporter and can be followed at Patch.com and Twitter.