NFL Draft 2012: Seattle Seahawks Must Focus on Second-Tier QB's Foles, Tannehill
December 25, 2011
Christian Petersen/Getty Images
After watching the Seattle Seahawks take the division champion San Francisco 49ers to the end of the game (eventually losing a tough one 19-17), I am convinced that Pete Carroll's bunch is close.
Not once this season has a team scored a rushing touchdown on the 49ers, but Seahawk Marshawn Lynch finally punched it in from four yards out.
Tarvaris Jackson isn't great, but he's done a serviceable job this year despite everyone doubting his abilities.
Past this, the team has been getting great contributions from numerous defensive players like Chris Clemons and Earl Thomas.
As a whole, in fact, the NFC West is not far off from being a competitive division (in stark contrast to last year's fiasco) with the 49ers now a top NFL team, John Skelton turning around the losing culture in Arizona and the Rams making an effort to find an identity.
Back to the Seahawks, the team will probably end up with a draft pick in the mid-teens, judging by their middling 7-8 record right now and current standing.
Behind Andrew Luck, Robert Griffin III and Landry Jones, no quarterback is worth reaching for in the middle of the first round.
The second group of guys all have flaws.
Arizona's Nick Foles has below-average accuracy and Texas A&M's Ryan Tannehill needs to do a better job making reads and progressions. Neither of them are first-round material, but they could both be successful NFL quarterbacks.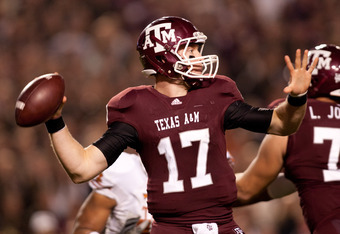 Darren Carroll/Getty Images
Conceivably, the Seahawks could fill a pressing defensive need in the first round, such as drafting linebacker Zach Brown from UNC or cornerback Dre Kirkpatrick from Alabama.
After drafting a solid defensive player in Round 1, the Seahawks could make another good pick by selecting one of the second-tier quarterbacks to fight for the job in training camp.
The way Tarvaris Jackson has played this year, the job is his to lose going into 2012, but bringing in a Nick Foles or Ryan Tannehill-type would make for healthy competition and give the Seahawks a legitimate future to look forward to (at the quarterback position).
The Seahawks can ill afford to miss on a quarterback in the first round, and Landry Jones is just the type of prospect who could be a huge miss if he goes to Seattle. After striking out on James Carpenter last year, Pete Carroll must nail this first-round pick.
Staying safe, the Seahawks could pick a top-level linebacker or cornerback and roll their momentum into the second round, selecting a quarterback to be the face of the franchise much like Cincinnati did with Andy Dalton last year.
The pieces are there for this Seattle offense. Marshawn Lynch, Sidney Rice and Zach Miller would make the transition a lot easier for a college quarterback.
Pete Carroll's bunch is one player away from being a playoff team. One second-tier quarterback.