UVA Basketball: Tony Bennett "6 Shooter" Down to 2 Bullets with Defections
December 25, 2011
Jeff Zelevansky/Getty Images
Coach Tony Bennett's first full recruiting class was heralded as the "Six Shooters" and had the UVA faithful anticipating a big turnaround in Virginia's basketball fortunes. 
The Cavaliers appear to be living up to their fans' expectations.  But for now, with guard KT Harrell's announcement on Friday that he will be leaving Virginia and James Johnson's subsequent announcement of his similar intent today, only two of the six remain and the major contributions are coming from other sources.
Just Joe Harris, a Washington state native who committed to Bennett while he was still head coach at Washington State, and elected to follow him cross-country, is in Virginia's top six scorers.  Harris is averaging just under 13 points a game, second to Mike Scott's team-leading 17 per game.
Welcome to the world of college basketball and the unexpected twists and turns of recruiting 17- and 18-year-old young men who have often never even lived away from home.
Basketball recruiting is different than football recruiting.  With only 12 players on a team, recruits often commit to the head coach on a personal level as much as they do to a particular style of play. 
In an award-winning series in the Charlottesville Daily Progress last year, each player cited a strong desire to be associated with Coach Bennett because of his character and strong faith.
Those two qualities appear to have remained constant for all four of the departed players.
In a press release on Friday, Harrell said, "I'm grateful for my experience at Virginia and for my teammates and coaches.  They were very kind and good to me.  I wish them the best."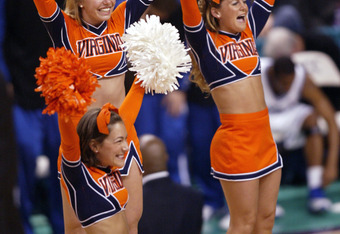 Streeter Lecka/Getty Images
Johnson's sentiments echoed Harrell's.  "I love and respect all the individuals that make up the Virginia basketball program.  They helped me grow in so many ways. The support and love they showed me was unbelievable and it will be very hard to leave this group."
Coach Bennett said he was "disappointed" in each player's plans to leave UVA.  He then added, "But with that being said, if James and KT feel it's best for them not to be here I think it's better for everyone to part ways."
The Cavaliers have played 11 games thus far, going 10-1, and have three contests remaining before the start of Atlantic Coast Conference play.  The playing rotation seems to be settling into a reasonably consistent pattern and Harrell's court time had shrunk dramatically.
Harrell started Virginia's first five games and played over 30 minutes in each of the first four starts.  But in the recent western road trip he only played a combined 11 minutes and failed to score in either game.
Johnson, who redshirted his freshman season, saw limited playing time this year and none in the last three games.  At 6-9 and with "good hops" it had been hoped that he would be able to give Virginia's thin frontcourt some valuable minutes, but with the ACC season upon them, and his getting limited experience it became less likely.
The only "bullet" left besides Harris is Akil Mitchell.  Thus far the sophomore's season numbers show a slight improvement over last year.  He is averaging just over three points and three rebounds in 17 minutes a game.
So what's the new sheriff in town planning to do? 
Well, a college basketball coach sometimes has to look like Pancho Villa, with straps of bullets across his chest so he can reload quickly.  Bennett has two heralded commitments for next year plus a highly touted redshirt waiting in the wings.
Like I said, recruiting can be a topsy-turvy ride.