Boston Red Sox
Hope You Haven't Forgotten About the Red Sox Yet: Boston's 2012 Season Outlook
What can the Red Sox expect out of players like, Carl Crawford in 2012?
Jim Rogash/Getty Images
December 24, 2011
Well unfortunately, my fantasy football season is now over. But that's OK, because now I can focus on the more important things. Like the Boston Red Sox, and the epic collapse they had not even three months ago. 
Remember? It was late in September and the Red Sox had a series against the Baltimore Orioles to end the season, and all they had to do was win two out of three games to make it into the postseason. Am I jogging your memory now?
Jonathan Papelbon comes in to close the last game of the year...against the Orioles. He lets up an inning-ending pop fly to send the game into the top of the 10th...and then Carl Crawford lets the ball hit the Earth.
Yeah, I think you know what I'm talking about now.
Now I'm not trying to relive this traumatizing moment that all of Red Sox Nation was forced to experience. But I think it is a pretty good reason to pay attention to what the Boston Red Sox do during the offseason. The only troubling thing is that the more you follow the Red Sox during the offseason, the more cause for concern they bring about.
So what exactly am I referring to here, because many would argue that the Red Sox are still a powerhouse team despite the fact they missed the playoffs last year. And I agreed with that belief...back in October. Now, I'm ready for the Red Sox to make a dramatic splash in the free-agency market and bring in that two-year guy that will push this team back into the conversation of World Series contender. And I don't mean Bobby Valentine.
I mean Carlos Beltran, who just signed a two-year deal with the St. Louis Cardinals. With the ever-disappointing J.D. Drew leaving a roster spot available for the Sox front office to fill, why wouldn't they bring in a skilled veteran like Carlos Beltran? Instead, the Red Sox's front office is deciding now that they will change their philosophies and not chase the Pennant by throwing money at their problems. Unfortunately, I think it's a little to late for that.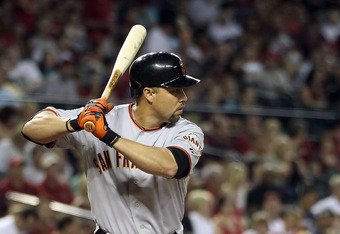 Carlos Beltran could have been a huge addition to Boston's line-up.
Christian Petersen/Getty Images
Now more than ever is when the Red Sox need to open up their wallet and pay the price for a guy like Beltran or Mark Buehrle. But no. The Sox have now decided that approach was wrong. That signings of the past, like Daisuke Matsuzaka, and John Lackey, and Carl Crawford...that they were the wrong approach to creating a championship team.
Well fine. I can agree with that. But why make the trade for Melancon then? Why not just identify the immediate flaw that you see if you look at the Red Sox's current roster? Why not bring in a closing pitcher to fill the hole that Jonathan Papelbon left open when he was signed by the Philadelphia Phillies and say, "OK. Now were ready for 2012"?
Why would rumors exist of the Red Sox possibly converting up-and-coming relief pitcher Daniel Bard to a starter role for 2012. There has even been talk of Boston attempting this transition with Alfredo Aceves, who was possibly the most dependable pitcher out of the pen for the Sox in 2011.
Why would so much, and yet so little be happening in Fenway Park?
Because the Red Sox know their problem is bigger than it may seem. The Sox have an unproven pitching rotation (at best), backed up by a lineup that has question marks like Carl Crawford, Josh Reddick and even Kevin Youkilis. Add in a bullpen that might be led by 26-year-old Mark Melancon and you have plenty of reasons for the Red Sox to throw some money around to ease the minds of its troubled fanbase.
Instead, the Red Sox's front office will continue to discuss important franchise-altering issues (like converting once top prospect Daniel Bard into a starter) as if they are nothing to distract their fanbase. And why would the Boston Red Sox do that? Because it is cheaper. And the craving, of a city that hasn't won a championship for 86 years, has died. 
Like the new article format? Send us feedback!