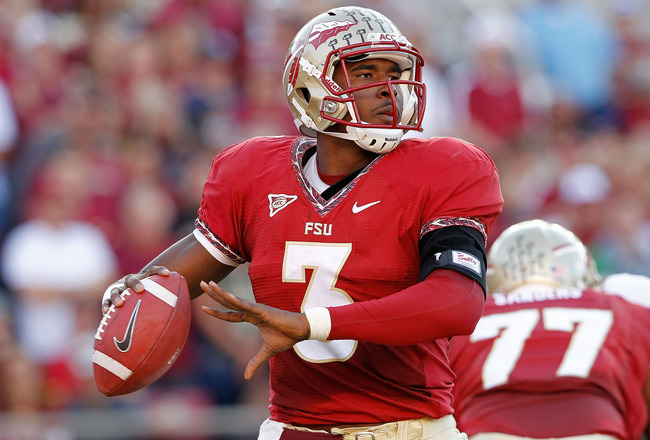 Mike Ehrmann/Getty Images
EJ Manuel has had his ups and downs with a fairly disappointing junior season thanks to the injury bug, but he should be just fine and dandy in the immediate future.
If Manuel can perform well in the Champs Sports Bowl against Notre Dame, then the 2012 season will once again have a ton of upside.
However, win or lose against the Irish, and there will still be a short list of improvements EJ must fix before the 2012 season starts. Great players always take a tad of criticism, and the 'Noles signal-caller will look to take the following aspects of his game up a notch or two.
Strength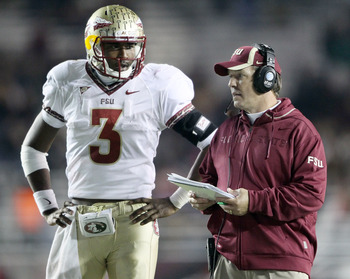 Elsa/Getty Images
EJ Manuel hurt his left AC joint in his shoulder during the Oklahoma game, and it also arguably came at the worst time of the season.
Florida State's national relevancy was on the line and it wasn't Manuel who let the team down, but he was hyped as if he was the guy to lead them back to national title candidacy.
Manuel is a big dude at 6'4" (nearly 250 pounds) and he must continue to get even stronger if he expects to become an All-ACC performer.
Getting Rid of the Ball to Live Another Down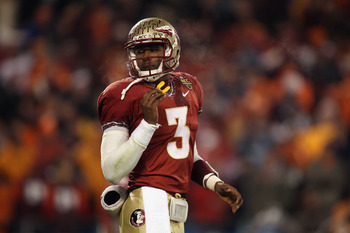 Streeter Lecka/Getty Images
This was stated earlier, but taking 28 sacks is way too many. That is a little over two sacks per game and even if he was under center behind a high school offensive line, he could do a better job.
Nick O'Leary is a tremendous talent at tight end, and Manuel has a boatload of returning receivers coming back next season. Manuel must be able to throw more check downs so he can avoid the 3rd-and-longs.
The hope is that EJ can build an even stronger rapport with them in the spring, which will allow Manuel to finally reach his lofty expectations.
Vision in Pocket on the Run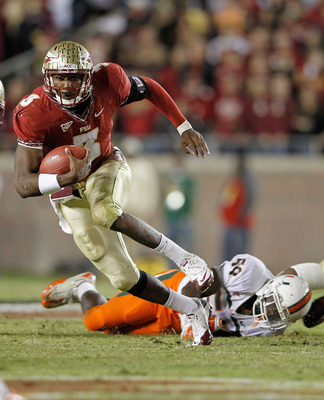 Mike Ehrmann/Getty Images
Manuel did take that shot against Travis Lewis and the Sooners when he was escaping the pressure from the pocket, but EJ better find ways to take less severe kill shots.
He is a big target and needs to find ways where the opposition is the target.
The soon-to-be senior is a very talented player, but he has not had many breakout games where we can clearly say he has become a near All-American performer.
Some of the blame is to be put on his offensive line (28 sacks taken is way too many) and lack of a running game. In time, all of the above should improve, which will allow Manuel to be himself.
Accuracy in the Pocket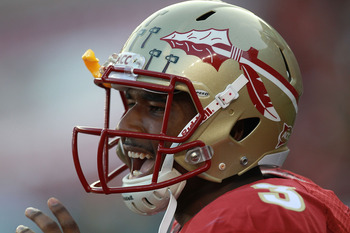 Ronald Martinez/Getty Images
Manuel only threw eight picks, but he completed just 65 percent of his passes. That actually is a solid number, but FSU throws a ton of short passes to begin with, and Manuel would like to improve those numbers.
When under duress, Manuel has not been nearly as consistent as he should be. Outside of his productive games against NC State and Duke, Manuel did not have a boatload of success against the rest of the ACC.
Missing the Clemson game seemed to put him back a bit in his progression, as he played abysmal against Wake Forest.
He did play great ball down the stretch of the season, and the hope is that a Champs Sports Bowl performance against the Irish can springboard him into next season.
Leadership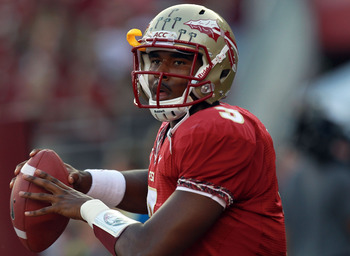 Ronald Martinez/Getty Images
This is not a knock, but Manuel could become more of an emotional leader on the sidelines and on the field.
He is a quiet leader and has shown his frustration and excitement before, but in his senior season he just needs to let it all hang loose and not hold anything back. As a quarterback you cannot worry—just go play ball and things normally take care of themselves.
If he were to win against Notre Dame, it would make him 3-0 in bowl games, and he is the type of talent where players should feed off of his performance. If he can ball it up in 2012, the Seminoles will be reaping the benefits on the field.
Manuel is a stud and was not picked by Desmond Howard as his Heisman front-runner as a joke. The kid can ball and will hopefully become an ACC superstar next season.
Keep Reading

Florida State Football: Like this team?