Philadelphia Flyers Loss to New York Rangers Is a Product of Averages
December 24, 2011
Jim McIsaac/Getty Images
Ever hear the saying, what goes around comes around?
If you follow sports or frequent any casino any time a streak—good or bad—happens, sooner or later the luck will change.
For the Philadelphia Flyers that "luck," which was good, changed last year. In case I lost you, I'm referring to the win streak the Flyers had against the New York Rangers.
If you go back to their final meeting in 2010, you know that it happened to be the last game of the season—the one where both teams needed to win in order to get into the playoffs.
The Flyers tied the game, forced overtime, and the Rangers played for a shoot out hoping that their league best shootout goalie Henrik Lundqvist would save the day. The rest is history that needs no repeating.
From there, the Flyers ripped off five wins in a row against the Rangers through last season until March 6, 2011 when the Rangers handed the Flyers a 7-0 smackdown.
Wait a second: A team that just won two of three meetings 4-1 then 3-2 now gets trashed 7-0?! Yea, see where I'm going now?
These teams are close talent-wise. Each is a little better in different categories, but not head and shoulders better. The only problem is the scoreboards aren't showing it.
Now as fate would have it, the Flyers find themselves giving up four in a row to the Rangers heading into this year's Winter Classic.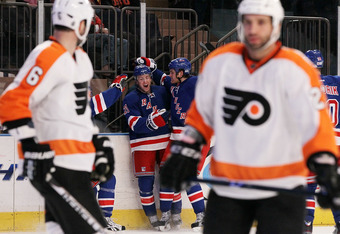 Jim McIsaac/Getty Images
I know what you're thinking, how could Holmgren and Snider agree to pay Bryzgalov so much money? Why did they get rid of Richards and Carter?
Here's the deal. Bryzgalov had a chance on one of those four goals, but even then he had Ryan Callahan in his lap whacking home a nice juicy rebound.
The break away is to the shooter's advantage every time, and yes even "King" Henrik gives up flukey goals. Check out the goals he gave up last year against the Flyers in a 4-1 beating the "Orange and Black" gave to New York here.
Feel better now? I know I did.
If any Ranger fans wanna rub it in your face about Bryz's performance, just point out the goal by Zheredev in that recap. Now that's an ugly goal.
In case you're still stewing on the Bryzgalov deal, just remember that Lundqvist gives up those goals too and he's getting like $7 million a year. It's not the end of the world, Flyers fans: There's a lot of hockey left, and right now the Rangers are kicking butt and taking names.
But let's see if they keep it up in May.
For now, just remember that they are due for these wins. How else do you explain not getting a shot through almost 18 minutes of play and then wining 4-2? We all can remember Rusty Fedetenko playing in Philly can't we? Oh wait maybe we can't. Yes, he did play here, and he was not that good. But he was good enough to get the craziest goal I've seen all year.
It seems like lot of these goals that are getting past Bryz are hard luck these days. As Bryzgalov said after the game when asked about his recent streak of bad luck "...a new year is coming. Maybe the New Year is going to be different, according to CSN Philly.
You can't help but feel emphatic to his sentiment. I'd have to say at least a dozen of the goals that got past him this season are low percentage deflections that otherwise would have missed the net entirely.
Instead, these wacky deflections seem to be laser guided into the net. We all know that's not happening, but if he's getting snake bites by from all of these shots, I would venture to say by season's end the law of averages starts working in his favor.
Furthermore, despite the promise and talent of the New York Rangers, I can't see them having their way with the Flyers the rest of the season, either.
After all, this Flyers team is the same one that recently beat the Pittsburgh Penguins, Washington Capitals and Dallas Stars in convincing fashion. Sometimes in sports rivalries, strange things happen. That is not to say the New York Rangers didn't deserve to win the last two games.
I just feel the tide will turn again in the Flyers favor.