UCLA Football Recruiting: Why Jim Mora Will Be on the Hot Seat in 2014
December 24, 2011
Jim Mora has been busy putting together his new coaching staff while interim coach Mike Johnson directs the Bruins through their consolation bowl game.
The NCAA dead period, which disallows contact with recruits through January 3, won't put coach Mora behind because UCLA has allocated almost all of their available 2012 scholarships.
The problem is that this year's class is almost as bad as last year's. In fact, from a quality standpoint, this will be the worst recruiting class since 2004. That was the year UCLA brought in DE Brigham Harwell as the highest ranked recruit.
But last year's lousy 2011 Bruins recruiting class won't be felt until 2013. UCLA's 2012 recruiting letdown this year won't hurt the Bruins until 2014. Generally, there is a two- or three-year lag for class impact, although a study by Lloyd argues a one-year lag. 
Where does UCLA rank relative to other colleges in the country and in the Pac-12 for 2012? Thirty-something and fifth, respectively, but that is before other Pac-12 foes have finished their recruiting.
UCLA enjoyed decent recruiting seasons early in Rick Neuheisel's tenure, when the Bruins captured three highly ranked recruiting classes from 2008 through 2010. But last year was a disaster and this year will be just as bad.
| | | | |
| --- | --- | --- | --- |
| Year | Grade | Avg. Stars | National Ranking |
| 2012 | C | 2.91 | 26th |
| 2011 | C | 3.00 | 45th |
| 2010 | A | 3.61 | 8th |
| 2009 | B | 3.33 | 14th |
| 2008 | A | 3.52 | 13th |
| 2007 | B | 3.27 | 40th |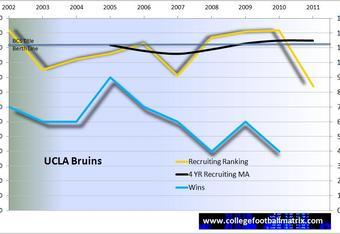 Numbers are not the reason for UCLA's terrible 2012 recruiting. UCLA is stacked with 22 verbal commitments. The trouble comes from the lack of 4- and 5-star recruits. UCLA only has four of those quality players this year. 
Total 2012 Verbals: 22
5-Star Verbals: 0
4-Star Verbals: 4
Latest Verbal: 12/22/11 DB Ishmael Adams (4 stars)
Three-star players can be coached up, but more often than not, 4- and 5-star players are the "playmakers." They are usually the ones who make it into the NFL. They are the difference between a six-win or a nine-win season.
So what happened to UCLA this season? UCLA had the 13th-best recruiting class in the nation for 2008 and 14th best in 2009, so they should have had a nine-win season in 2011 - given the thwo-year impact lag. The best reasons are a lack of an offensive identity, a lack of an offensive passing game, a lack of a defensive front seven, and poor coaching.
2008 brought in twelve 4-star commits in 2008, but Tony Dye was hurt most of the season and Nelson Rosario was inconsistent. Jerry Johnson is buried in the depth chart and Rahim Moore left early for the NFL. E.J. Woods, Milton Knox, Antwon Moutra and Aundre Dean all left the team a long time ago.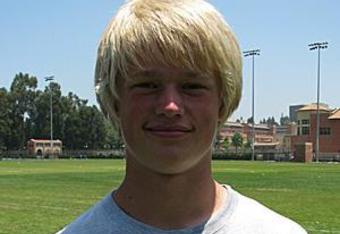 Only Damien Holmes, Johnathan Franklin, Datone Jones and Aaron Hester were the only 4-star 2008 commits who contributed in 2011. Having only four 2008 top contributors demotes that 13th-ranked recruiting class to a lousy one.
The 2009 recruiting class was a also good one; however, Marlon Pollard and Morrell Presley transferred out. Xavier Su'a Filo left on a Mormon mission and never came back. Stan Hasiak couldn't cut the program. Randall Carroll has had a series of discipline problems. Damien Thigpen, Todd Golper, and Keenan Graham have all been lost on the depth chart. Most recently Richard Brehaut was arrested and suspended. 
With only a very few 2009 top contributors, this 14th-ranked recruiting class is a total bust. Coach Jim Mora will be lucky to see six wins in his first year, especially with the adverse effect of a complete coaching change. A complete coaching change usually causes a few losses in itself, so four wins in 2012 would not be a total shock; however, it would be a huge disappointment for the Bruin faithful.
2012 will probably be a 6-6 year for UCLA's football team, but 2013 and 2014 look to be "fall-off" years again, so athletic director Dan Guerrero will be the one on the hot seat, along with Mora.