Arizona State vs. Boise State: Dennis Erickson Passes Loser Torch to Todd Graham
December 23, 2011
Ethan Miller/Getty Images
Arizona State was grossly outmatched in the MAACO Bowl Las Vegas against Boise State. Sun Devils fans—who were expecting the 56-24 blowout to mark the end of a disappointing Dennis Erickson era—are in for a rude awakening.
The Sun Devils traded in their ring-touting coach—who was nothing more than a has been and had lost complete control of his team—for an unproven coach who never should have been mentioned in the coaching search.
Todd Graham has been brought on to save the Sun Devils from mediocrity. This is a guy who took the University of Pittsburgh team to a 6-6 record and whose coaching highlights include his time as Tulsa and Rice's head coach.
Mike Leach, Jim Mora Jr. and Rich Rodriguez join a conference jam packed with high-profile coaches. Graham was the most anticlimactic hire in the conference. Gregg Doyel of CBS has a theory as to why the Sun Devils settled.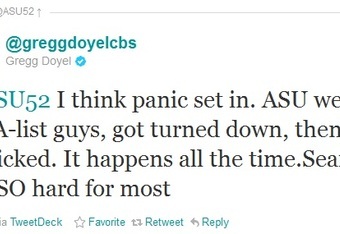 Rather than bringing in an established coach, ASU has a guy who is looking to make a name for himself as head coach of the Sun Devils.
June Jones, Kevin Sumlin and Jim Mora Jr. may not have been ASU fans' first choices, but it's safe to say the masses would have been far happier with those candidates than the inexplicable hiring of this no-name coach who has made a habit of running to greener pastures.
He's grossly under-qualified. Nothing suggests that he is going to turn ASU into a winning program or a contender in the Pac-12. He's the perfect guy to carry the losing torch Erickson lit.