German Bundesliga: Is Toni Kroos the Latest Jewel at FC Bayern Munich?
December 23, 2011
Paolo Bruno/Getty Images
The Bundesliga is producing more young German players than ever before, which is having an incredibly positive effect on the reputation of the league and on the options available for the "nationalmannschafft."
A trend already has been set by some of the Bundesliga's finest young talents in previous years, with Thomas Muller (09/10) and Mario Gotze (10/11) both capping off their inaugural seasons in the top flight with a league winners medal and a place on the German national team.
Muller enjoyed a stunning debut season under Louis Van Gaal with FC Bayern reaching the UEFA Champions League final, losing only to Inter Milan in Madrid. Young Gotze took the league by storm as a key part of Jurgen Klopp's refreshing title-winning side with an average age of just 22.
21-year-old Toni Kroos has taken longer than Muller and Gotze to command a place in the first team, and it is no surprise given the wealth of talent FC Bayern have at their disposal in attacking positions.
But persistent injuries to Dutch winger Arjen Robben has opened a gap in Jupp Heynckes' 4-2-3-1 and Kroos has slotted perfectly behind Mario Gomez with Muller moving to a role on the right of the attack.
The youngster has been around the fringes of the first team at FC Bayern for nearly five years but it has taken time for Kroos to translate his immense ability into performances on the pitch.
An 18-month loan spell with Bayer Leverkusen added another 40 Bundesliga games to his growing experience, with Kroos just 18 when he went to the BayArena.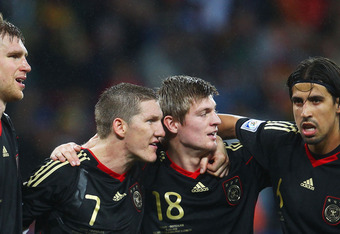 Lars Baron/Getty Images
Kroos is comfortable on either foot and has a terrific range of passing, but he also brings a lot of talent to the FC Bayern midfield with his industry and work rate.
It is widely accepted that Bastian Schweinsteiger is the heartbeat of the midfield in Munich, but 21-year-old Kroos has taken that role under Jupp Heynckes.
The youngster who wears the No. 39 shirt at the Allianz Arena has a superb 88.1 percent pass completion ratio from 942 attempts, in comparison to Schweinsteiger, who has just 86 percent from 858 passes.
In fewer minutes on the park, Kroos has touched the ball 219 times more than his teammate.
Given Schweinsteiger's deeper midfield position, his tackling statistics are slightly better than those of Toni Kroos, but given the latter has a 54.1 percent successful tackling ratio from a total of 242, it shows the hard-working side of Kroos' game.
In an attacking sense, Kroos has managed to create 74 chances for his team-mates compared to Schweinsteiger's 32 and is just two behind Thomas Muller (76) with the 22-year-old having played 123 minutes more than Toni Kroos.
His starring performances in the German top flight has resulted in a call-up to Joachim Low's national side and the midfielder will almost certainly be involved, to some extent, in Germany's bid to become European champions in 2012.
But with Mesut Ozil, Thomas Muller and Lukas Podolski the favoured options in attack, Kroos will likely be restricted to a deeper midfield in the 4-2-3-1 system alongside Sami Khedira.
If Kroos can have half as good a year as Muller and Gotze did in 2010 and 2011, respectively, then he will have something look forward to when the prizes are handed out towards the end of the season.