View from the Victory, Volume 14: Tables Are Turning in City Derby
December 23, 2011
Quinn Rooney/Getty Images

Mehmet Durakovic's Melbourne Victory were taking on Melbourne Heart on Friday at AAMI Park in the renewal of the City Derby. A win over their city rivals was sure to give Victory some hope coming into the rest of the season.
"I think we've improved a lot. The past month, I think we're really starting to play some of our best football. I think we've got our formation right, there are a few youngsters that have come in and done very well," team captain Adrian Leijer told reporters. "There's a bit of a spring in the step at the moment so hopefully we can build on that. I think it's a very good time for the derby to come along."
Young defender Peter Franjic was hopeful that the Victory could also secure a result with a strong effort in the backline.
"It just shows how strong the team is and how competitive the places are and I've been given an opportunity from the coach and hopefully I can repay it and play well because I know Rody will always try and get back into the team," Franjic told reporters after training on Tuesday.
"Just as a player in general, the more games you get the more confident you feel and I've had three games in a row now and feeling a bit more confident, but always knowing that I've got to keep performing because other players are available for selection as well."
"Everywhere throughout the team, there are some good players that aren't even on the bench in the last couple of weeks. If someone gets injured or suspended we're always believe that the players that come in can do the job."
However, Melbourne Heart were up to the task and defeated the Victory 3-2.  A brace from Heart's Matt Thompson in the 37th and 39th minutes did the job, while Alex Terra scored the match winner in the 62nd minute. Archie Thompson scored in the 21st minute for the Melbourne Victory, while Carlos Hernandez recorded a consolation goal in the 90th minute.
With the defeat, Melbourne victory drop to sixth in the A-League standings with a 3-3-6 record (15 points), putting Durakovic in the hot seat.
Melbourne Victory's next contest will be on Dec. 31, when they take on Brisbane Roar at Suncorp Stadium. Kickoff is scheduled for 7:30 p.m. AEST.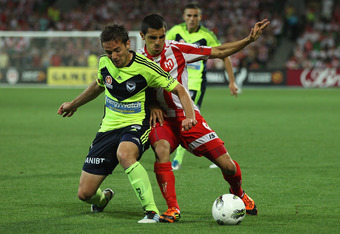 Quinn Rooney/Getty Images