College Basketball: A Preview of the Pac-12 Conference Schedule
December 23, 2011
Jeff Gross/Getty Images
As college basketball is now in full swing around the nation, it is time to start giving close consideration to the commencing of conference play.
The Pac-12 entered the 2011-2012 as a 12-team conference for the first time.  The University of Colorado at Boulder and the University of Utah were added to the conference within the last year.
This new 12-team look deserves special attention as the conference schedule begins. The first Pac-12 games will take place on December 29th, with Oregon traveling to Washington State, Oregon State traveling to Washington, and California and Stanford hosting USC and UCLA, respectively.
Before the Pac-12 schedule gets underway, I want to highlight six can't-miss games, predict where teams will end up right before the conference tournament, provide links to the best and worst team jerseys, and give three names of lesser-known players to watch during the next several months.
Six Can't Miss Games in the Pac-12 Schedule
Dec. 31 - USC @ Stanford
Stanford got blown out both times they played USC during the 2010-2011 season. The Cardinal are much improved, and I expect these games to be quite entertaining.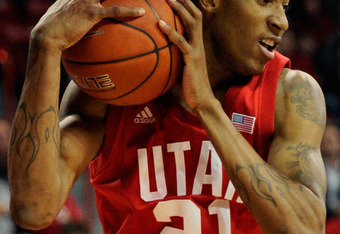 Dec. 31 - Utah @ Colorado
How will the two newcomers match up in their Pac-12 debuts? This game is definitely worth tuning in to.
Jan. 12 - Oregon @ Arizona State
Somehow Arizona State pulled off a regular season sweep of the Ducks last year. Oregon will be looking to put the lowly Sun Devils away this time around.
Jan. 19 - UCLA @ Oregon State
The perennial bottom-dwelling Beavers gave the Bruins a run for their money in both contests last year, but still came out with losses. This year, however, Oregon State has started off extremely strong, and I have my eye out for the upset.
Feb. 2 - Arizona @ California
Last year's matchup between these two teams on California's court was a thriller. No. 22 Arizona won 105-103 after three overtimes.
Feb. 22 - Washington @ Washington State
The Cougars took out the No. 20 Huskies in the middle of last year's conference schedule, but Washington rebounded to beat them during the conference tournament. Look for this rivalry to be as fun as ever.
Predicted Finishes
Stanford 13-5
California 12-6
Arizona 11-7
Washington State 11-7
UCLA 11-7
Oregon 10-8
Oregon State 9-9
Washington 8-10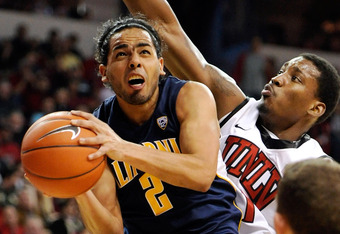 Ethan Miller/Getty Images
USC 8-10
Arizona State 7-11
Colorado 5-13
Utah 3-15
Best and Worst Uniforms
Best: Arizona State, found here.
Worst: Arizona, found here. (What is that terrible black watermark on the back?)
Three Lesser-Known Players to Watch
#0 Marcus Capers, G, Sr., Washington State
The 6'4" guard has springs. His dunks are phenomenal and he plays extremely tough defense.
#1 Jared Cunningham, G, Jr., Oregon State
Cunningham leads all Pac-12 players with 16.8 points and 3.0 steals per game.
#5 Aziz N'Diaye, C, Jr., Washington
The seven-footer leads the Pac-12 in blocks with 2.0 per game. He is a pleasure to watch inside the paint.
No doubt, the Pac-12 will be fun to watch this year regardless of the fact that the conference currently has no ranked teams.
I hope you enjoy the ride as much as I will.