Illinois Basketball: Illini Still Look More Like Pretenders Than Contenders
January 8, 2012
Jonathan Daniel/Getty Images
Illinois basketball just seems to be the same team every year under Bruce Weber, and that's not necessarily a good thing.
Yes, the Illini are off to a 14-3 start this season with a 3-1 record in the Big Ten—which isn't bad for a fairly young team that has only one senior on its roster—however, they still don't give you that feeling that they are really a threat.
There is no doubt that this version of the Fighting Illini has a roster full of talent, but they continue to have the same problems that have plagued Illinois teams in the past.
In recent years, it just seems that no matter who takes the court for the Illini, the end result is the same. The Illini still go long stretches where they can't put the ball in the hoop and often look like they actually forget how to.
Illini fans have unfortunately grown accustomed to the Weber "motion" offense looking motionless—and that trend has continued at times this season.
Watching the Illini stand around the perimeter and wait for something to happen before throwing up a bailout three-point shot is just painful—particularly when they have the personnel to be far more dangerous than they are.
With 7'1" Meyers Leonard down low and athletes like Brandon Paul and Joseph Bertrand on the wing, there really is no reason for the Illini to continue to find themselves in these situations.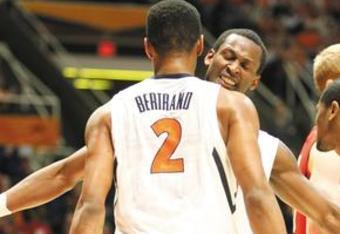 To his credit, Bertrand has come on strong recently and looks like he has figured out the big secret that has eluded Illini teams recently.  That secret is that when you take the ball to the hoop, good things generally happen.
At this point in the season, Bertrand has arguably become Illinois' biggest threat and his ability to get in the paint and hit the mid-range jumper is the main reason.
Man, what a revelation.  I wonder when the rest of the basketball world will catch on to this trend.
However, as good as Bertrand as been, the Illini still have to find a way to get the ball to Leonard consistently if they want to be an elite team.
Illinois finally has a legitimate threat down low for the first time in several years, and they don't seem to know how to utilize him.
Getting him the ball doesn't seem like it would be a real difficult task considering he is 7'1", but the Illini sure make it look like it's nearly impossible at times.
There is no reason that this kid should not average a double-double, period. He has some growing up to do in terms of maturity, but his talent level is unquestionable.
Weber simply needs to find more ways to get Leonard the ball, and preferably not 30 feet from the basket.  This may mean a departure from the motion offense, which for some reason Weber seems reluctant to do.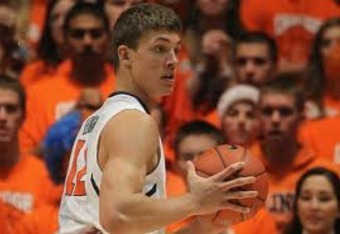 It's called adapting to your personnel, and it works wonders for other coaches.  Try it out.
Another issue that has plagued the Illini in recent years is their decision making.  They seem to make mental mistakes at inopportune times, and it's just inexcusable. The biggest culprit this year has probably been Brandon Paul, and there is absolutely no reason for it.
Paul is a junior and arguably the best athlete on this Illini squad, but his mental lapses and turnovers seem more like that of a freshman. He often settles for jump shots when he should be going to the basket and sometimes appears lost on the court. Other times he just takes over the game by being aggressive.
Paul is not the only one guilty of these lapses in judgement, but the fact that he is so talented just makes it harder to accept for most fans.
The Illini currently stand in pretty good shape in the Big Ten race, but the reality is that if they don't get better quickly, they won't remain in the race for long.
They have the pieces to be a force in the Big Ten, but the question is: Can they put it all together?
Weber has been accused on many occasions of not being able to develop the talent that he gets, and with all the talent on this current team, that would be a shame.
There is a long way to go in the Big Ten race this year, and we'll soon find out if this version of the Illini has what it takes to make the leap from pretenders to contenders.