Baylor Basketball: Why the Bears' 2011 Hot Start Is Not a Fluke
Jamie Squire/Getty Images
Baylor University is in athletic heaven at the moment and the start of the 2011-2012 basketball season is just adding icing to the cake. The Bears are 11-0 as of this writing and find themselves ranked No. 6 in the AP poll.
Some people question the ability to declare a team "hot" in non-conference play due to strength of schedule claims; but, the fact of the matter is that the Baylor Bears are clicking on all cylinders and are quickly showing the nation that they are going to be a powerhouse in conference and tournament play.
The following is a list of reasons why the Bears can already be declared a legitimate threat in college basketball this season.
Perry Jones III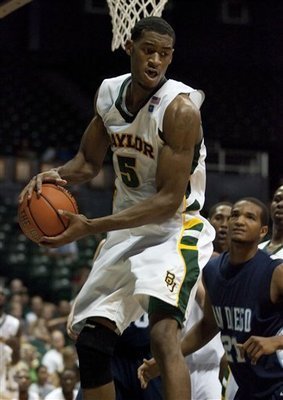 Let's just get this fact out of the way first. Forward Perry Jones III has been lauded as one of the top players in the country and a possible candidate for Player of the Year, already earning himself Preseason Big 12 Player of the Year honors.
Jones was subject to a questionable five-game suspension by the NCAA for the beginning of the 2011 season and has only played six games since his reinstatement. Yet, he is the player for Baylor when it comes to basketball and he has already made his presence known in the few games he has played this year.
In six games, Jones is averaging a whopping 63.3 field goal percentage and a 66.7 three-point percentage. In addition, he put up the biggest game of his career against a very tough BYU opponent, scoring 28 points, eight rebounds, four assists and three steals.
To top off that remarkable showing, Jones went down late in the second half with what Baylor fans and Jones feared as a season-ending injury only to walk back onto the court, knowing his leadership was essential, and help to seal the win for Baylor.
All too often the players that are built up in the preseason's media hype do not show up for their team in the regular season. Jones, at this pace, will not be one of the players remembered for such disappointment—but rather, for leading his team deep in the NCAA Tournament.
Brady Heslip and 3-Point Shooting
Jamie Squire/Getty Images
In basketball, the easiest way to win is to build a team confident in its three-point abilities.
In the 2010 season, the Bears averaged a middle-of-the-pack 34.6 percent of successful three-point baskets. This season, Baylor has increased this number by a very impressive seven percent. Bringing home 41.7 percent of offensive threes, Baylor has been able to overcome the few deficits it has found itself in and stretch leads over teams that could not defend the deep threat.
This success is due to the help of one huge gain from the 2010 offseason, Boston College transfer and resident Canadian, Brady Heslip.
Starting all 10 games this season, Heslip has earned himself a good 45.5 percent when it comes to three-point shooting. He has single-handedly made Baylor a backcourt threat, leading the team in attempts as well. He has become an indispensable part of this team and with his career-high 18 points against BYU, Heslip helped the Bears recover from their 13-point deficit and also aided in the victory with two late treys.
Clearly, this young man can perform even against the good teams and will continue to light up the scoreboard in the coming months.
Head Coach Scott Drew Keeps Getting Better
Ronald Martinez/Getty Images
Each of Baylor's main three athletic programs has a standout head coach that keeps making a name for his or her sport. For football, the answer is Art Briles. For women's basketball, Kim Mulkey runs the program through and through.
For men's basketball, head coach Scott Drew is the man behind Baylor's recent success on the court.
Coach Drew accepted the Baylor job in 2003 at a time when no one was even close to touching this volatile program. He was with the Bears through their NCAA penalty period and worked tirelessly to build this program up and showcase the talent that Baylor had to offer.
All of this aside, Baylor's success can no doubt be attributed to the fact that Coach Drew keeps getting better and better. In the 2007-2008 season, Drew was able to finally establish Baylor in the basketball universe and lead them to an unprecedented fourth place in the Big 12. This would eventually lead to the 2010 season in which Baylor made it to the Elite Eight in the NCAA tournament.
After a falter in progress last year and an early exit from the Big 12 tournament, Coach Drew is once again showing his prowess and proving why he is one of the most underrated coaches in the league, leading Baylor to its most exciting start ever and aiming for a complete run in March.
Playing Under Pressure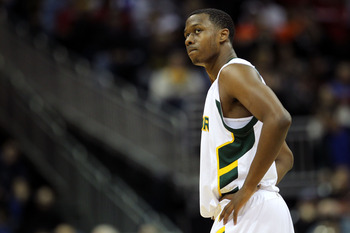 Jamie Squire/Getty Images
True, Baylor has yet to face a top team in nonconference play; however, they did show their grit in one of the most talked about games of the season thus far.
Baylor's win over BYU has already been cited, but it is the way the team won that shows they are a prime-time ready squad.
Marriot Center is not kind to its visiting teams, featuring a roaring crowd that has only seen two visitors win in the last 50 games. BYU went into the locker room at the half with a 42-38 lead after giving up a 13-point lead. When the Bears took the court in the second half, every player on the team came out fighting. Perry Jones III lit up the scoreboard while Brady Heslip took care of business from the three-point line.
Meanwhile, some of the lesser known Baylor players stepped up their game, including a game-changing play from guard Pierre Jackson, who blocked Brandon Davies game-tying three, even though he stands almost a foot shorter.
Watching all of his players come together at the most critical time in an important game must have been exciting and reassuring for coach Scott Drew to watch, proving to the nation that Baylor is a complete team ready to the face the nation.
Making a Statement Against Lesser Teams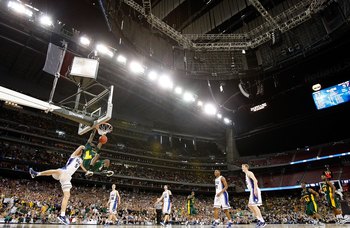 Ronald Martinez/Getty Images
The problem with non-conference play is that the elite teams will inevitably face lesser teams. Far too frequently sports fans and analysts only look at a team's record and how many ticks are in the win or loss category before they jump to a conclusion regarding a team's success.
For Baylor, the only challenge thus far has been an exciting BYU team that kept both Baylor and BYU fans on the edge of their seats. The rest of the schedule has been, well, not the toughest of matchups.
Yet, should this fact hinder Baylor's perceived level of success? Absolutely not.
The fact of the matter is that when a great team faces a worse team, the better team has to prove why they are, in fact, better. A win over a minor team by one point might say something more than a loss by an equally ranked opponent.
This season, Baylor has shown its dominance against these teams in almost every single game. Against Jackson State, for example, the Bears put up 92 points to the Tigers' 59 and facing Paul Quinn, Baylor lit up the board with 95 points (17 from dunks) to the opponent's 54. These are just two examples of Baylor's dominance on the court during this year's non-conference play.
Clearly Baylor Basketball has done what it is supposed to do: dominate teams of lesser standing and not sit back against such clubs.
Keep Reading

Baylor Basketball: Like this team?