NASCAR: Why A.J. Allmendinger Will Never Live Up to the Legacy of Kurt Busch
December 27, 2011
Jamie Squire/Getty Images
The overall caliber of drivers at Penske Racing recently took a hit with the loss of Kurt Busch, 2004 NASCAR Cup champion, and the replacement driver has yet to win a race in the elite series of NASCAR.
A.J. Allmendinger was named as a comfortable driver to replace the controversial Busch in the No. 22 Shell/Pennzoil Dodge.
Penske Racing is taking an unconfirmed, one-year performance-based shot with a driver that has potential and who may be a better fit in their operation.
Perhaps they are hoping he will blossom into the NASCAR star that Brad Keselowski did with the Blue Deuce this season.
Busch may have had some personality problems, but his credentials are quite respectable. Not only does he have a Cup title, but 24 career wins in the top series of NASCAR.
Busch joined Penske in 2006 after his departure from Roush Racing. He became the wheelman for the iconic Blue Deuce No. 2 Miller Beer car that was made famous by Rusty Wallace.
In 2011, Keselowski took over the No. 2 car and Busch went to the Shell/Pennzoil No. 22 car that in 2012 will give Allmendinger his best chance ever to prove his driving ability.
Allmendinger made his move to Cup racing in 2006 from the open-wheel cars, but failed to qualify for a race. He ran a few NCTS races and his first race in the NASCAR Sprint Cup Series was during 2007.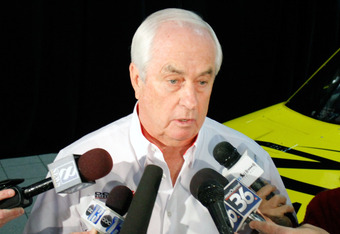 Jason Smith/Getty Images
The California native has been tossed around to several different teams, Red Bull Racing and on to Gillett Evernham Motorsports that eventually became Richard Petty Motorsports.
After the conclusion of the 2011 season, Allmendinger's sponsor at RPM, Best Buy, decided to move to Roush Fenway Racing.
Without a sponsor, Allmendinger was quick to realize he best talk with other owners, and RPM released him as a driver for the No. 43.
Several had been considered by Penske as potential drivers for the No. 22 vacated by Busch, but it was Allmendinger who got the lucky call to drive for an operation that will take him to his highest level yet in NASCAR.
Allmendinger has never won a Cup race, but does have four top-five and 26 top-10 finishes in his relatively brief career behind the wheel of a stock car.
Penske undoubtedly saw the upward movement Allmendinger has made each year. In 2009 he finished 24th in points, moved to 19th in 2010 and ended the 2011 season 15th in the standings.
There are no misconceptions at Penske regarding the replacement of Busch.
Penske Racing President, Tim Cindric stated, "We're trying to replace a world-class driver, and we're trying to figure out how we get to the next level."
Allmendinger, 30, will fit the tidy, white-shirt image of Penske Racing. Though he hardly has the record of tantrums and outrageous behavior of Busch, he isn't squeaky clean.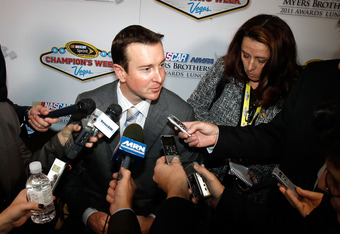 Todd Warshaw/Getty Images
Much like the encounter Busch had with drinking and driving in Phoenix that cost him a ride with Roush Racing, Allmendinger was arrested for drunk driving in Mooresville during 2009.
The feisty side of Allmendinger flared up at the 2010 July race in Daytona. After taking his car for an infield spin, Richard Petty confronted him in the garage and there was a heated exchange that ended with the driver turning his back on the "King."
Busch may have his personality flaws, but he can flat drive a race car. His talent and accomplishments set a bar that is higher than Allmendinger may ever be able to reach.
The contract between Penske and the "Dinger" is basically for the 2012 season with hopes that it will develop into a long-term relationship.
The pressure is on the new driver of the No. 22 to at least get the car into the Chase next season. Certainly Allmendinger will have first class equipment under him, but it remains to be seen if he will rise to the occasion.
There is a fire within Allmendinger to win and finish well. He knows this may be his biggest shot at becoming a star, but the competition level is amped up each season.
Allmendinger said, "I know where I'm at and the level of my career and it's do or die. This is the next step to try to be one of those top Sprint Cup drivers and that is what I want to do."
Keselowski will be the lead driver at Penske Racing and he should play a strong role in helping Allmendinger get comfortable with his new ride and the inner workings of the operation.
Another unknown is the pairing of Allmendinger with Todd Gordon as his crew chief. Gordon is new to the position in the Cup series, but has been with Penske Racing for some time.
Some drivers adjust well to stock car racing after leaving the open-wheel cars and Allmendinger appears to be one of those drivers.
 Penske knows he has the confidence to win from his accomplishments in other series.
The potential to win races is there, but for obvious reasons he has not had the time to hone his skills to the level of Busch and unless he catches fire like Keselowski did, he may not have a long tenure at Penske Racing.
Allmendinger is in the honeymoon stage of his new marriage with Penske Racing. He is flattered that Roger Penske asked him to drive for such a first-class operation.
Busch was unhappy at Penske Racing because the fun factor was gone.
Allmendinger stated, "It's going to be just fun being at the racetrack, being a part of his (Penske) organization and being around him (Penske) more than anything."
If Allmendinger can live up to the potential Penske Racing seems to see with him, he may find some success, make the Chase and win races in the years to come.
One thing he won't achieve, as Cindric put it, is the "world-class" status of Busch.
Quotes courtesy of Penske Racing PR Media teleconference transcript.