LSU Football: Les Miles and the 5 Best Coaches in BCS Bowl Games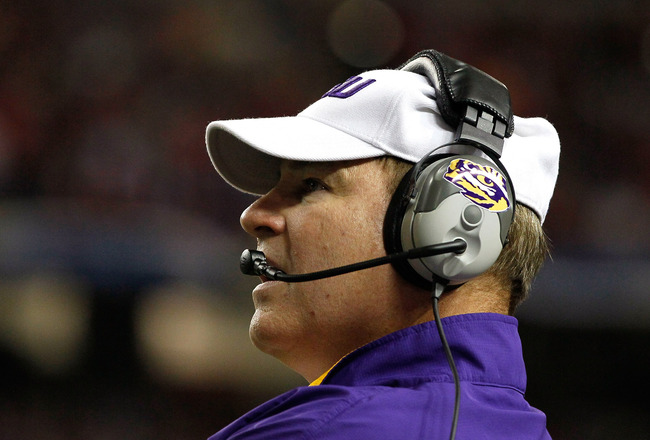 Kevin C. Cox/Getty Images
LSU coach Les Miles is one of the best coaches in all of college football, and he certainly has the track record to prove so.
But Miles isn't alone in the conversation for best coaches in America. In fact, there are several elite coaches in this year's set of BCS bowls.
Let's break this down and see where Miles ranks in the top 5 coaches in this year's BCS Bowls.
Bleacher Report Style!
5. Mike Gundy, Oklahoma State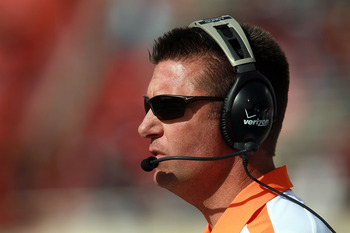 Ronald Martinez/Getty Images
Mike Gundy has been at Oklahoma State for seven seasons now, but this year was his best yet.
In seven years, Gundy is a combined 58-30 with two Big 12 regular season titles and three bowl victories.
Gundy led the Cowboys to an 11-1 record this season, including a Big 12 title. There was an ongoing argument about whether OK State or Alabama should have been selected to play LSU in this year's BCS National Championship Game.
If Gundy's Oklahoma State defeats Stanford in this year's BCS Fiesta Bowl, he will improve his record to 4-2 in bowl games as the Cowboys' head coach.
4. Chip Kelly, Oregon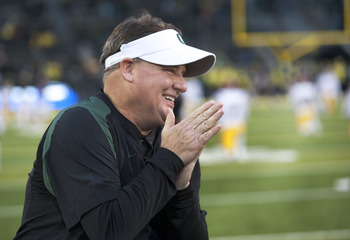 Steve Dykes/Getty Images
Chip Kelly is only in his third season as Oregon's head coach, but in those three years, he is a combined 33-6 and has played in a BCS Bowl in all three seasons.
Kelly is 25-2 overall in the PAC-12, and his teams have won the conference title in every year he has been the head coach.
This season, Chip Kelly's Oregon team will take on Wisconsin in the Rose Bowl, their second trip to Pasadena in three years.
3. Frank Beamer, Virginia Tech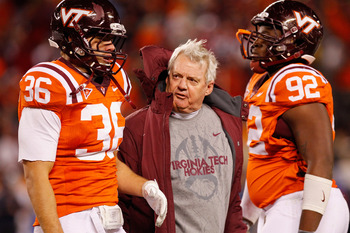 Geoff Burke/Getty Images
Sure, people don't give Virginia Tech a ton of credit as a program because they play in the ACC, which has been one of the weaker conferences in college football over the past couple of years.
But when it comes to Frank Beamer, there should be no lack of credit when speaking of his coaching pedigree.
Beamer became Virginia Tech's head coach back in 1987, when they were an independent program.
Now, 26 years later, Beamer is still the coach and is leading his team to another BCS Bowl, this time the Sugar Bowl against Michigan.
In his 26 years at Virginia Tech, Beamer is 208-97-2 and his teams haven't finished lower than second in the ACC since moving to the conference in 2004.
Quite a resume for quite a good college football coach.
2. Les Miles, LSU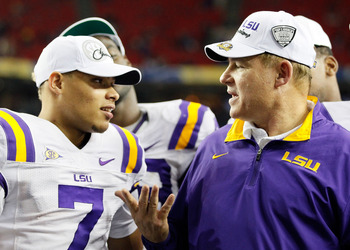 Kevin C. Cox/Getty Images
When it comes to the best coaches in college football, it's tough not to think about a guy who is the coach of the only undefeated team in college football this season.
Miles came to LSU in 2005 and has posted an eye-popping 75-17 record in seven seasons as the school's head coach. That includes three SEC Championships and five bowl wins, one of which was the 2007 BCS National Championship Game.
Miles' only bowl loss came back in 2009, which also marked the only season that his team didn't finish in the top 10 in the nation.
It's tough to beat those numbers.
1. Nick Saban, Alabama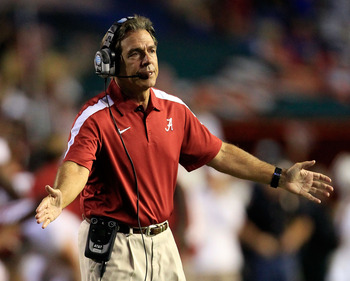 Sam Greenwood/Getty Images
Perhaps the only coach on the planet who can rival Les Miles when it comes to the best coaches in college football is the man who will be lined up opposite of him in this year's BCS National Championship Game.
Nick Saban has had success at every college stop he has had, but his best years have come as of late at Alabama.
Saban became the Tide's head coach in 2007 and he has compiled a 54-12 record there, including two SEC Championships. Saban has coached Alabama to three bowl wins in his four years and will be going for a fourth when they play LSU in this year's National Championship.
In Saban's 16 years as a college head coach, he is 145-54-1, with all but one of those seasons coming in the Big Ten and the SEC, which are the top two conferences in college football.
It simply doesn't get any better than that.
Keep Reading

LSU Football: Like this team?